Photo Flash: LOOKING FOR BILLY HAINES at the Lion Theatre
The Off-Broadway premiere of LOOKING FOR BILLY HAINES, a new comedy with dance by Suzanne Brockmann and Will McCabe, with music by Barry Singer, began performances Thursday, March 11th at the Lion Theatre on Theatre Row (410 West 42nd Street), with Opening Night set for March 25th. The limited engagement is set to run through May 22nd.
LOOKING FOR BILLY HAINES is a romantic comedy set in present-day New York City. Jamie Hollis, a struggling actor, scores an audition for a feature film about Billy Haines, a real life gay movie star of the 1920s and '30s who gave up his career to remain in a public relationship with his partner. Billy's story, along with Jamie's rather vibrant imagination and his three colorful roommates, helps him realize that he needs to make some decisions about his own unsatisfying relationship with a closeted man.
Under the direction of Suzanne Brockmann, LOOKING FOR BILLY HAINES will feature Jason T. Gaffney, Joseph Cullinane, Jason Michael Butler, Apolonia Davalos, Annie Kerins, and Eric Ruben.
Suzanne Brockmann is a proud PFLAG mom and New York Times best-selling author of nearly 50 novels including All Through the Night, the first mainstream romance novel to feature a same-sex wedding. She is currently in discussions to create a TV series featuring her most popular character, Jules Cassidy - a gay, out FBI agent. Her latest book, Hot Pursuit, is available in bookstores everywhere. Her next release, Infamous, will be published this summer.
Will McCabe is an Edgar Award finalist whose next book is The Anniversary Gift. A gay rights activist, Will has sat on the board for MassEquality, the organization which helped preserve equal marriage rights for the LGBT community in Massachusetts.
Composer Barry Singer is currently working in Boston as a conductor, performer, arranger, teacher and audition coach. Recent shows include West Side Story, Joseph and the Amazing Technicolor Dreamcoat, Honk, Fiorello (music director and orchestrations), and The Trojan Women (composer). Current projects include conducting the Arlington Philharmonic and playing in the popular dance band, Firefly.
Performances of LOOKING FOR BILLY HAINES will be Mondays at 8 PM, Wednesdays through Saturdays at 8 PM, with matinees Saturday at 2 PM and Sunday at 3 PM. Tickets are $49 and are available through Ticket Central at 212-279-4200 or www.TicketCentral.com . For more information visit www.LookingForBillyHaines.com
PHOTO CREDIT: SHIRIN TINATI


Jason T. Gaffney and Joseph Cullinane

Joseph Cullinane and Jason T. Gaffney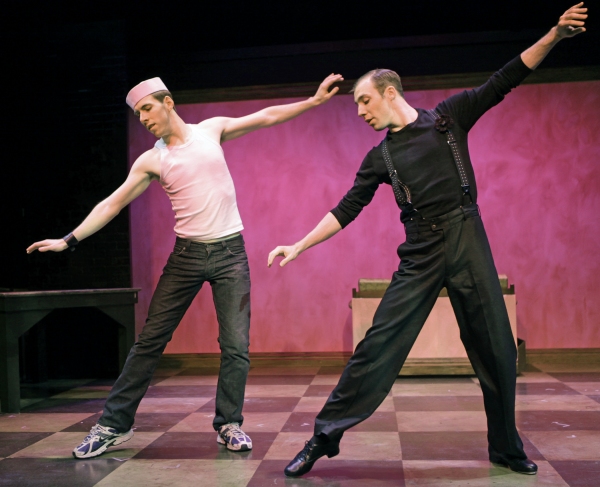 Jason T. Gaffney and Joseph Cullinane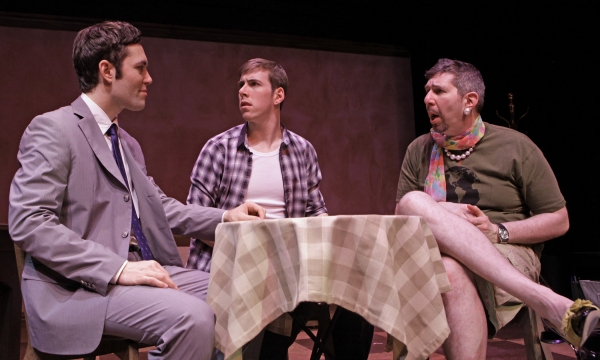 Jason Michael Butler, Jason T. Gaffney and Eric Ruben

Jason T. Gaffney and Annie Kerins