Photo Flash: Jared Gertner & Colin Hanlon Visit TRIASSIC PARQ at SoHo Playhouse
Jared Gertner (THE BOOK OF MORMON) and Colin Hanlon (SUBMISSIONS ONLY) attended Off-Broadway's newest hit, TRIASSIC PARQ THE MUSICAL, this past Friday, July 20th at the SoHo Playhouse. 2010's Best Musical winner at FringeNYC, is currently playing a limited Off-Broadway engagement through August 5th. Written by Marshall Pailet, Bryce Norbitz and Steve Wargo, TRIASSIC PARQ is directed by Mr. Pailet, with choreography by Kyle Mullins and musical direction by Zak Sandler. The cast features Lindsay Nicole Chambers (HAIRSPRAY, LYSISTRATA JONES), Brandon Espinoza (LES MISERABLES, CAPTAINS COURAGEOUS), Wade McCollum (SUBMISSIONS ONLY), Claire Neumann (BOSTON MARRIAGE), Lee Seymour (title role in HAMLET, Shakespeare's Globe), Shelley Thomas (ZANNA, DON'T), and Alex Wyse (HBO's BORED TO DEATH).
A raucous new musical that combines singing, sex and velociraptors in ways hitherto unimagined, TRIASSIC PARQ The Musical follows a group of cloned dinosaurs as they unearth the very foundations of their existence. Morality, faith, science, gender identity, and interspecies fornication are all explored, and sung about, as Morgan Freeman narrates this epic tale of love, loss and resurrected reptiles.
TRIASSIC PARQ THE MUSICAL is produced by
Amas Musical Theatre
in association with
Flying Squirrel Theatricals
,
RD Productions
,
Bulldog Theatrical
,
P2 Creations
, and
The Weekly World
News. Running time is 84 minutes with no intermission and the playing schedule is Monday, Tuesday, Thursday, and Friday evenings at 8 PM; Saturdays at 4 & 8 PM; and Sundays at 4 PM at the Soho Playhouse, 15 Vandam Street (between Sixth Ave. & Varick St.) Tickets are available by calling 212-352-3101 or through 
www.TriassicParq.com
. $22 Student Rush tickets are available at the box office day of performance with a valid student ID.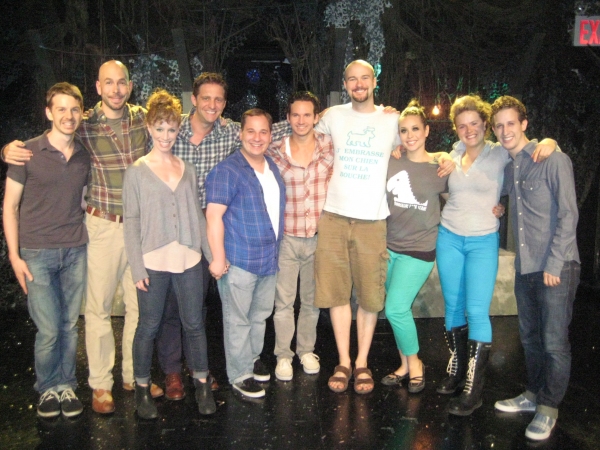 Jeremy Yaddaw, Wade McCollum, Lindsay Nicole Chambers, Colin Hanlon, Jared Gertner, Brandon Espinosa, Lee Seymour, Shelley Thomas, Claire Neumann, Alex Wyse