Photo Flash: In Rehearsal with GOD SAVE QUEEN PAM at Players Theatre
A Proclamation! Tawnydog Productions has announced that the world premiere of Erin Murray Quinlan's lighthearted and whimsical new Off Broadway musical comedy GOD SAVE QUEEN PAM will take place on Thursday, the twenty-first day of June, Two Thousand and Eighteen with a limited engagement run through the twenty ninth day of July in the same year of our Lord. Get a first glance with rehearsal photos below!
The production will run at The Players Theatre, 115 McDougal Street on the Island of Manhattan in the city of New York. GOD SAVE QUEEN PAM was inspired by Ms. Quinlan's very American obsession with the British royal family and will have its official opening night on Friday, the twenty-ninth day of June. https://www.godsavequeenpam.com
The British Royal House of Edevane has died out, and the only living heir is an American bartender with a heart of imitation gold metal-like substance. With the help of her devoted royal staff, Pam Duffy must take on the duties of Queen and prove herself to be a suitable monarch before the scheming Lady Fenella de Dieul can unseat her and to do that, she has to stay out of her own way.
GOD SAVE QUEEN PAM was written two years ago, just before Meghan Markle was introduced to Prince Harry. To understand Quinlan's obsession with the royal family one need only look at her lifelong affinity for all things British culture. When she was a young girl, Princess Diana was at the top of everyone's consciousness, as were the Spice Girls, so if she ever needed to escape her day-to-day life, she would emulate this magical people called the English. As she got older, British imports became more common. The radio played Britpop, the bookstore shelves started stocking Harry Potter, and BBC America introduced her to Graham Linehan, Jennifer Saunders, Victoria Wood, Blackadder, The Young Ones, and other shows that shaped her sense of humor. She aspired completely to be either David Bowie or Emma Thompson but settled for the former when she adapted 'Sense and Sensibility' into a musical for her high school senior project. In college, her thesis was an adaptation of 'A Room With a View.' They were limited in their scope, of course - she had still not actually BEEN to England. When she got engaged to her husband, he took her to England for the first time. While there, they decided to elope to Gretna Green, which she had read about in Jane Austen.
Photo Credit: Justin Woo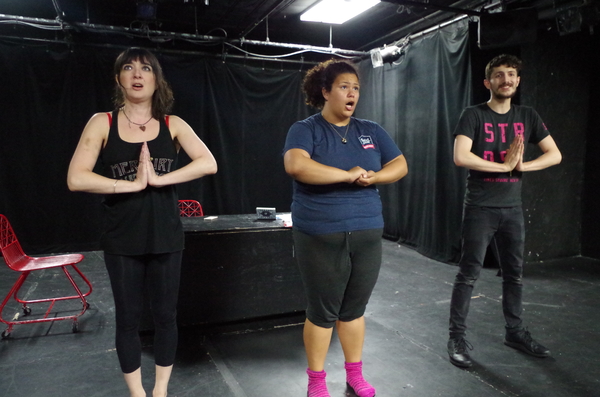 Bryna Kearney, Adena Walker, Brian Esposito

David Ventura and Erin Murray Quinlan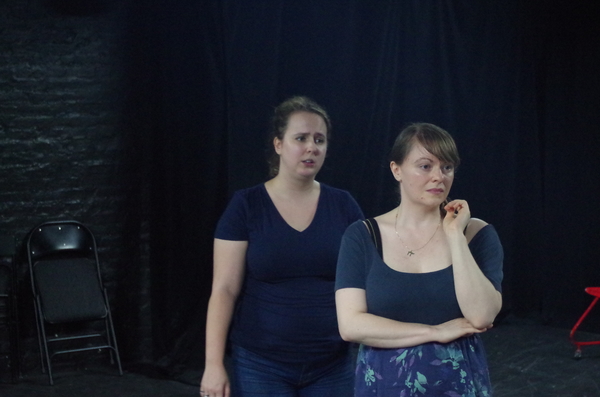 Erin Murray Quinlan and Carolyn Light
Related Articles View More Off-Broadway

Stories

Shows
More Hot Stories For You