Photo Flash: Danielle Lee Greaves and Cast Preview MOTHER DIVINE: THE MUSICAL, Set for NYMF
MOTHER DIVINE: The Musical, an official selection of the New York Musical Festival's Next Link Project, will begin performances July 11th at the PTC Performance Space (Pearl Theatre Company). Book and lyrics are by Laurel Klinger Vartabedian and music by Bill Evans. The musical's cast performed at World Wide Plaza last week, and you can check out photos below!
Adam Hester directs a stellar cast headed by Broadway actors
Danielle Lee Greaves
* (Hairspray, Rent), Randy Donaldson* (Wonderful Town, Annie Get Your Gun),
Howie
Michael Smith
* (Avenue Q) and
Allyson Tucker
* (Ragtime). Also featured in the cast are E
Rick Carter
,
Jenavene Hester
*,
Daisy Hobbs
*, Mike Longo, Ashley Parizek, Rose Pedone* and
Chris Sams
(*Member of Actors Equity). Choreography is by
R
a
ndy Davis
(All Shook Up, Harlem Song). Musical direction is by Julianne Merrill.
MOTHER DIVINE: The Musical is inspired by the real life events of a charismatic Depression era Harlem evangelist named Father Divine who, as legend has it, rode around town in a flashy Duesenberg and espoused his own brand of Christian doctrine mixed with capitalism, socialism, mysticism and some wild ideas including the notion that heaven was already on earth, he was God and his followers immortal. After taking an older wife whom he endowed with the title of "Mother Divine" his preaching hit a supernatural snag when she passed away unexpectedly. Father D then rationalized marrying a much younger woman with the notion that Mother desired a body more fitting of her righteous spirit. Thus he "reincarnated" Mother Divine as a twenty something blond bombshell whom he presented to his flock as "Mother in the Second Body". Here the story takes a comic departure as the first Mother Divine returns to earth and with the help of a bumbling IRS agent is determined on proving that it's never too late for a first wife to get her revenge! Everyone is chasing someone else's secrets in this rollicking romp set to a rousing Gospel-tinged score.
MOTHER DIVINE was initially performed in a developmental phase with the Western Carolina Stage Company at FringeNYC where it garnered critical acclaim and was noted as meriting a longer New York run at a larger venue. After a hiatus and further refinement, the creators submitted the show to NYMF where it was selected by a grand jury of theatre professionals including, among others, Jeff Bowen, Michael Cerveris, Marsha Norman and Joey Parnes to be one of the 10 plays in NYMF's Next Link Project in which the authors are invited to participate in special developmental workshops and receive maximum exposure for their productions along with a production stipend. Laurel Klinger Vartabedian and Bill Evans previously collaborated on the musical American Story that won a "Best of the Fest! Award at the MITF. The show was produced again this year in Colorado and will be part of a multi-city tour in 2014.
MOTHER DIVINE: The Musical officially opens on Thursday July 11th at 8PM at the PTC Performing Space (Pearl Theatre Co.) at 555 W. 42ndStreet (between 10th and 11th Avenues). The performance schedule is as follows: Thursday July 11 at 8PM, Sunday July 14 at 4:30PM, Wednesday July 17 at 5PM and 9PM and Saturday July 20 at 9PM. Tickets are $25. For tickets go to www.nymf.org or directly to https://web.ovationtix.com/trs/pr/923736. Tickets can also be purchased by calling Ovationtix at (212) 352-3101. See more information at www.motherdivinethemusical.com.
Photo Credit: Laurel Vartabedian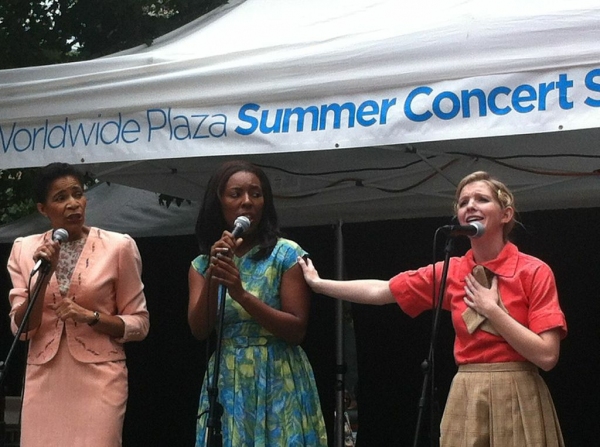 "Crazy Mixed Up Feeling" with singers Allyson Tucker, Daisy Hobbs and Jenavene Hester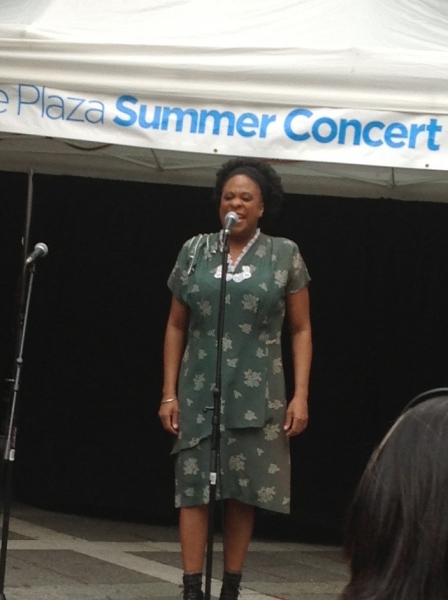 Danielle Lee Greaves as Mother Divine