Photo Flash: Cast of THE SILVER CORD Rings NASDAQ Closing Bell
The cast of the Off-Broadway hit THE SILVER CORD presided over the closing bell at NASDAQ MarketSite on July 5th. The ceremony was broadcast live on the 7-story-tall NASDAQ Tower looming over Times Square at Broadway & 43rd Street. Check out a look at the cast's appearance below!
The Peccadillo Theater Company is presenting the first major NYC revival of Sidney Howard's THE SILVER CORD, directed by OBIE Award winner Dan Wackerman. THE SILVER CORD, one of the most successful plays of the 1926-27 Broadway season, centers on a domineering matriarch who is pathologically close to her two adult sons. Originally starring Laura Hope Crews, THE SILVER CORDopened December 26, 1926 at the Golden Theatre, running for 232 performances. Miss Crews subsequently starred in the 1933 RKO film version with Irene Dunne and Joel McCrea.
The cast of THE SILVER CORD features Wilson Bridges (DEATH FOR FIVE VOICES, ACADEMY), Dale Carman (CITY OF HOPE, DOGFIGHT, ROOM SERVICE), Caroline Kaplan (THE THREEPENNY OPERA, Riverside Theatre; THREE SISTERS, Williamstown),Thomas Matthew Kelley ("How to Make It in America," LOVE GOES TO PRESS), and Victoria Mack ("The Good Wife," Broadway'sVENUS IN FUR).
Playwright Sidney Howard also wrote the plays THEY KNEW WHAT THEY WANTED (1925 Pulitzer Prize for Drama, later musicalized by Frank Loesser as THE MOST HAPPY FELLA), DODSWORTH, THE LATE CHRISTOPHER BEAN, NED McCOBB'S DAUGHTER, LUTE SONG, YELLOW JACK, and CASANOVA. One of Hollywood's top screenwriters, Mr. Howard's classic films include GONE WITH THE WIND, DODSWORTH, BULLDOG DRUMMOND, and RAFFLES. After his untimely death resulting from a farming accident, Sidney Howard received a posthumous Academy Award for GONE WITH THE WIND.
THE SILVER CORD is currently playing a limited Off-Broadway engagement through this Sunday, July 14th, and the performance schedule is Wednesday at 7 PM, Thursday through Saturday at 8 PM, with matinees Saturday at 2 PM and Sunday at 3 PM at Theatre at St. Clement's, 423 West 46th Street (between Ninth & Tenth Ave.) Tickets are available through www.ThePeccadillo.com or by calling OvationTix at 212-352-3101.
Photos Courtesy of The NASDAQ OMX Group, Inc.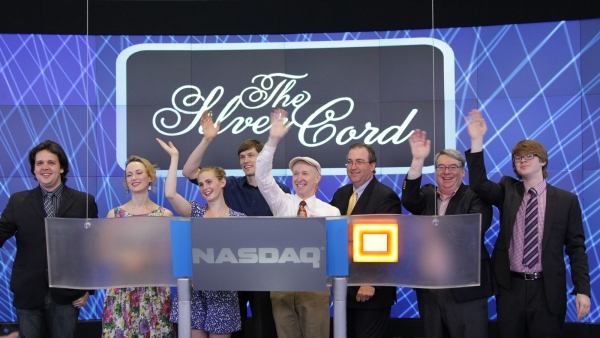 Cast of THE SILVER CORD & Guests

Cast of THE SILVER CORD & Guests