Photo Flash: Arrrrrh You Ready for a Show the Whole Family Can Get On Board With? TREASURE ISLAND THE MUSICAL Docks at the Players Theatre
Fall has arrived, and with a chill finally arriving, thoughts of our grey city streets may be sending your mind to warmer climes, and giving the kids in your life a case of cabin fever. Fear not, intrepid explorers! Literally Alive Family Theatre's musical, Treasure Island, opened October 8th and has dropped anchor through November 12that the Players Theatre in Greenwich Village.
The original musical with book and lyrics by Brenda Bell and music by Michael Sgouros, is based on Robert Louis Stevenson's classic 1883 novel celebrating courage, adventure, and "the wisdom of youth". The story follows the tale of Jim Hawkins, played Peter Pan-style by Allison Heckart, a young lad whose life changes forever the day a mysterious old sea captain stumbles into his parents inn. The crew of the unsavory voyagers are after just one thing - the old captains treasure map! The"smart as paint" Jim finds the map first and sets sail. One-legged pirate Long John Silver, marooned cheese-loving sailor Ben Gunn, and a band of swashbuckling pirates are just a few of the colorful characters in Treasure Island. Filling out that cast are Eric Fletcher, Jake Russo, Gina Pemberton, Shino Frances, Nick Martiniano, Jordan Yabut, and Becca Shulbank-Smith.
This tale about courage, discovery and the voyage everyone must make to find their true self, is hung upon Sgouros' original score for an all-percussion trio. The whole cruise is under the direction of Captain Brian Cedric Jones who also did the choreography. And when it comes to swordplay, funny-bone tickling pirate fights have been skillfully coordinated by the fight choreographer, Joe Isenberg. Pirate garb by Courtney Hansen (costumes), ship-shape stage by Elizabeth Chaney (set), and tropical sun by Ali Hall (lighting) fully immerse families in search of adventure into the world of swashbuckling fun.
In addition to the one-hour musical, Literally Alive audiences receive a special treat: an interactive arts workshop prior to the performance. Here, the audience learns about the original book and how it was turned into a musical. We discuss the themes of the show and how the arts bring literature to life. Kids and their families create a pirate art project to take home as a souvenir. Now when they watch the show, they are familiar with the art forms and themes represented in the production.
Treasure Island opened on October 8th and runs on Saturdays and Sundays (no show the first Sunday of the month). The pre-show workshop begins seating at 10 am and the show is at 11 am at the Players Theatre located at 115 MacDougal Street (between Bleecker and West 3rd).
For tickets and more information, visit www.literallyalive.com/shows/treasure.
Photos by Teri Brennan


Jim spies on a few unsavory pirates.

Jim Hawkins (Allison Heckart) has a pensive moment.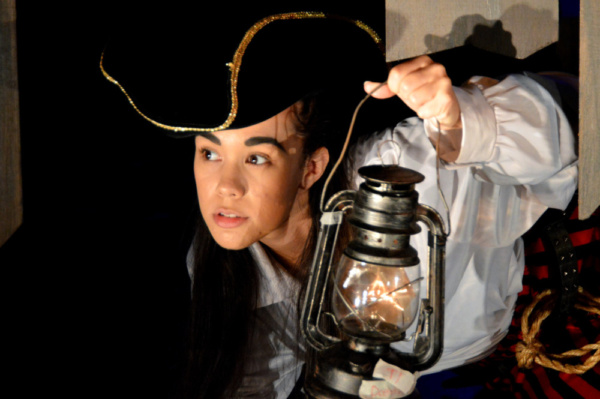 Whatcha doin' there, matey?

Before you do that....!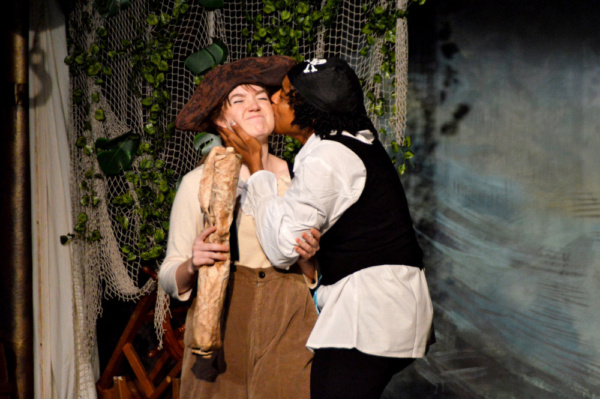 A tender moment.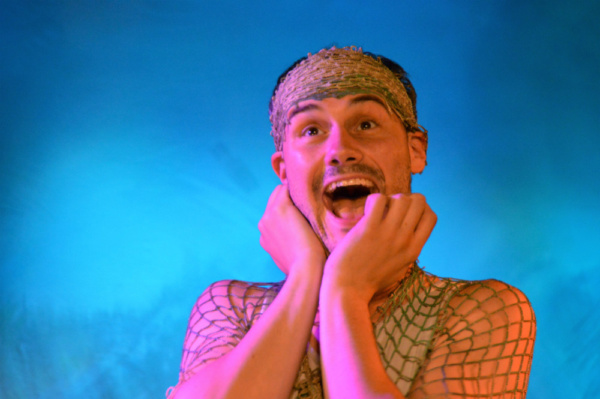 High sea excitement!

From one wench to another.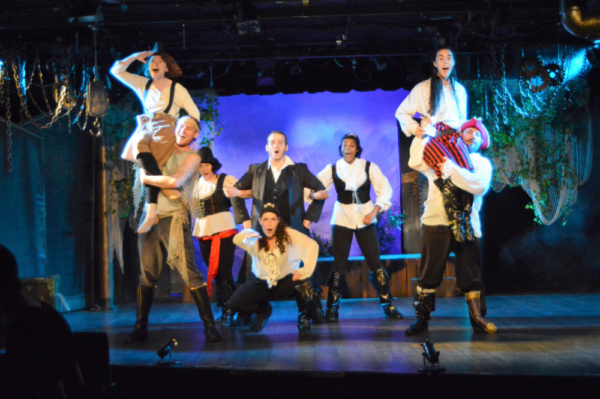 The crew ships out!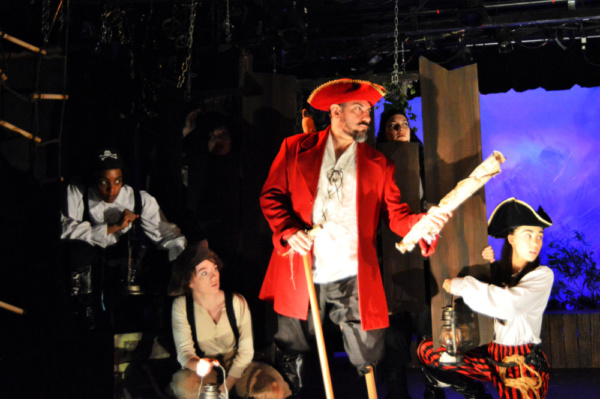 The ranking officer takes command.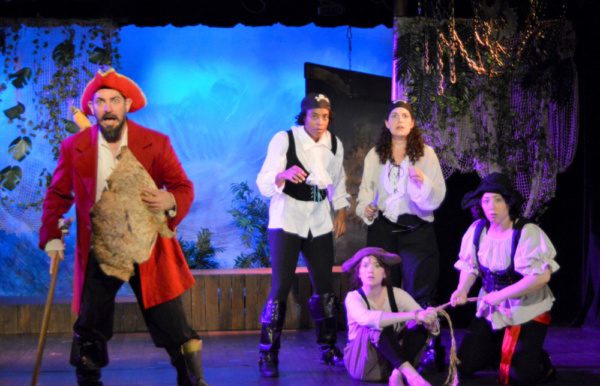 The crew listens.

Setting out under dark sails.
More Hot Stories For You