Photo Flash: AN ERROR OF THE MOON Rings NASDAQ Bell
Playwright Luigi Creatore, director Kim Weild and the cast of AN ERROR OF THE MOON, a speculation of jealousy, madness and the brothers Booth, presided over the closing bell at NASDAQ MarketSite yesterday, August 24th. The ceremony was broadcast live on the 7-story-tall NASDAQ Tower looming over Times Square at Broadway & 43rd Street. AN ERROR OF THE MOON began Off-Broadway performances August 13th at The Beckett Theatre at Theatre Row, 410 West 42nd Street. The new play by Luigi Creatore will officially open this Monday, August 30th for a limited engagement through October 10th. Under the direction of Kim Weild, the cast of AN ERROR OF THE MOON features Margaret Copeland, Erik Heger, Andrew Veenstra, and BrIan Wallace.
AN ERROR OF THE MOON is a fictional portrait of the brothers Edwin and
John Wilkes Booth
, the rockstars of their day. Edwin tells his tale of a man consumed by sexual jealousy, of bitter sibling rivalry, and the mad obsession that sparked the assassination of Abraham Lincoln. The playing schedule for AN ERROR OF THE MOON is Tuesday at 7 pm, Wednesday through Friday at 8 pm, Saturday at 2 pm & 8 pm, and Sunday at 3 pm. Tickets are $50 and are available through www.Telecharge.com 212-239-6200. A limited number of $20 Student Rush tickets (2 ticket limit) are available day of performance at the Theatre Row box office. Valid ID is required.
For more information, visit
www.AnErrorOfTheMoon.com
.


The Full Company of AN ERROR OF THE MOON with NASDAQ VP David Wicks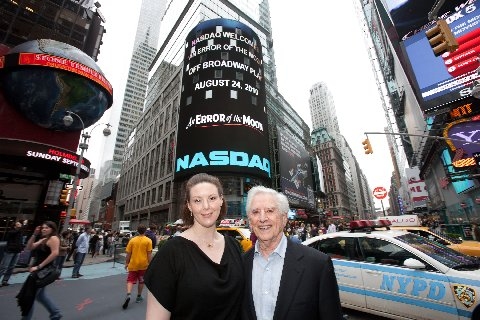 Kim Weild and Playwright Luigi Creatore