Photo Flash: New York Gilbert & Sullivan Players Debut A New Production of RUDDIGORE Inspired by Edward Gorey Illustrations
The singular images of master illustrator Edward Gorey will inspire the New YorK Gilbert and Sullivan Players' City Center season this January as they mount a new production of the rarely produced G&S classic Ruddigore, a supernatural opera with a Harry Potterish plot, to be performed in rotation with the big three all-time G&S favorites: The Pirates of Penzance, H.M.S. Pinafore and The Mikado. All the productions will feature fully staged productions with full orchestra and the musical polish that audiences have come to expect from America's "widely acknowledged specialists" (New York Magazine) in comic opera.
G & S Fest 2010 is scheduled to play January 8th through the 17th and the new production of Ruddigore will play January 14th -17th at New York's historic City Center (West 55th Street, between 6th and 7th Avenues).
Artistic director Albert Bergeret was first made aware of Mr. Gorey's interest in Gilbert & Sullivan when he saw a production of the Gorey-designed 1977 Broadway musical, Dracula. After attempting to commission Mr. Gorey to create a production for NYGASP, Bergeret, taking the style and techniques of Gorey's sketches, created the new production of Ruddigore. "I do not presume to imitate or reproduce the whimsy Gorey brought to everything he did," Mr. Bergeret says, "but I have taken what I consider a functional design for the show and combined it with my watercolor sensibility, using illustrative techniques reminiscent of Gorey." Bergeret has successfully mounted, with the cooperation of the Gorey estate, a mystical musical show full of graceful melodies, haunting staging and supernatural story telling that is entertaining for all ages!
Ruddigore, or The Witch's Curse - thrilling, but not chilling, is the word for this musically evocative send up of melodrama, replete with virtuous maidens, robust sailors, honest old folks, and dastardly bad baronets. Bridesmaids' dresses swirl in hornpipes and country dances, while ancestral ghosts appear magically from their portrait frames. Gilbert & Sullivan even poke fun at themselves in the delicious "Patter Trio" which proudly proclaims: "this particularly rapid, unintelligible patter isn't generally heard, and if it is it doesn't matter!" A family of baronets is under the unlikely curse of having to perform a crime of some sort each day. The most recent holder of the title has escaped this fate by hiding in a fishing village under an assumed name. When his younger brother reveals his true identity he is forced to assume his birthright position and face the ire of his predecessors, all ghosts represented by a picture gallery in the family estate. However, when the secret of how to break the curse comes to light, our hero is free to wed the beautiful, and very particular, girl of his dreams, while both his brother and recently deceased, but now fully revived, uncle find their own appropriate romantic matches.
Under the artistic and music direction of Albert Bergeret, the company has presented over 2,600 performances throughout the United States, Canada, and England. Incorporating a 25-piece orchestra, its productions feature contemporary energy while retaining a traditional respect for each of the G & S masterpieces. New YorK Gilbert & Sullivan Players is considered by many to be the nation's "leading custodian of the G & S classics."
Performances for G & S Fest are January 8th through January 17th are as follows: The Mikado - Friday, Jan. 8th - 8PM, Saturday, Jan. 9th - 8PM, Saturday, Jan. 16th - 2PM; H.M.S. Pinafore - Sunday, Jan. 10th - 3PM, Tuesday Jan. 12th - 7PM (FREE KIDS NIGHT!); The Pirates of Penzance - Saturday, January 9th - 2PM, Friday, January 15th - 8PM; Ruddigore - Thursday, Jan. 14th - 8PM, Saturday, Jan. 16th - 8PM, Sunday, Jan. 17th - 3PM.
Tickets range in price from $96 to $40. (Children 12 or under: half price when accompanied by an adult, 10% Senior discounts also available). More information and tickets can be obtained through the City Center box office and by phoning CityTix (212) 581-1212 or log on to www.nycitycenter.org.
Photo 1 credit: Carol Rosegg
Photo 2 credit: Lee Snider/Photo Images
Photo 3 credit: Traci J. Brooks
Photo 4 credit: David Sigafoose
Photo 5 credit: Noah Strone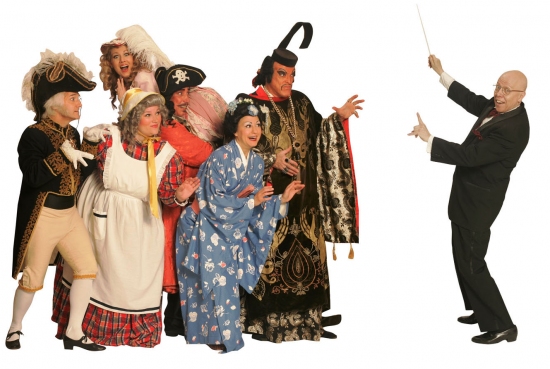 Albert Bergeret (R) directs company members

NYGASP company performs "Ruddigore"

Chris-Ian Sanchez, Rebecca O'Sullivan, David Wannen as The Pirate King, Dianna Dollman, Stephen Quint as Major General Stanley, James Mills, and Sarah Caldwell Smith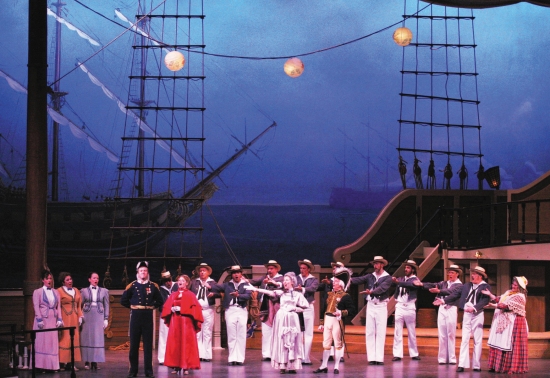 NYGASP company performs "H.M.S. Pinafore"

NYGASP company performs "The Mikado"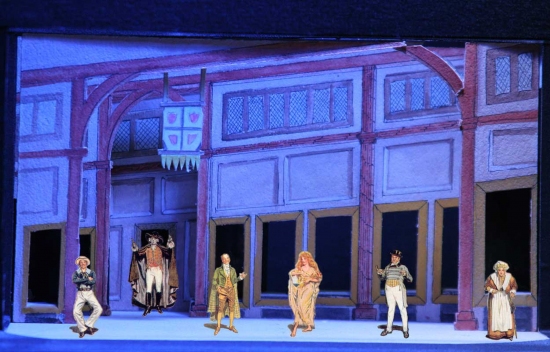 Artist rendering of new Ruddigore-- 2nd Act scenery

Artist rendering of new Ruddigore-- 1st Act scenery