New Yiddish Rep Announces Repertory Engagement of HANOCH LEVIN x 3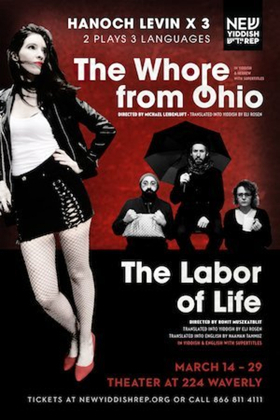 New Yiddish Rep will present a historic repertory engagement of two plays by Israel's leading playwright, Hanoch Levin. THE LABOR OF LIFE will be presented in both Yiddish (featuring Ronit Asheri, Israeli film star Gera Sandler and Eli Rosen) and English (with Amy Coleman, Eli Rosen and Yossi Sokolsky). THE WHORE FROM OHIO will be presented in Hebrew (with internationally acclaimed storyteller Vered Hankin, David Mandelbaum and Eli Rosen) and Yiddish (with French journalist Mary Black, David Mandelbaum and Eli Rosen). The foreign language productions, including two Yiddish world premieres with new translations by Eli Rosen, will be performed with English supertitles. The 36-performance run is set to begin March 14th through March 29th at Theater at 224 Waverly (224 Waverly Place, just west of Seventh Ave. between 11th & Perry St.)
The productions of THE LABOR OF LIFE will be directed by Ronit Muszkatblit, Artistic Director of LABA: A Laboratory for Jewish Culture, and the director of THE WHORE FROM OHIO is 2016 Obie Award winner Michael Leibenluft.
Hanoch Levin (1943 - 1999) was Israel's most esteemed playwright. Prolific and controversial, his dark comedies of great psychological insight and poetry have both shocked and entranced his audiences. His 56 plays are as universal as they are Israeli. THE LABOR OF LIFE begins with the hero getting his sleeping wife out of bed in the middle of the night to announce that he's leaving her after 30 years of marriage. The heartlessness of his desertion is evident even in the words with which he tries to comfort her: "Maybe you'll meet a widower, a real estate dealer from Los Angeles, and have a good laugh on me in America." This 1989 play has proven to be one of Levin's most enduring classics. THE WHORE FROM OHIO has been called poetic, devastating, vulgar, and stylish. Hoibitter, an old tramp, has dreamed all his life about an unattainable high-class prostitute in America. As his 70th birthday approaches, he seeks to give himself a birthday present that suits his pocket: a visit to a street whore.
New Yiddish Rep is dedicated to creating modern theater which speaks to a diverse contemporary audience, including those who never might have thought they could connect to a performance in a language other than their own.
Set & lighting design for HANOCH LEVIN X 3 is by Nathan Roden, costume design by Rocket Shipps and sound design by Jesse Freedman.
For tickets and more information, including the full performance schedule, visit www.NewYiddishRep.org or call OvationTix at 866-811-4111.

Related Articles View More Off-Broadway

Stories

Shows
More Hot Stories For You