NAKED BOYS SINGING Casts First 'Body Positive' Naked Boy
Naked Boys Singing begins performances Saturday, March 18th at The AMT Theater located at 354 W 45th St.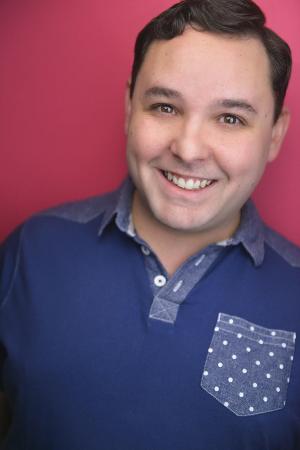 Beginning March 18th the long running off-Broadway hit, Naked Boys Singing, will truly be celebrating the male form in all shapes and sizes. Joining the previously announced David Hernandez (American Idol), is Dom Giovanni (He/Them) making their off-Broadway debut. Dom is proud to be representing the non-traditional Naked Boys body and bringing "body positivity" to the show.
Producer Tom D'Angora is thrilled to be highlighting Dom's talents in the show. No stranger to body issues, Tom who was a Naked Boy cast member in 2001 has had a very public 20 year weight loss journey. D'Angora was quoted as saying "Representation matters, Naked Boys Singing is a celebration of the male body in all forms and I'm thrilled to be bringing the show back with incredibly talented performers of all shapes and sizes."
When asked how he felt about joining the Off-Broadway cast of Naked Boys Singing Giovanni said, "If you would have told me 15 years ago when I first saw NBS that I'd be in the reopening, I would never have believed you. It always seemed to me that this show was only for "hot" boys. I'm here to show my own hotness and my talent. All bodies are beautiful and sexy and I'm excited to celebrate that with this show."
Rounding out the cast will be Jaden Lux (Naked Boys Singing Las Vegas) and Gregory Sullivan (Off-Broadway's Naked Boys Singing, A Musical About Star Wars, NEWSical).
Created in 1998 by Robert Schrock and a team of 12 writers in an attempt to save the Celebration Theatre from closing, the attempt worked, and the show has gone on to play all around the world. A 2001 Provincetown production made national headlines when it was shut down due to an old blue law, but after the cast and crew fought back and won, the show went on to play many successful seasons in the popular beach town. A 2007 film adaptation was released, a national tour crisscrossed the country, the show has been translated into several different languages, and in 2021 it was announced that pop star Aaron Carter would be leading a Las Vegas residency. After failing to vaccinate, the Las Vegas production moved forward with American Idol's David Hernandez and played for over a year at the historic Erotic Heritage Museum.
Naked Boys Singing begins performances Saturday, March 18th at The AMT Theater located at 354 W 45th St (at 9th Ave). Ticket prices begin at $49 with a limited number of premium front row tickets available. Tickets can be purchased at www.NakedBoysSingingNYC.com.