Michael McKeever's DANIEL'S HUSBAND Announces Holiday Schedule At The Westside Theatre, Beginning 11/19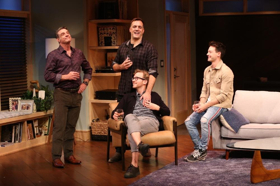 DANIEL'S HUSBAND, the acclaimed new play by Michael McKeever, directed by Joe Brancato, recently transferred to a commercial open-ended run Off-Broadway at The Westside Theatre (407 West 43 St.) will update its performance schedule beginning November 19, 2018.
"Our extraordinary actors have devoted the past two years to bringing Michael McKeever's powerful play to the stage. And in our new home at The Westside Theatre, it has never looked better or felt more important than it does now. We discovered the intimate tone and setting of DANIEL'S HUSBAND is at odds with our fun and boisterous downstairs neighbor, the musical The Other Josh Cohen, so in the spirit of compromise and collaboration - ensuring that audiences for either show are not distracted by the other - we worked with our colleagues on solutions, including this new and user-friendly performance schedule for DANIEL'S HUSBAND.." DANIEL'S HUSBAND producer Ted Snowdon.
DANIEL'S HUSBAND is Mr. McKeever's contemporary American play about two men - the personification of the perfect couple - who happen to have conflicting views of relationships. A turn of events forces them to face the consequences of their differences, and they learn that they are living in a world where fundamental rights aren't always so fundamental.
DANIEL'S HUSBAND enjoyed considerable success beginning at Penguin Rep, followed by an acclaimed run at Primary Stages where it was praised as "Breezy to devastating, McKeever performs an impressive tightwire act, and his cast is deft with every turn." Michael Musto; "A tear-jerker and a heart-yanker, One of the New York Times Plays to See This Fall." New York Times; Highly-charged, deeply emotional" iWorld Travel; "A first-rate cast-A gripping, searing drama for our times." Gay USA; "Compelling. Daniel's Husband is a universal look at love, commitment, marriage and family Front Row Center; "Honest and sincere. Daniel's Husband worth the trip." Theatre Pizzazz "Beautiful and powerful." The Daily Beast
This marks the casts third time reprising their roles, including Matthew Montelongo (Broadway's A View From The Bridge. Off-Broadway's God's Ear), Anna Holbrook (TV: Emmy Award Winner For "Another World", "The Unbreakable Kimmy Schmidt"), Ryan Spahn (Vineyard Theatre's Gloria, Primary Stages' Exit Strategy), Leland Wheeler (Films: We Need To Talk About Kevin, 1/1) and Lou Liberatore (Tony nominated for Broadway's Burn This). DANIEL'S HUSBAND creative team includes set design by Brian Prather; costume design by Gregory Gale; lighting design by Jeff Croiter; and sound design by William Neal, casting by Stephanie Klapper and Michael Palmer is the Productions Stage Manager. DANIEL'S HUSBAND is produced by Ted Snowdon.
UPDATED PERFORMANCE SCHEDULE (beginning November 26)
Mondays at 7PM; Tuesday at 8PM; Wednesday NO SHOWS; Thursday -Friday at 8PM;
Saturday at 2PM & 7PM; Sunday 2PM & 7:30PM
HOLIDAY PERFORMANCE SCHEDULE:
THANKSGIVING WEEK (November 19 - 25, 2018)
Tuesday, 11/20 at 8PM; Wednesday, 11/21 at 2PM; NO SHOW Thursday, 11/22;
Friday, 11/23 at 2PM & 7PM; Saturday, 11/24 at 2PM & 7PM; Sunday, 11/25 at 2PM
CHRISTMAS WEEK (December 24 - December 30, 2018)
Monday, 12/24 & Tuesday,11/25 NO SHOW; Wednesday, 12/26 at 2PM & 7PM;
Thursday, 11/27 at 7PM; Friday, 12/28 at 8PM; Saturday 12/29 at 2PM & 7PM;
Sunday, 12/30 at 2PM & 7PM
NEW YEARS WEEK (January 1-6, 2019)
Monday, 12/31 NO SHOW; Tuesday,1/01 at 8PM; Wednesday, 1/02 NO SHOW;
Thursday, 1/03 at 8PM; Friday, 1/04 at 8PM; Saturday 1/05 at 2PM & 7PM;
Sunday, 1/06 at 2PM & 7:30PM
The Westside Theatre is located at 407 West 43 St.
Tickets are $59-$79; $99 and can be purchased by visiting
Telecharge.com or by calling (212) 239-6200.