KINGFISH Will Play 2023 FRIGID Fringe Festival This Month
Performances run February 15 - March 5.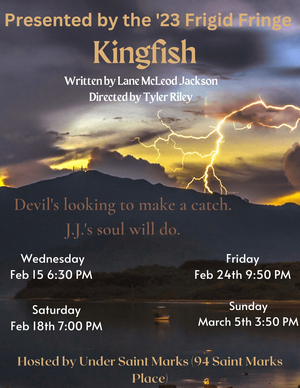 Kingfish by Lane McLeod Jackson is a wild ride combining dark humor, dueling egos, miracles, and even a shot at redemption. Tyler Riley directs and stars in this one-of-a-kind exploration of what defines "greatness" while playing the dry-witted and stubborn J.J. Williams (bass fisher extraordinaire). Across from him is playwright Lane McLeod Jackson, possessed by a devil unlike any you've seen - obnoxious, moody, and a little hungry. The two battle for glory and J.J.'s immortal soul... except the devil never plays fair.
While Noir Theatre is a new theatre company based in New York, Tyler Riley and Lane McLeod Jackson have been creative partners in theatre for over fifteen years. Tyler Riley has worked as a director/actor/producer and is the artistic director of Company of Fools, an NYC based indie theatre company. Lane McLeod Jackson is a local actor, playwright, and director whose work has been seen in New Jersey, Ireland, and New York.
Kingfish emerged from these two creatives, discussing the mindset of people who put everything on the line. The people who cannot stop competing even as it destroys them. This two-hander, set on a "deconstructed" boat, is ideal for lovers of weird, darkly comedic productions.
The intimate house of UNDER St. Marks (94 Saint Marks Place) is perfect for highlighting the isolation of the piece. In Kingfish, J.J. Williams is the best professional fisherman who ever played the game... just ask him. But due to a fluke, he ends up on the boat with a bloated, obnoxious, and irritating fan... who reveals himself to be the devil. The two begin a battle of rods and wits to see who will survive.
Proud participants in the New York FRIGID Fringe Festival performing Wednesday, February 15, at 6:30 PM, Saturday, February 18 at 7:00 PM, Friday, February 24, at 9:50 PM, and Sunday, March 5, at 3:40 PM at UNDER St. Marks (94 St Marks Pl, New York, NY 10009).
Buy tickets now! In-person tickets: $40 sliding scale. Streaming tickets: $20 sliding scale. Available for purchase at www.frigid.nyc.
FRIGID Fringe Festival is an open and unjuried theatre festival that gives artists an opportunity to let their ingenuity thrive in a venue that values freedom of expression and artistic determination. In true support of the Indie Theater Community, 100% of box office proceeds go directly to the artists whose work is being presented. FRIGID is here to chill out the New York independent theatre scene's ideas of what a theatre festival can be! www.frigid.nyc