Judith Ivey to Direct SENIOR LIVING Starring Zach Grenier, Debra Jo Rupp & David Wohl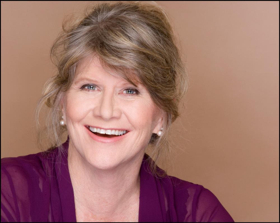 Judith Ivey will be directing a reading of SENIOR LIVING, a new play written by Tor Hyams & Lisa St. Lou featuring David Wohl, Zach Grenier, Debra Jo Rupp, Erika Rolfsrud, Mary Beth Peil, Paul DeBoy and Susan Slatin. The reading will take place on Monday, March 11 at the Cherry Lane Theatre, 38 Commerce Street. To RSVP, please click here: www.torandlisa.com/senior-living
At "Riverdale Manor," a retirement community in Riverdale, New York, seniors contemplate life's most pressing issues; sex, golf and, rice pudding. A talent show provides the backdrop to a series of loosely connected vignettes, which debate what to do with the time we have left. The only question is, when will the cake be served?
Judith Ivey is the recipient of the Tony Award and the Drama Desk Award for her portrayals in STEAMING and HURLYBURLY, the Obie Award for her performance in THE MOONSHOT TAPE, and countless others for her stage and film work. Some film credits include DEVIL'S ADVOCATE, WASHINGTON SQUARE, MYSTERY, ALASKA, BRIGHTON BEACH MEMOIRS, LOVE HURTS, COMPROMISING POSITIONS, WHAT ALICE FOUND, FLAGS OF OUR FATHERS, A BIRD OF THE AIR, BIG STONE GAP, and most recently, CORTEZ and THROUGH A GLASS DARKLY. Judith starred in four television series, the most memorable being DESIGNING WOMEN. Some television film credits include THE LONG, HOT SUMMER, WHAT THE DEAF MAN HEARD (Emmy nomination), and ROSERED. Ms. Ivey has guest starred on NURSE JACKIE, BIG LOVE, A PERSON OF INTEREST, WHITE COLLAR, GREY'S ANATOMY, LAW AND ORDER:SVU, THE FAMILY, BLOODLINE, and INSTINCT. Judith was last on Broadway in THE AUDIENCE as Margaret Thatcher. Previously she was nominated for a fourth time for the Tony award for her portrayal in THE HEIRESS. She portrayed Grace in FIREFLIES, a premiere at the Long Wharf Theatre and won the CCCAward for featured actress. Last year Judith played Meg in Pinter's THE BIRTHDAY PARTY at ACT-San Francisco and was recently nominated for the SFBACC award for Principal Actress. Judith portrayed Amanda in THE GLASS MENAGERIE for which she received the Lucille Lortel Award.She also co-stars in the web series THE ACCIDENTAL WOLF. Ms. Ivey's most recent directing credits are QUACK at The Alley Theatre in Houston, CAT ON A HOT TIN ROOF at Center Stage in Baltimore, and DELUSION BY PROXY at the Vineyard Playhouse. Other directing credits are THE LADIES FOURSOME at The Public Theatre in Maine and CHAPATTI at North Coast Rep and the Laguna Playhouse in California, STEEL MAGNOLIAS as well as the world premiere of CARAPACE at Atlanta's Alliance Theatre where she was nominated for a Bass award. Other credits are VANITIES-the musical, SECRETS OF A SOCCERMOM, THE BUTCHER OF BARABOO, FUGUE, and SOUTHERN COMFORTS-all in NYC, BAD DATES, MORE, and STEEL MAGNOLIAS in other regional theatres.
Grammy-nominated songwriter, Tor Hyams, and veteran Broadway performer, Lisa St. Lou (The Producers) began their collaboration with Stealing Time, a chamber musical about a woman struggling to reclaim her power after years in an abusive marriage. The show premiered as a song-cycle at the 2012 New York Musical Theater Festival and has been further developed by Emerging Artists Theatre, The Pitch at the Finger Lakes Musical Theatre Festival and at Goodspeed Opera House by way of the Johnny Mercer Writers Colony.

The duo has since been commissioned by Center Stage Capital to write a musical adaptation of the legendary television show, Green Acres. Additional projects include Ensemble, a collection of previously unpublished letters by Tennessee Williams, The Skylight Room, a story about asking for help through the lens of cancer, with actor/writer, John Cariani, a political satire musical revue called the 1st Annual Trump Family Special, which just completed an off-Broadway run, and How We Do, a family musical about belonging and race, based on the real-life experience of Backstreet Boy, Howie D, which was workshopped at the New Victory Theater in New York and is scheduled for a production at The Rose Theater in Omaha (Jan 2019). Most recently, the pair was commissioned to write an original family musical for Theatrical Rights Worldwide (TRW) and the book to a new musical about an atypical child.

Hyams and St. Lou wrote Mommy Needs A Timeout for Nickelodeon's Nickmom channel and most recently wrote a one-hour dramatic television pilot called The Lou.

Their one-woman event, LIFE. Who Knew? has played to sold-out audiences across the country, including New York's 54 Below, and Joe's Pub, Los Angeles' Rockwell, and the Gaslight Cabaret Festival in St. Louis.
More Hot Stories For You