John Herrera Leads LOVELESS TEXAS, Full Cast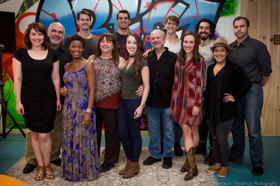 BOOMERANG THEATRE COMPANY is pleased to announce Tony award nominee for The Mystery of Edwin Drood, Drama Desk award winner for In the Heights, John Herrera* (The Times They Are A-Changin', The Threepenny Opera, Man of La Mancha, The Adventures of Tom Sawyer, 1776, Shogun the Musical, Camelot), Kimberly JaJuan* (Marie Christine, Ragtime, King David), Trisha Jeffrey* (Motown the Musical, All Shook Up, Little Shop of Horrors, Rent), Amanda Lea LaVergne* (Annie, Grease), and Darren Ritchie* (Wonderland, Dracula the Musical, Little Shop of Horrors, Thoroughly Modern Millie, Bells Are Ringing, Les Misérables) have joined the cast of LOVELESS TEXAS. Rounding out the cast are Colin Barkell, Brett Benowitz, CJ Eldred*, Joe Joseph*, Chase Kamata*, Annette Navarro, and Bligh Voth*.
LOVELESS TEXAS is a new musical set during the Great Depression, inspired by Shakespeare's Love's Labour's Lost, with book and direction by Cailin Heffernan*, and music & lyrics by Henry Aronson, playing a three-week limited engagement at
The Sheen Center (18 Bleecker Street New York, NY 10012). Performances begin Wednesday , September 6th and continue through Sunday September 24th. Opening Night is Saturday, September 9th (8:00 pm). Tickets are $32 - $42 (includes $2 facility fee) at www.sheencenter.org
Press are invited Thu, Sept 7th at 8:00pm; Fri, Sept 8th at 8:00pm; and Sat, Sept 9th at 8:00 pm (Opening Night), and any subsequent performances.
Loveless Texas tells the story of two brothers in 1930s Texas... the elder is King Navarre, responsible oil man and cattle rancher, and the younger is Berowne Navarre, playboy and rascal. With the onset of the Great Depression, King enlists Berowne and his college buddies Duke and Bubba to a contract of three years employment...with the condition of no romance, no drinking, no carousing, no gambling. When four intelligent and beautiful women arrive and demand an audience, all contracts are open for re-negotiation.
Loveless Texas is a traditional book musical, with a score in a variety of traditional Americana styles, encompassing Texas swing, bluegrass, blues, Cajun waltz and two-step, and cowboy yodels. It is a fun, joyous, affirmative celebration of the power of love.
The production features set design by Evan Hill, costume design by Cheryl McCarron, lighting design by Michael O'Connor (B'way: Speed the Plow, Cymbeline, Inherit the Wind), and sound design by Ian Wehrle. Character movement by Dan Renkin (B'way: Chitty Chitty Bang Bang), projection design by David J. Palmer, props designed by Deb Gaouette, Theresa McElwee (B'way: The Heidi Chronicles) is the vocal coach and Marci Skolnick is the stage manager.
Loveless Texas Family Photo: (front, left to right) Bligh Voth, Trisha Jeffrey, Cailín Heffernan, Annette Navarro, Henry Aronson, Amanda Lea VaVergne, Chase Kamata (back row, left to right) John Herrera, CJ Eldred, Colin Barkell, Brett Benowitz, Joe Joseph, Darren Ritchie