Gingold Theatrical Group Cancels Previously Announced SHAW SONGS @ THE PLAYERS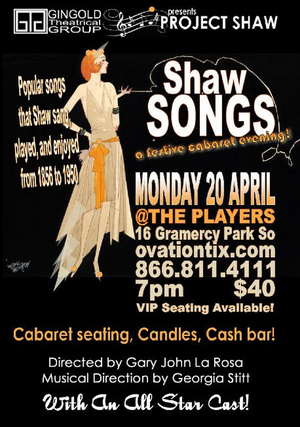 Gingold Theatrical Group today announced the cancellation of the upcoming Shaw Songs @ The Players.
"Our primary focus is the health and safety of our guests, families, performers, partners, volunteers, community, and team. We are looking to reschedule and will be working on potential dates. We apologize for the inconvenience, and we will update you over the next few weeks with more details about our future date," said
David Staller
, Artistic Director. Shaw Songs @ The Players, a special treat, was to be an evening of music that Shaw enjoyed, including popular music of his time, works by Gilbert & Sullivan, and more, at the original home of Project Shaw, the beautiful Players Club at 16 Gramercy Park South. Directed by John
Gary La Rosa
with musical direction by
Georgia Stitt
, scheduled to appear were
Matt Bogart
,
Robert Cuccioli
,
Darius deHaas
,
Karen Mason
,
Christine Pedi
, and
Karen Ziemba
. Project Shaw is a special series of evenings of plays that embrace human rights and free speech. All of GTG's programming, inspired by the works of
George
Bernard Shaw
, are designed to provoke peaceful discussion and activism. This series is presented monthly at
Symphony Space
's
Leonard Nimoy
Thalia Theatre (2537 Broadway at 95th Street). The 15th season will continue with Shaw's Saint Joan, directed by
Vivienne Benesch
on May 18th, He and She by
Rachel Crothers
on June 22nd, Shaw's The Apple Cart on July 20th, directed by
Meredith McDonough
, A Scintillating Shaw Talk on October 26th, The Torch Bearers by
George Kelly
directed by
Charlotte Moore
on November 2nd, and Shaw's Androcles and the Lion directed by
Pamela Hunt
ending the 2020 season on December 14th. All the plays in this series will be presented in a concert-reading format at the
Leonard Nimoy
Thalia Theater at
Symphony Space
, 2537 Broadway at 95th Street. Tickets are $40 and are available by calling 212-864-5400 or online at
www.symphonyspace.org
. Special reserved VIP seating available for $55 by contacting the Gingold office 212-355-7823 or
info@gingoldgroup.org
.
Symphony Space
's
Leonard Nimoy
Thalia Theatre space is completely accessible. Infra-red hearing devices are also available.