Debra Whitfield's FIRE, About Triangle Waist Company Disaster, to Premiere Off-Broadway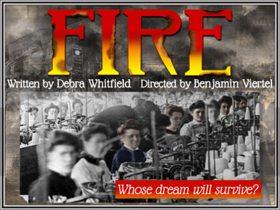 Chatillion Stage Company presents the world premiere of the new play FIRE written by Debra Whitfield (Duck Sauce Can Be Dangerous).
Directed by Benjamin Viertel (The Bitter Tears of Petra Von Kant), the eight-member cast will feature Connie Castanzo (The Rivals), Ben Edelman (Significant Other), Kevin Lowry (Sweet & Lucky), Paulette Oliva (Barbicide), Laura King Otazo (Insignificant), Jay Russell (End of the Rainbow), Malka Wallick (Outer Banks) and Stuart Zagnit (Newsies).
The limited engagement of FIRE begins Thursday evening, October 12, 2017 continuing through Saturday evening, October 28, 2017 at Theatre 54 at Shetler Studios and Theatres (244 West 54th Street, 12th Floor). Opening Night is set for Wednesday evening, October 18, 2017 at 8:00 p.m.
The Triangle Waist Company fire on March 25, 1911, lives in infamy as one of the worst disasters in the history of New York City. In just a few short minutes, over one hundred and forty lives were abruptly extinguished when the 8th, 9th and 10th floors of the Triangle Waist Company were consumed by fire on that fateful March day. Most of the casualties were female immigrants who had come to America to start new lives for themselves and for their families. Many of the girls sent portions of their meager incomes back home to their relatives who remained in the "old country." The young women had believed the stories they had read about American streets being "paved with gold." The reality was, the only gold they saw were the gold coins pocketed by the manufacturers.
FIRE dramatically interweaves fictionalized stories about these young transplants with actual testimony from the trial against the owners of the factory. It poetically explores the theme of avarice juxtaposed against the dream of living in a new land and all the promise that goes along with it.
FIRE resonates today because one of the baser human desires, greed, pervades the world culture as much now, if not more, than it did back in 1911. The play is ultimately about overcoming adversity and never giving up hope for a better life.
The creative team includes Bryce Cutler (scenic & projection design), Emily Chalmers (costumes), Deborah Constantine (lights), Carlene Stober (sound), Ed Matthew (sound), Debra Moolin (props), Inga Thrasher (hair/make-up consultant), Colleen Gleason (dialect coach), James McSweeney (technical director), and Toro Communications (social media). The Production Stage Manager is Emily Zepeda with Skye Cone, Assistant Stage Manager.
FIRE will play the following performance schedule: Wednesday - Friday at 8:00 p.m., and Saturday at 3:00 p.m. & 8:00 p.m. and Sunday at 3:00. PLEASE NOTE: There is a special added performance on Tuesday, October 17 at 8:00 p.m. Opening night is set for Wednesday evening, October 18 at 8:00 p.m.
Tickets for FIRE are priced at $30, cash at the door, or $25 (plus convenience fee) on line or via phone, and may be purchased visiting the show website at FIREtheplay.com or through Ovation tix or by calling (866) 811-4111. Tickets for opening night on October 18th are priced at $100 (includes a post-show VIP reception).
ABOUT THE ARTISTS:
Connie Castanzo (Actor 5) is delighted to be working on FIRE. New York: The Rivals, As You Like It (New York Classical); Gigi (Storm Theatre); City Girls & Desperadoes, Much Ado About Nothing (Secret Theatre); My Report To The World (Jewish Museum of Heritage & Shakespeare Theatre Company, DC); Gideon (Ego Actus); Some Are More Human (NYC Fringe); Epic Poetry (Up Theatre). Regional: Boeing Boeing (Millbrook Playhouse); Lost Boy Found in Whole Foods, A Confluence of Dreaming (Pittsburgh REP). National Tours: Ramona Quimby (Two Beans). TV/Film: "Hack My Life," "Creep," Cauliflower, Seventeen Days. BFA in Acting from Point Park Conservatory of Performing Arts. conniecastanzo.com
Ben Edelman (Actor 7) is thrilled to appear in FIRE. Recent credits: Significant Other on Broadway (u/s Jordan), and CBS's "Braindead," "The Good Wife," and the upcoming "Instinct." As an actor and co-writer, his most recent films, Samantha Moonley's Greatest Feeling and Milkman, won the Centerpiece Award at NFFTY, the world's largest film festival for young filmmakers. Co-producing two upcoming documentaries: Memphis, a cerebral palsy love story, and Buckets, following the rise and fall of the inventor of bucket drumming. Founder of The Commonground (thecommonground.nyc). Love to family, friends, Merissa, David Vadim, AC Management, and Innovative. BFA: Carnegie Mellon University. blpedelman.com
Kevin Lowry (Actor 2) is thrilled to be making his New York debut in Chatillion Stage Company's FIRE. He was most recently seen in Sweet & Lucky (Denver Center for the Performing Arts, in association with Third Rail Projects, Brooklyn NY). Kevin has worked across Colorado in A Man for All Seasons (Arvada Center); Godspell (Aurora Fox); Bengal Tiger at the Baghdad Zoo (Broadway World, Best Supporting Actor/The Edge); Ripcord (BETC); Twelfth Night, Macbeth (No Holds Bard); Shining City (Miners Alley); The 39 Steps, Out of Order (Backstage Theatre); Othello: A Khorus Line (Betsy Stage); and with the Improv groups Makeshift Shakespeare (Best Long Form Group, Colorado Improv Awards 2014) and Hot Nap (Voodoo Comedy Playhouse).
Paulette Oliva (Actor 8) is proud and thrilled to be a part of this thoughtful work-reflecting on the 146 lives lost, and the enduring impact on labor, immigrants, and women's rights. Off-Broadway: Barbicide (Mrs. Lionetti, Players Theatre, NY); Return to Spoon River (Ensemble, Lion Theatre, Theatre Row, NY ). Selected Regional: Sister Act! (Mother Superior, White Plains PAC); Master Class (Maria Callas, Sunoco Theatre, Harrisburg, PA); Sweeney Todd (Mrs. Lovett, Irvington Town Hall Theatre); Gypsy (Rose, Yorktown Stage); Next to Normal (Diana, Sandbox Theatre); Disney on the Record (Diane, White Plains, PAC). Dedicated to the memory of my grandmother, Cira Lo Piccolo, Italian immigrant, garment worker, who arrived on Ellis Island November 1907 and regaled us with stories of her young friends lost in the Triangle Shirtwaist Fire of 1911. Questo è per te, Nonna. pauletteoliva.com
Laura King Otazo (Actor 4). Theatre: Censored on Final Approach (Gerry); Insignificant (Williamena Fleming) and A Piece of My Heart (Whitney) with Infinite Variety Productions; Crimes of the Heart (Lenny) and Lucky Stiff (Annabel) with Bristol Valley Theater; Rope (Leila) and The Taming of the Shrew (Kate) with Random Access Theatre; A Midsummer Night's Dream (Helena) with Mortal Folly. Webseries: "Looking Through the Windows," "American Kirare-Yaku," and "Parallels." laurakingotazo.com
Jay Russell (Actor 1). Broadway: End of the Rainbow, The Play What I Wrote. Off-Broadway: Our Town (Barrow Street), Travels With My Aunt (Keen Company), Around the World in 80 Days (Irish Rep), Come Back, Little Sheba (Transport Group), The Normal Heart (Public), & more. National Tours: Wicked, Beauty & the Beast. International: Fully Committed (English Theatre of Vienna), Cat on a Hot Tin Roof (English Theatre of Frankfurt). Regional: Leading roles at the Guthrie, Arena Stage, Long Wharf, Papermill Playhouse, Westport Playhouse, Actors Theatre of Louisville, Baltimore Center Stage, Cincinnati Playhouse, Repertory Theatre of St. Louis, Goodspeed Opera House, North Shore Music Theatre, Pioneer Theatre, Berkshire Theatre Festival, Ordway, Utah Shakespeare Festival. TV/Film: "Gotham," "Louie," "Boardwalk Empire," "Ugly Betty," "The Sopranos," "Seven Seconds," "Bored to Death," "Law & Order," Morning Glory, Ride, In Lieu of Flowers, All in Time. jay-russell.com
Malka Wallick (Actor 6) is New York based actor, but theatre has taken her abroad where she has studied and performed in London (RADA, MA Theatre Lab, & LAMDA), Greece, and Italy, (La Mama Umbria). Most recently Malka was seen Off-broadway in Outer Banks at Signature. Some of her favorite roles include: Viola (Twelfth Night), Paulina (The Winter's Tale), Juliet (Romeo and Juliet), and J in R+J. She is the first runner up of the Warwick Shakespeare Writing Competition, (London). When not neck deep in Shakespeare Malka can be found reading a good book whilst sipping on a good single malt (peaty please!), or attempting to complete the NY Times Friday crossword-- she's still working on that one. Thanks to Tim for always pushing me and being there. malkawallick.com
Stuart Zagnit (Actor 3) is a Broadway veteran, having appeared in Disney's Newsies, Dr. Suess's How the Grinch Stole Christmas, Seussical, The Wild Party and The People in the Picture, among others. National tour credits include The Wizard in Wicked, Grinch, Crazy for You, Into the Woods and Applause. Off-Broadway: All in the Timing, Lucky Stiff, The Grand Tour, Kuni-Leml. Stuart was the last Seymour in the original production of Little Shop of Horrors at the Orpheum Theater. Regional credits include Max in The Producers, Tevye in Fiddler on the Roof, The Sound of Music, Sunset Boulevard and Breaking Up is Hard To Do. On TV: five guest appearances on all three "Law & Order" series, as well as "The Good Wife," "Elementary," "Blue Bloods," "30 Rock" and Season 2 of "Violet," the Jessica Jones Marvel Comics series on Netflix. Stuart is on the web series "Small Miracles," the feature "According to Greta" and for Pokemon fans, he was the original voice of Professor Oak!
Debra Whitfield (Playwright) is an award-winning director, actress, and playwright. She has worked at The Mint Theater, Florida Studio Theatre, Virginia Stage Company, Bristol Riverside Theatre, Dorset Theatre Festival, Two River Theater Company, Hartford TheaterWorks, the Depot Theatre, the Bickford Theatre, the Emelin Theatre and the Amateur Comedy Club, among others. Additional writing credits include: Duck Sauce Can Be Dangerous, Tech Support, The Man in the Window, and Champagne, all produced in New York City. As a director, Off-Broadway: Olympics Über Alles (St. Luke's Theatre); The Banana Monologues (Acorn Theatre). Other favorite productions are Blithe Spirit, Brighton Beach Memoirs and ROPE. Debra was named Best Director for Welcome to the Hard Luck Café (Director/Choreographer) at the Thespis Festival in NYC. She won Best Actress awards for her work in How I Learned to Drive, Relatively Speaking and The Adjustment. Debra is the Artistic Director of the Chatillion Stage Company and is on the Board of Directors for The Shaw Project. Member SDC, WGAE, AEA, SAG-AFTRA debrawhitfield.net
Benjamin Viertel (Director) is a freelance director based in New York City, born in France and raised in South Florida by German and Italian parents. Upcoming: Grindr The Musical (UK and Italian tour). Past: The Bitter Tears of Petra Von Kant (New Ohio Theater), Fireface (The Brick), Clipped (Atlantic Stage II), Kragtar: A Monster Musical (Peoples Improv Theater), Sad Indie Love Song (IRT Theater), Crimes of the Heart and Avenue Q (Bristol Valley Theater); and award-winning webseries "[Blank] My Life." Benjamin has worked with BAM, Roundabout Theater Company, Huntington Theater Company, The New Group, and The Civilians. Member of Kennedy Center Director's Lab, MTC's Directing Fellow, The Civilian's R&D Group, and Resident Artist at The Brick and Abrons Arts Center. Co-founder and Artistic Director of Third Space. Education: Carnegie Mellon University. benjaminviertel.com
Bryce Cutler (Scenic & Projection Design). Previous designs include world premieres by John Patrick Shanley, Dael Orlandersmith, and Grammy Award winner Steve Mackey. Previous work has been seen at The Guthrie Theater, New York Stage and Film, The Folger Shakespeare Library, Abrons Arts Center, HERE Arts and Arts@Renaissance. He was selected as USITT's 2017 Rising Star and his design for The Lady In Red... was selected for international exhibition at the 2015 Prague Quadrennial. He served as the art director for Comedy Central's @Midnight: NYC and his work has been published in the Contemporary Performance Almanac. He is the recipient of the Lloyd Weinger Award for Scenic Design and the 2015 ArtsImpulse Award for Best Projection Design for Jesus Christ Superstar. He is co-founder of Third Space, a political theater collective. Education: Carnegie Mellon University. brycecutler.com
Emily Chalmers (Costume Design) is a New York based costume designer for Theatre, TV and film. Traditionally trained in the UK at The University of Kent, Canterbury, she developed her interest in costume design and gained her MFA at Carnegie Mellon University, Pittsburgh. Recent credits include: Broadway Bares 2017 (Broadway Cares), All Is Not Lost, short film (GeeWiz Productions), The Bitter Tears of Petra Von Kant (Thirdspace), Thre3bound , feature film (Exit74 Productions), Fireface (Thirdspace). Assisting credits: Night of Too Many Stars (Comedy Central), "Michel Feinstein Rainbow Room Special" (PBS), Dracula Untold (Universal Studios). She also has credits with HBO, Food Network, Sky, Nickelodeon, VH1 and FX. Emily also works at The Julliard School.
Deborah Constantine (Lighting Designer) is pleased to be working on Debra's play FIRE. She has worked with Debra on the Off-Broadway play The Banana Monologues. Her most recent design was the world premiere of Dégagé at the Hangar Theatre, Ithaca, New York. Other designs include Communion; Ragtime; Pirates of Penzance; Enemy of the People; Bus Stop; My Occasion of Sin; A Christmas Story, the Musical; Barrymore; You Can't Take It With You; La Traviata; La Boheme; Proof; Crowns; Horseplay: or the Fickle Mistress; Cornbury, the Queen's Governor. Theatre companies include Urban Stages (NYC), Bristol Riverside Theatre (Bristol, PA), Capital Repertory Theatre (Albany, NY), Williamstown Theatre Festival, the Bronx Opera, Blue Light Theatre Company, Primary Stages, Hartford TheaterWorks. DeborahConstantine.com
Carlene Stober (Sound Design) performs on the cello and viola da gamba and is also a music librarian about town. In addition to playing in the pits of operas, ballets, and musicals, she has performed as onstage musician with Theatre for a New Audience and the Utah Shakespearean Festival, and as on-air musician with" A Prairie Home Companion." Among her sound designs for several productions of The Snarks, an intrepid little company with more than a century of performances behind it, are Blithe Spirit under Debra Whitfield's direction, and Tartuffe, Living Together, Enchanted April, and others, and, with Ed Matthew, Murder on the Nile and A Shot in the Dark for the Amateur Comedy Club, productions also directed by Deb. Thrilled to be designing sound when Deb's wearing her playwright hat at Chatillion Stage Company. Member, AFM Local 802.
Ed Matthew (Sound Design) welcomes working with Debra Whitfield and Carlene Stober again, and for his first time designing with Benjamin Viertel and theChatillion Stage Company. Sound design for Amateur Comedy Club and The Snarks (Murder on the Nile, The Wayside Motor Inn); music director and composer for Shakespeare's plays with the Utah Shakespearean Festival (The Taming of the Shrew) and the Invisible Theatre (Macbeth and others); musician on Broadway (The Phantom of the Opera, The Music Man, Parade, and many others); Off-Broadway (Fermat's Last Tango); onstage a long time ago in a galaxy far, far away (The Lady and the Clarinet). Member, AFM Local 802.
Debra Moolin (Props Master) is thrilled to be working with Debra Whitfield on FIRE. She has enjoyed supporting ten other productions as Assistant Director or Props Master, with the majority of these under the direction of Ms. Whitfield. Favorites include: ROPE, Welcome to the Hard Luck Café, The Man in the Window, and Murder on the Nile. Debra was the Assistant Set Designer on the Off-Broadway musical, Spandex. When not indulging her theatre addiction, Debra is a structural engineer.
Inga Thrasher (Hair/Make--Up Consultant) is known for her work on "Saturday Night Live" (1975), "Goodnight, Sweet Prince" (2016) and "Saturday Night Live: 40th Anniversary Special" (2015). Inga is a 5-Time-Emmy-Award-Winner and is nominated for the 10th time this year for Outstanding Hairstyling for "SNL"/NBC.
Colleen Gleason (Dialect Coach) is a Designated Linklater Teacher and Certified Colaianni Speech/Phonetic Pillows Practitioner. She received her Bachelors of Fine Arts in Acting and Directing from Marshall University. Colleen currently teaches the Linklater Progression at the Deena Levy Theatre Studio. In addition to teaching, she has dialect coached: Lady Windermere's Fan, Much Ado About Nothing, Outward Bound, and To Be or Not to Be. Most recently, Colleen was the dialect coach for Murder on the Nile, at the Amateur Comedy Club, directed by Debra Whitfield. FIRE marks their fifth collaboration and Colleen is excited to be on the team.
James McSweeney (Technical Director) is a freelance Scenic Designer and Stagehand (IATSE Local #4) in New York City. He has a BFA in Theatre Design & Technology with a focus in Scenic Design from Otterbein University. He has worked with a number of Broadway designers, as well as, in Off-Broadway theaters throughout the city, all while working as a Stagehand with the International Alliance of Theatrical Stage Employees. Some venues include: Barclays Center, Brooklyn Academy Of Music, Kings Theater, Kauffman Astoria Studios, and more. He is excited to serve as the Technical Director for this production. James is also the resident Scenic Designer for TRG Theatre Company. He would like to thank his wife, Abbey for her love and support. jamesmcsweeney.wix.com
Emely Zepeda (Production Stage Manager) is the resident stage manager at Brave New World Repertory Theatre where she has stage managed The Plantation and Ms. Julie, Asian Equities. In New York City, Emely has also stage managed at La MaMa (CHIX 6), New Ohio Theatre (Yellow Card Red Card), and for Hedgepig Ensemble (A Taste of Shakespeare) and assisted at the Pearl (A Taste of Honey). Prior to New York City, Emely graduated from the Yale School of Drama where she received her MFA in stage management and worked at the Yale Repertory Theatre as the SM for Cymbeline and ASM for Familiar andIndecent.
Skye Cone (Assistant Stage Manager) is a freelance stage manager new to New York City! Originally from Treasure Island, Florida, Skye attended the University of Cincinnati College Conservatory of Music where she earned her B.F.A. in stage management. Upcoming work includes Assistant Stage Manager for Fellow Travelers. Past work includes Stage Manager for the event Opera in the Park, Assistant Stage Manager for Frida, Stage Management Intern for Die Fledermaus and Tosca all at Cincinnati Opera. She also worked for Cincinnati Children's Theatre as the Stage Management Intern on The Wizard of Oz and Tarzan. Her most fond CCM memory was as the Production Stage Manager for A Chorus Line. Thank you to my family and Kyle for all of their love and support.
Chatillion Stage Company (Producer) is an exciting new company committed to producing relevant, original works, both plays and musicals, as well as the classics. CSC is especially interested in pieces that explore the female experience, whether in an historical setting or in a more contemporary environment. FIREis the debut production for Chatillion Stage Company.