BWW Review: THE EVOLUTION OF MANN at The Cell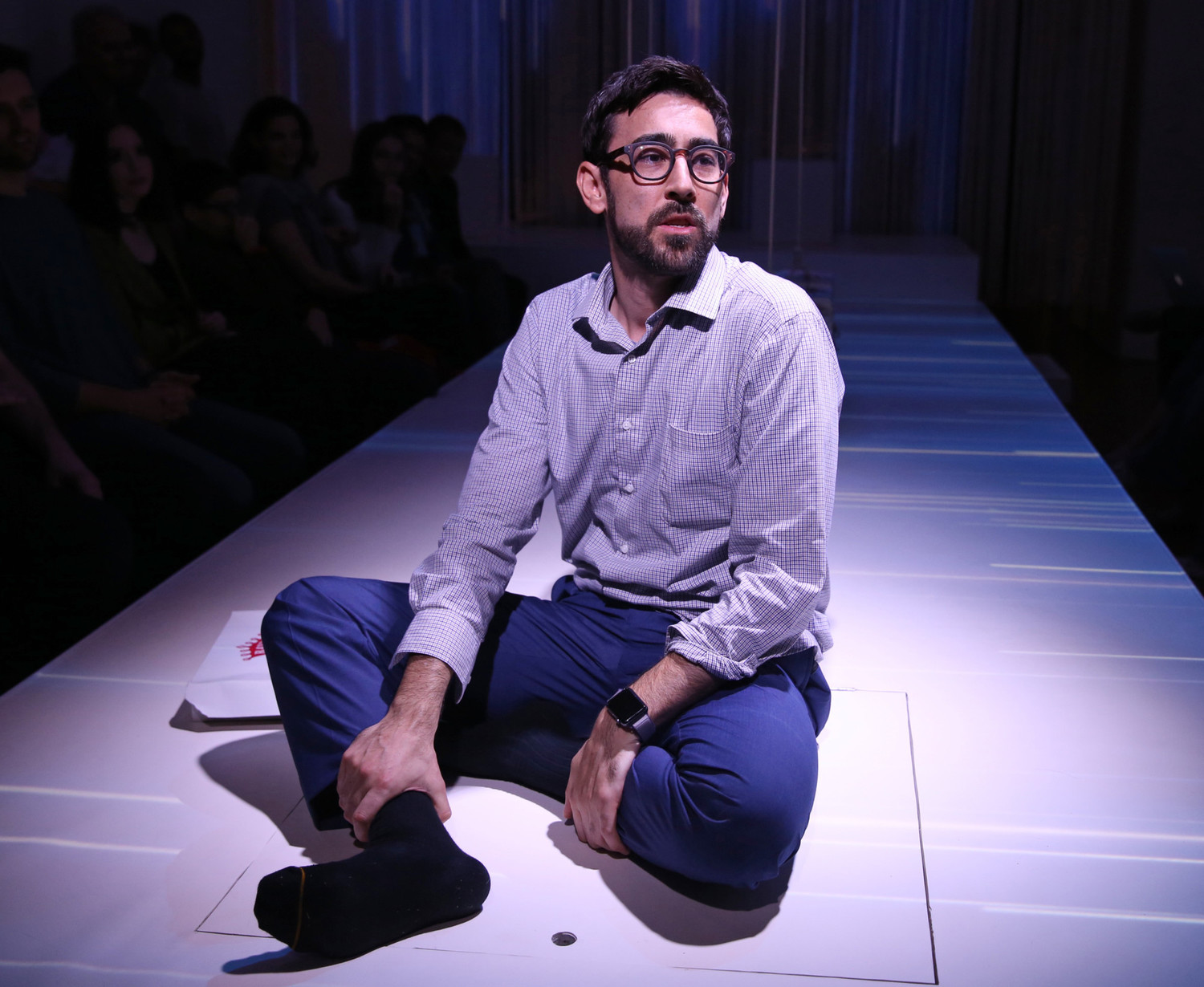 The Cell is a unique gallery space used to present new shows. A current charmer is the New York premiere of The Evolution of Mann, with music by Drama Desk Nominee Douglas J. Cohen (Children's Letters to God, The Opposite of Sex) and book by Dan Elish (13, the Musical) and based on Mr. Elish's novel, Nine Lives. Both Mr. Cohen and Mr. Elish contributed to the lyrics. Having seen 13, the Musical when it was on Broadway, I was curious to see another show from Mr. Elish and learn how he navigates the 30-something dating world.
The set, designed by Libby Stadstad with accompanying projections by Nathan Scheuer, captures the energy of a vibrant New York City scene, with a stage shaped like a runway and a balcony behind incorporating the action on different levels. The actors also opened various doors on the stage to transport props--very clever!
A romantic comedy about dating and love in the 21st century, this musical is complete with references to Facebook, musical theater, The Great Gatsby-and neurosis. The show runs ninety minutes long with no intermission, which allows character arcs plenty of uninterrupted time to develop. In this intimate a theatre, with seats for only sixty, everyone gets to be a part of the story, especially since the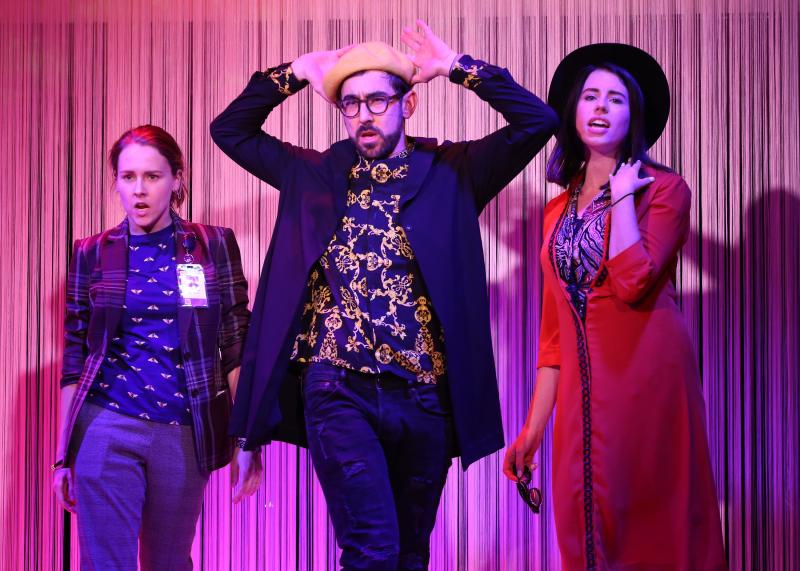 fourth wall is often broken.
Max Crumm as Henry Mann receives an invitation to his ex-fiance's wedding. He feels pressure to bring the perfect date to the wedding. With his lesbian roommate Gwen, played by Leslie Hiatt, they embark on finding this dream companion. Allie Trimm rounds out the cast playing a multitude of roles, including all of Henry's love interests--and even his mother!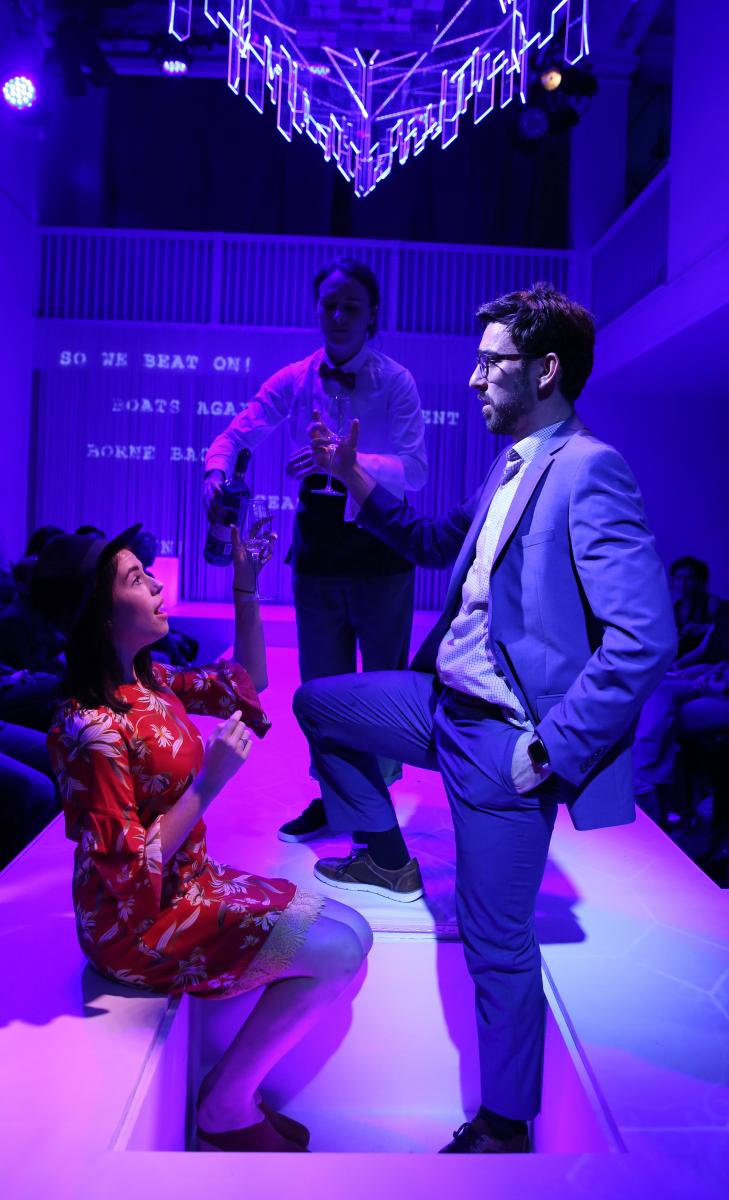 Thanks to the energetic staging from director Joe Barros (Bastard Jones), the cast moves effortlessly amid the scenes with some impressive vocal stylings throughout the musical numbers. The telling of Henry's story is clichéd at times, kind of a reverse version of the Julia Roberts movie My Best Friend's Wedding, but thanks to the authenticity of the actors' portrayals, it's easy to invest in the story.
Some standout songs are "It's Only a First Date" sung touchingly by Ms. Trimm, which is reprised for a good reason. Ms. Hiatt sings a lovely song towards the end called "The Unromantic Things" which could definitely work as a stand-alone song in a cabaret. Mr. Crumm sings beautifully--and displays enormous stamina as he is asked to be on stage for what seems like the whole ninety minutes.
The Evolution of Mann has a lot of potential and is a great date musical for an audience that might not want the typical musical theater experience. Its focus is on the dating scene for thirty-somethings, but any adult could relate to the heart of this show. It's a witty how-to for establishing lasting relationships, and I look forward to seeing future productions.
THE EVOLUTION OF MANN runs September 23 - October 21; Tuesday - Friday at 8pm and Saturday at 3pm & 8pm, and Sunday at 3pm. the cell is located at 338 W 23rd St, between 8th & 9th Avenues -- accessible from the C & E trains at 23rd Street. Tickets range from $25 - $55 and are available at 800-838-3006 or www.thecelltheatre.org.
Photo Credit: Carol Rosegg