BWW Review: Mia Oh My! SO LONG BOULDER CITY Dazzles at Subculture Theatre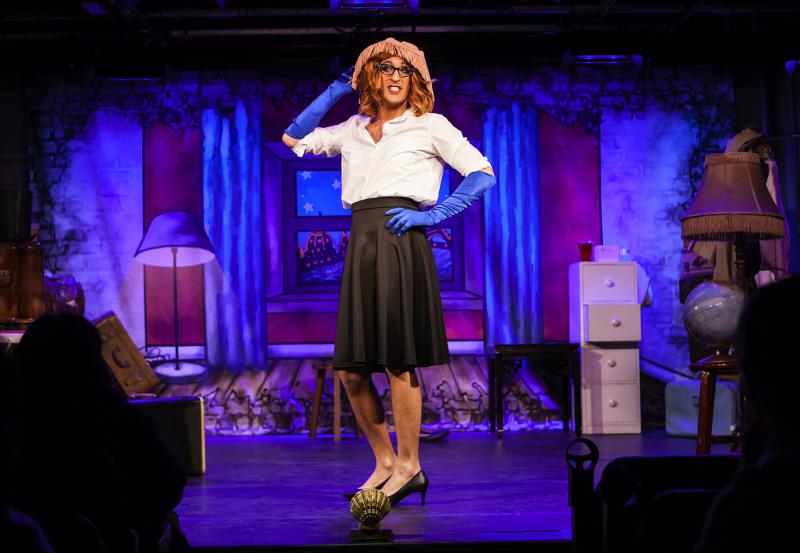 When we think of a person bound for success, dedicated to personal fulfillment and happiness gained through their craft, one such person who comes to mind is, of course, an actor! It is a profession that changes people, to say the least. An actor's drive and dedication towards a unique means of self expression is many times the priority of his or her life - it encapsulates a person's love and plots it towards a future role, a new technique, or simply finding a new place to call home. I have spent some time on stage myself, but never can I imagine how difficult a journey a true, dedicated actor must take. But you know what? Actors are also incredibly fun people! Who said that their life's journey can't be just a little bit entertaining, funny, and just a little quirky?
Meet Mia Dolan, the star of Subculture Theatre's So Long Boulder City, who presents audiences with the "little bit of everything" that makes the life of an actor quite a fascinating story to tell. With a lightheartedness rising from the ashes of burned dreams, you're just gonna love this show.
Oh, did I mention that this is the same Mia Dolan from La La Land? And that this is quite possibly what transpired during her one-woman show at the movie's end? The show that very few people attended, but one that helped her become a famous star? Now that I've got your attention...
Written by Jimmy Fowlie and Jordan Black, starring Fowlie as Mia Dolan and Black as the show's director, So Long Boulder City is a sometimes lighthearted, at times sad but constantly funny and endearing take on one woman's attempt to be an actor. The stern undertones of what it means to be an actor are given a mouthful of fresh air when Mia, one of those "Nevada girls," decides to become an actor because of an inspirational Aunt (who is debatably a woman). This is the story those of us who saw La La Land only got a glimpse of, transformed into a new experience that is as engaging with its plot as what Fowlie visually presents to us. An accurate portrayal of the actor's journey to foster her creative spark, Mia is the awkward, slightly askew yet confident rock star that never fails to make an impression - a person I don't believe any of us would mind being.
So Long Boulder City follows aspiring actress Mia Dolan from her hometown of Boulder City, Nevada, to Boise for college (the only musical theater program that accepts her) and finally to Hollywood to become a star. She follows her dream of becoming a great actress, only to discover that people are impressionable - their lives can change at any moment. From learning she isn't "all that" to never letting that dampen her spirit and believing she is, Mia navigates her way on stage by explaining those quirky, entertaining moments that make the life of an actor unique. From stage to party, back to the stage and learning that this is the real party - with strobe lights, a homely set and a very nice pair of blue satin gloves, Dolan brings audiences the tale of her life from the very start to when she makes it big...and makes quite the show out of it.
I believe being an actor is one of the more admirable professions there is, requiring such unwavering dedication. Although, when you throw comedy, cross-dressing and a lovable character like Mia Dolan into the mix, what you get is more of a heartfelt, inspirational story that makes us really appreciate the power of a dedicated soul. Fowlie plays Mia with such lovable warmth, portraying this character with this great sense of hope ever present within her heart. Watching him was like watching a badass friend we want to see succeed, with a sense of confidence and courage we all want to possess (at least I do!) as we fail and succeed through life.
Fowlie makes the actor's journey seem a but more familiar, a bit more warmhearted and, of course, possessive of more wild and fun comedy than we would ever think the premise of this show to have. Although, he has captured the essence of what it means to be human through his quick changes, moments of strutting his stuff (basically the entire show) and sending a friendly "bless you" to a sneezing audience member. There is a beautiful lesson to be learned while watching this show: life is interesting, and we shouldn't be afraid to just go for it.
So, against Fowlie's acting professor's advice to not pursue acting, I say nonsense - you were fantastic and took over that crowd as if you've been doing it all your life.
Boulder City features set design by Diggle, costume design by William Graper, lighting design by Sarah Lurie and sound design by M.L. Dogg. The show is also presented by Mike Lavoie, Carlee Briglia and Keith Boynton.
So Long Boulder City began performances at the Subculture Theatre (located at 45 Bleecker Street) on December 1st, with an official opening on December 7th and running through January 7th for a limited engagement. Tickets are $36-$46 (with premium seating available) and may be purchased by visiting www.SoLongBoulderCity.com or by calling OvationTix at (866) 811-4111. The performance schedule is as follows: Thursdays at 7:30pm, Fridays at 7:30pm and 10pm, Saturdays at 2pm, 7:30pm and 10pm and Sundays at 2pm and 7pm. Running time for So Long Boulder City is 70 minutes, no intermission.
So Long Boulder City was originally produced and developed for Celebration Theatre by Nathan Frizzell, Jay Marcus and Tom Detrinis.
Enjoy the show!
Photo Credit: Monique Carboni
Related Articles View More Off-Broadway

Stories

Shows