BWW Review: Life and WHAT WE WANTED at the Clurman Theatre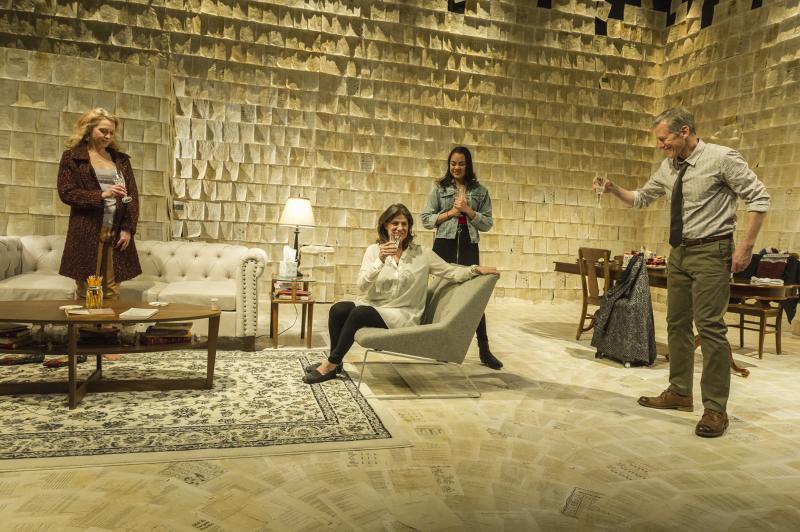 People struggle everyday with the concept of moving on against their better judgment - moving forward with their lives because circumstances dictate the necessity to do so. Perhaps escape from a current situation is truly wanted, masked by the illusion that things are as they ought to be; perhaps people comprehend what they want until reasons come about that question this entirely. What life doesn't necessarily prepare you for is moving on because nothing has really changed - what was concealed within a person simply makes itself known, shattering all that was believed to be true about a husband, a daughter, a boyfriend and most importantly, about oneself.
WHAT WE WANTED is a perfect testament to the idea that the tangible - what is believed to be certain and unchanging - is never fully ours to grasp; people, who believe in so many "truths," discover that life and its feelings are fleeting and played on a circumstantial basis. This play shows that life is a play itself, shown in the most unconventional of ways and posing the question: what do we want?
Written by David Harms and directed by Drew Foster (in association with Skyhook Productions LLC) for its current run at the Clurman Theatre (NY's Theatre Row), WHAT WE WANTED is truly one of the most intriguing plays I have ever seen performed. After a few moments' adjustment in understanding exactly what is happening, followed by a brief evaluation of whether the family scene before us is acceptable or slightly unsettling, the characters simply become people whose lives are unraveled before the audience to reveal bare, confused human beings affected by the absurdity of life, just as everyone is.
This show depicts two sides of a coin, or perhaps the two factors of a science experiment: one side is a controlled substance, a family life that is slightly abnormal but is a family nonetheless, and the other side an existential mess that seems to creep up on both the characters and audience alike, but was always really there, waiting for disaster to strike.
WHAT WE WANTED is just so raw and artistically realistic (in the sense that art imitates life), but is so in the most unconventional of ways; it leaves the audience questioning how something like this can be real but also demonstrates that humans are fundamentally the same and yet so far apart in between. It is one giant interrogation of people, of ourselves and understanding of what makes individuals tick and do the things they do; it is life meeting art and then colliding with life. It is dramatic in an "off-putting-ly" concrete sort of way; you can pretty much tell that the playwright also practices law. WHAT WE WANTED is a unique experience everyone should have, and this synopsis should persuade you why.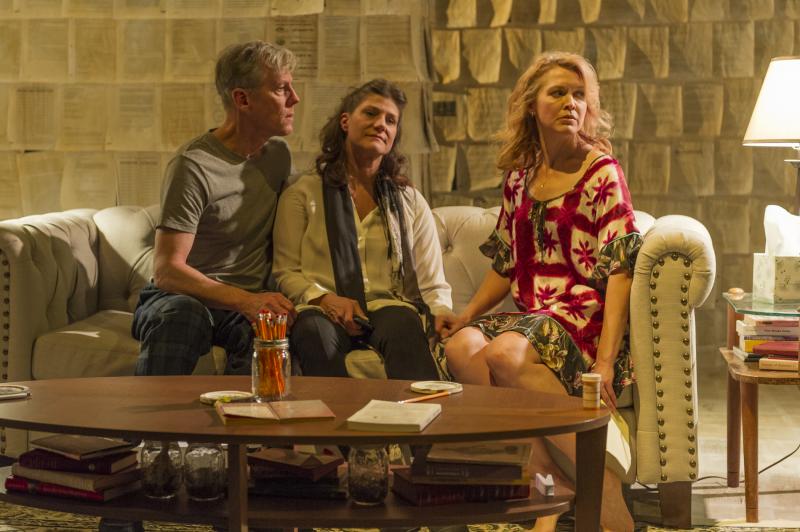 What begins with the picture of a nice family life - a man and woman, presumably married and living together in a house with walls made of fluttering paper - is perceived a little differently when a third person enters: a young woman, recently returned from her ballet class. With an exchange of kisses and niceties that are a little more "nice" than one would think among three people, these characters are soon acknowledged as family, although the reasons behind it are not yet revealed. Julian, Agnes and Sally are soon joined by Sally's teenage daughter Reggie and her hands-on boyfriend Dale, but the facts of the relationships between all these characters are given outright, with explanations as to how things happen later on.
In the present moment do characters pause to explain what happened - how Dale has feelings for an older woman, how Reggie was not meant to be a part of Sally's life, how life needs to be explained by those people who are living it as if to say "there are reasons we are who we are." There are reasons why this is what we wanted.
One of the most fascinating moments in this show is when Julian tries to explain his feelings for a school colleague to Agnes, whom he claims as his soulmate. In trying to justify his actions his romantic pursuit of said colleague, he says something so fascinating, it has stuck in my mind when writing this review. To Agnes, he says: "This doesn't change my feelings for you or Sally. It makes them stronger. Love is infinite, Agnes, it has no limits, it just grows and grows. The more I love, the more love I have to give." This can either be interpreted as some free loving nonsense that makes you question what this guy is smoking, or can this really make sense in some odd, masochistic sort of way? At least masochistic to the person who falls in love with Julian, a man who believes love is everywhere.
This play is based on that concept, and how people use it to both love and repel others in their life (in their careers and in their hearts) is brilliant. You can almost see the people in suits, standing in a courtroom, explaining their ways before being thrown behind bars for what they did.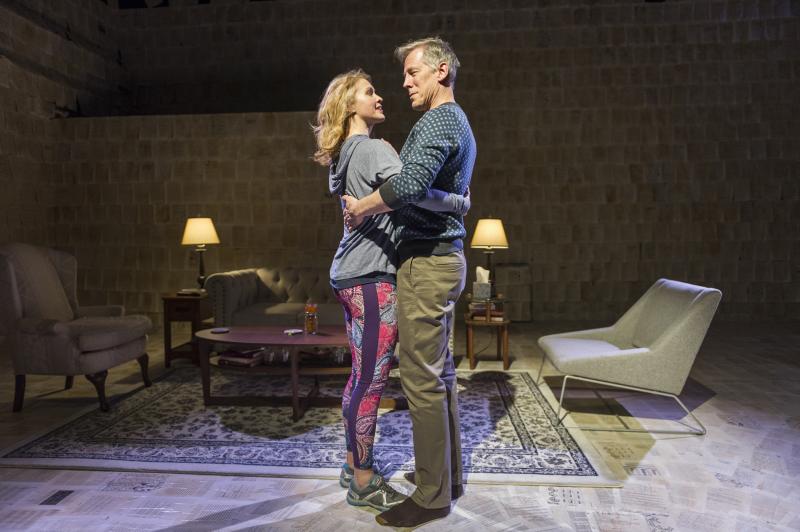 To the actors who made this all possible: Steven Hauck as Julian, Kerry Warren as Reggie, Elizabeth Rich as Agnes, Brandon Espinoza as Dale and Amy Bodnar as Sally are all spectacular as they navigate their way from happiness through to despair, and all the chaos that happens in between. I can imagine how difficult it is for an actor playing a single character to transition from beginning to end in such a life-changing way, that that character is almost unrecognizable at the end. An amazing job in keeping the audience riveted by all, including Abigail Strange and Katie Astra Barnhard as SM/ASM, Deb O as Set and Prop Designer, Gregory Gale as Costume Designer, Paul Miller and Joe Beumer on light design, Erik T. Lawson on sound design/original music and all those involved backstage in making this show happen.
WHAT WE WANTED began performances at the Clurman Theatre (located at 412 W 42nd St.) on January 3rd and will continue thru the 15th. Tickets are $22 and can be purchased at the box office or by calling (212) 239.6200. The performance runs 1 hr. 40 min with a schedule as follows: 1/7 at 2pm and 8 pm, 1/11-1/13 at 8 pm, 1/14 at 2 pm and 8 pm and 1/15 at 3 pm. Please visit http://www.theatrerow.org/clurmannowplaying/for more information.
Enjoy the show!
Photo Credit: Jacob J. Goldberg