BWW Review: Gideon Irving Makes His Own Kind of Sense -And Music - in MY NAME IS GIDEON, I'M PROBABLY GOING TO DIE, EVENTUALLY
Gideon Irving is an original. One-man (or woman) shows are by definition personal, but even by the yardstick of solo performance, MY NAME IS GIDEON, I'M PROBABLY GOING TO DIE EVENTUALLY is unlike anything I've seen in theater or cabaret. The 30-year-old actor born at Roosevelt Hospital on 58th Street (along with his twin brother, Isaac, a singing abalone) has performed his musical show in six countries and 504 livings rooms, along with fringe festivals and the occasional theater.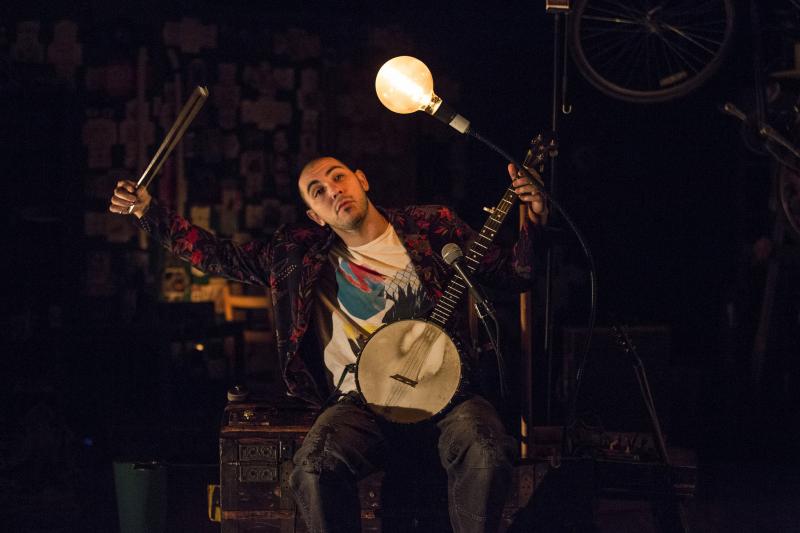 If you've never heard of inter-species siblings, don't worry. Very little in MY NAME IS GIDEON makes logical sense, beginning with the 1000 CD project he describes in the play's opening moments. The project is an elaborate collaboration on album design among audience members. After explaining how it works, Gideon says, "I hope you completely understood all of that, 'cause if you didn't, the show won't make any sense at all. The play will begin in six seconds."
I still don't have a handle on the project, and don't imagine others in attendance did either (unless they spoke to him after the show, which he encourages), but it doesn't matter. Gideon's authenticity immediately draws you in and holds your attention for one hour and 45 minutes without pause. He is an innocent, wise troubadour with a peaceful if wildly eccentric presence.
When performing in people's homes, the actor naturally stayed overnight. Now that the show is in a legitimate theater, he picks a member of the audience to "host him." Very few people could pull this off, but Gideon is special. (I'd have hosted him if not for the conflict of interest.) The scenic design by Silovsky Studios is extraordinary, though the objects are Gideon's own, so it was really a matter of figuring out how best to arrange all the odds and ends he's collected over the years.
Calling his style of music "Stove-Top Folk," Gideon plays banjo, harmonica, guitar, bouzouki, shuri box, mbira, jews harps, ocean harps, and a keyboard of sorts. He even turns his body into a drum for the hilarious "Don't Text Me," a rant about those who text rather than call when they wish to communicate something emotional or meaningful. "Sea Lion Cow," a song written by a 5-year-old in Arcata, CA is worth a trip to the Village. Gideon is a strong singer who must have studied voice, but he doesn't talk about his childhood or training except for the long, poignant vignette about his mother and father.
The most traditional part of the show (well, apart from the abalone brother), this monologue made clear why Gideon was a commissioned artist with the Foundry Theater. With his friend Dr. Hubcap "Nate" Sloan, Gideon traveled with a two-man show called Living Here: A Map of Songs. Gideon's sorrow at the loss of his artistic partner and friend is raw and bravely expressed. Director Ewen Wright no doubt helped to anchor the show in the wake of Hubcap's departure, but it's Gideon's personality that holds everything together.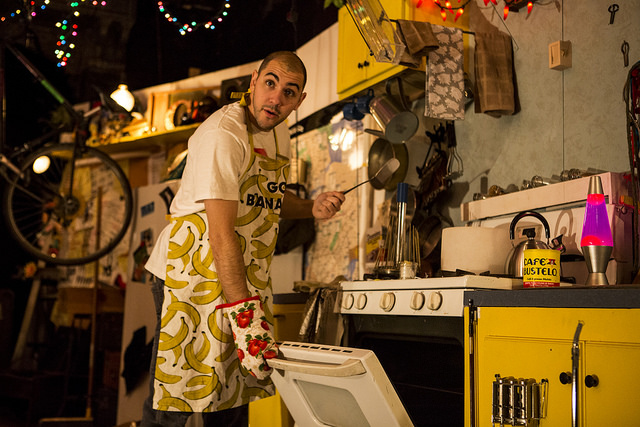 To call MY NAME IS GIDEON unconventional hardly captures the imaginative power of the work in (perpetual) progress. Gideon plans to ride across America over 18 months on horseback, performing the show in a scaled down way. If this sounds crazy to you, you're not alone. But Gideon, who lives life on his own terms, makes you believe in him--and maybe even in yourself.
My Name is Gideon, I'm Going to Die, Eventually runs through December 11 at Rattlestick Theater. Tickets can be purchased at www.afo.nyc or by calling (866) 811-4111.