Review: Experience the Timeless Magic of the New Vic's THE AGING MAGICIAN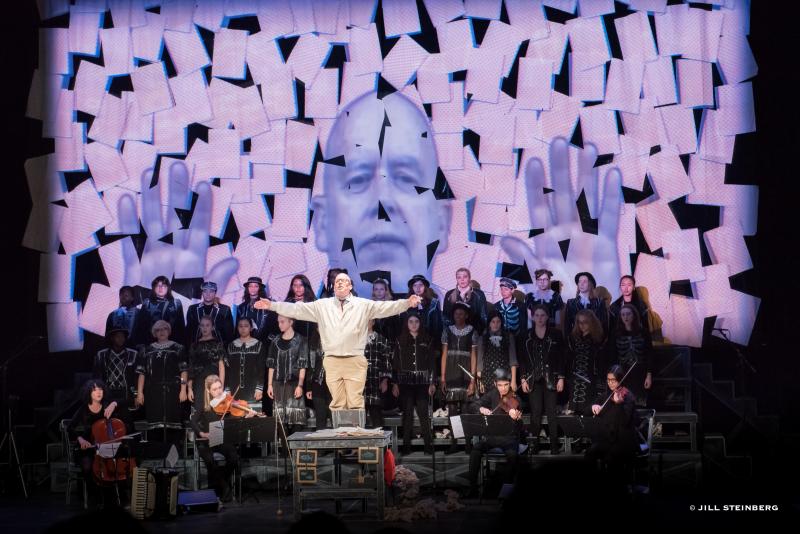 I am sometimes amazed by how brilliant some people in this world are, especially when it comes to bringing exciting and downright mesmerizing pieces of art to the stage - because a production that has the power to make people come together in such unanimous awe can only be described as art. When this can be said of a children's show no less, it is even more admirable, and I have the greatest confidence that all who see The Aging Magician at the New Victory Theater will be shocked by how shockingly beautiful this show is.
And when I say beautiful, it is an understatement to describe what, exactly, makes this so memorable a concept and performance. With a plot as intricate as the gears of a clock and meant for both those who have much or little time ahead of them, The Aging Magician, like a magic trick itself, is a little bit elusive, requires a little bit of personal insight, but does not beg for more than the audience's belief to make it truly something of a wonder.
In association with Beth Morrison Projects and VisionIntoArt, The Aging Magician now celebrates its off-Broadway premiere with The New 42nd Street at the New Victory Theater - a theater dedicated to providing children with quality (and typically fantastic) productions in the very heart of Times Square. The Aging Magician is a sensuous piece that is as much a feast for the mind as it is a tug on the heartstrings. It is enigmatic, almost like being lost in a Tim Burton-inspired circus with a need to portray the sadness of nostalgia, mixed in with the wonder of keeping those memories alive. It is a show that is perhaps more magical to adults than to children, adults who can understand the almost ethereal pull of a past one does not wish to be gone.
The act of remembering takes a lot more than simply conjuring up memories that float in the ether of our minds; watching this show is like a carnival that never stops luring people into the beauty of imagination - almost like that of a child's - that takes reality and intertwines it with fiction in so beautiful a way. It is a story so ingrained in one's being that reality is not always as tangible as we would like to believe. I'm sure many of us can relate to such a concept, and having it played out in all its physical beauty allows each of us to emphasize with and take what we will from this unfortunate man and his aging magician.
And speaking of children, how appropriate that the voices of the Brooklyn Youth Chorus help document the joys and discordance of Harold, a clocksmith who is engrossed in the tale of the aging magician and how, against the troubles of his own life, he struggles to finish the story before the aging magician (and perhaps himself) are no more. An absolutely stunning combination of acting and voice is used to tell the story of a man who, as Harold observes, is not merely arriving at point B from point A, but instead journeying through the contrast of his life now with his memories of long ago - all while the aging magician fights for his life through painful moments of cardiac arrest.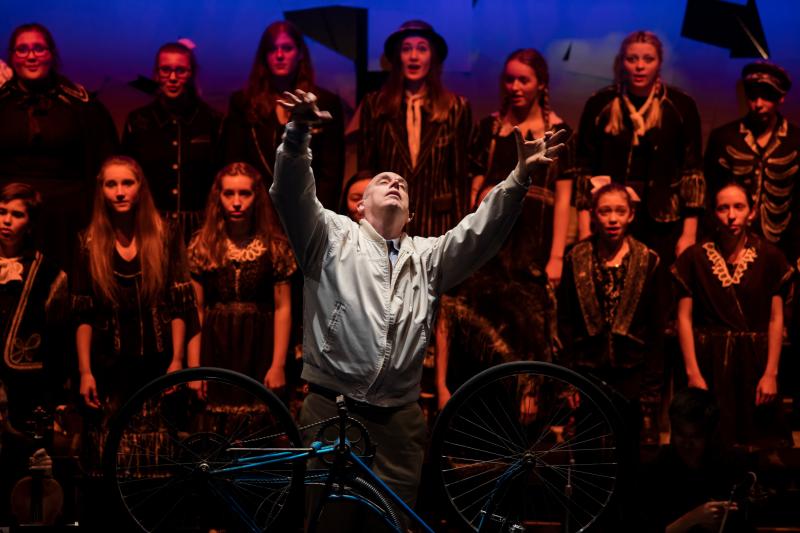 The Aging Magician is like watching the physical passing of time and all the joys tinged with sadness associated with it. It is a truly unique experience that will make the audience believe that magic does exist, if only adults and children alike will simply believe.
The Aging Magician begins with the telling of an old magician who wishes to pass his magic book and the power he wields with it onto his successor: a young boy he frequently sees at the marketplace. Before he is given his chance, the aging magician goes into cardiac arrest and sees his life literally passing before him, from past to present to realities there and not there, through the eyes of a clocksmith named Harold. Harold, when he should be working, is instead trying to finish the story of his aging magician -to keep the innocence of magic in his life by riding his bike around his clock shop, recounting train stop by train stop wondrous trips to Coney Island, and constantly reassuring his sister that he is taking care of himself.
In what becomes Harold's own struggle to see his freedom from time and in the interim to save his aging magician from an equal demise, The Aging Magician brings the wonder of a magical reality with the pangs of nostalgia that makes what was into a more present beauty - all while trying to save a life that may be better off in the infinity of his dreams.
Not only does Rinde Eckert does a magnificent job as Harold, but with the accompaniment of the Brooklyn Youth Chorus, there is so much feeling to the entire production that it is hard not to become engrossed in everything happening on stage. Eckert plays a man who is somewhat stuck between the confines of being an adult and wishing for his childlike imagination to roam free; how appropriate that he should work in a clock shop, hardly able to dedicate enough time to his customers.
The Brooklyn Youth Chorus, a truly accomplished group of young women who should be very proud of what they can do, lends sometimes angelic, sometimes menacing voices to the telling of this story - a true Greek chorus made up of young adults. As the aging magician goes into cardiac arrest, as Harold imagines a young boy in the hospital who captures the colors of fish at the aquarium in his eyes, or as the magician floats amongst the planets of Neptune, each circumstance is a new feeling, a new mood that is brought to new heights with the Chorus in the background.
There is so much about this show that I love, but it really is hard to explain what needs to be witnessed through one's own eyes: how the ordinary is made beautiful with walking people made out of paper, that same paper which help create moving images and, once the end finally comes, the gears of a clock almost capturing all on the stage as they become one with the sense of time they seemed so distant from until then. Time literally becomes tangible, something we all try to grasp and harness for our own and can only be kept in the childlike need for the innocence of what was.
When I mentioned that adults may feel the wonder of this show more than the children they bring, little ones will undoubtedly also be amazed by how far their imaginations will stretch while watching the magnificence of this production. The Aging Magician is like a theatrical performance with a bit of circus or sideshow, brought together by voices documenting the magic of each new instance, and to make all of this work so well is really something amazing.
Although I cannot possibly mention everyone who deserves it, credit must be given to Composer/Co-Creator Paola Prestini, Rinde Eckert (who also serves as Librettist and Co-Creator), Julian Crouch (Director/Co-Scenic Designer and Co-Creator), Kate Hopkins (Associate Director), Joshua Higgason (Video and Lighting Designer), Mark Stewart (Instrument Design), Amy Rubin (Co-Scenic Designer and Costumer Designer) and the Attaca Quartet, conducted by Dianne Berkun Menaker and including Amy Schroeder and Keiko Tokunaga on violin, Nathan Schram on viola and Andrew Yee on cello. And of course, all of the lovely members of the Brooklyn Youth Chorus.
The Aging Magician began performances on March 3rd at the New Victory Theater (located at 209 W 42nd St) and will continue thru March 12th. The remaining performances are scheduled as follows: Saturday, March 11th at 2 pm and 7 pm; Sunday, March 12th at 12 pm and 5 pm. Tickets start at $16 and may be purchased by visiting www.newvictory.org or by calling 646.223.3010. The show is recommended for audiences 10+ and has a running time of 75 minutes.
Please go and see this wonderful production this weekend!
Photo Credit: Jill Steinberg