BWW Review: Baby Boomer Sisters Cope With Aging Parents In Joni Fritz's IN THE CAR WITH BLOSSOM AND LEN
Billed as a dark comedy about 50-something children faced with 80-something parents in decline, IN THE CAR WITH BLOSSOM AND LEN is a semi-autobiographical play by Joni Fritz making its New York debut at the Queens Theater. "I write about what I know, and what I know is family," Fritz writes in the program's poignant note about her own theater-loving father, who did not live to see the play produced.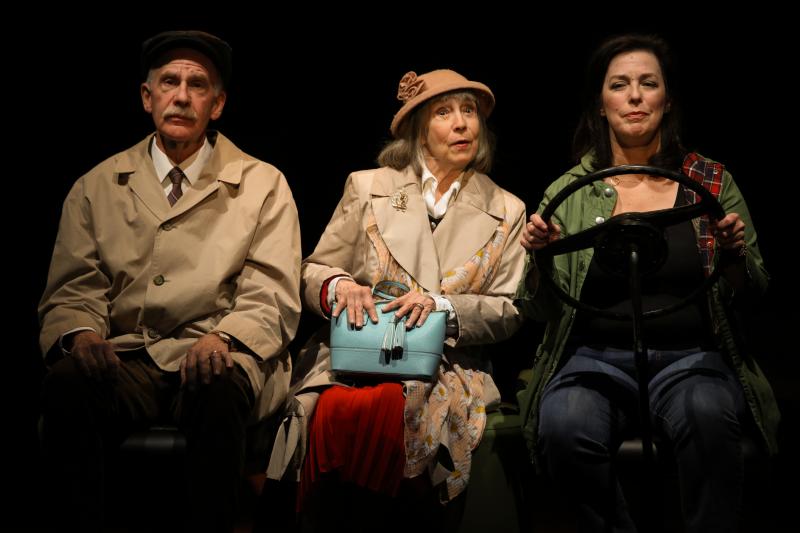 Len Gold (Peter Levine) is a lovable, stubborn, principled, and somewhat crotchety chemical engineer who opened his own lab in his early 60s after being laid off. "Crotchety" is a relative term, I suppose, but by my standards, he's fairly mild, more hapless than anything else. Like many scientists, Len lacks business sense but refuses to acknowledge this (and becomes defensive when pressed about it).
Len's wife, Blossom--nicely rendered by Emily Jon Mitchell--is a sweet, retired city manager clearly in the early stages of dementia, whose oft-mentioned "beautiful suits" remain one of her great pleasures in life (even if she has no place to wear them). Mitchell gets some of the play's best lines, as when she tells her grown daughters just how crazy their father's side of the family is.
For mid-80s, Len and Blossom are in decent shape, but they rely heavily on Holly (
Patricia Randell
), their unmarried, childless daughter who is kind but also a self-pitying basket-case with intimacy issues. Having long since abandoned her dreams of becoming a writer, Holly works as a transcriptionist (aka typist). Assuming the role of caretaker, she resents Fern (well-played by
Martha Byrne
), her high-powered, conventionally attractive blonde lawyer sister who attended Harvard and has a daughter soon to graduate from college. Holly and Fern are obviously not equals, either intellectually or in terms of capacity more generally. And Fritz does a good job drawing out the disparity between the siblings.
Byrne reminds one a bit of Laura Linney, whose physical beauty belies the complexity, and sometimes anger, of the tightly-wound characters she often plays. A three-time Daytime Emmy nominee for her work on As The World Turns, she balances brittleness with heart.
It soon becomes clear that Blossom and Len are in deep financial trouble, with a pile of unopened bills. Between impending financial ruin and Holly's denial about the progression of her mother's dementia, it's not exactly a barrel of laughs. While laughter can be a coping mechanism, the play just isn't all that funny, though the audience laughed throughout. It's objectively depressing, albeit all too common, family drama. My Jewish father, who died unexpectedly last year at the age of 90, would have called IN THE CAR WITH BLOSSOM AND LEN "tzouris" (Yiddish for "angst").
The play has some very nice moments. One comes during a tete-a-tete between Holly and Len, in which he reveals details about his alcoholic father that explain much about his personality, particularly his compassion for others and his weakness in the face of tough truths. Another lovely moment comes toward the end when Fern and her mother look at old purses, one from Venice (which Blossom endearingly confuses with Virginia).
The best dramatic scene comes late in the show, when the simmering anger between Holly and Fern erupts into a full-blown shouting match. Holly accuses Fern of having no heart (and hurls an egg roll her way). Fern isn't callous; she's guarded and maintains her boundaries. In a family with weak (or no) boundaries, the relative who develops boundaries is invariably viewed as callous or hardhearted.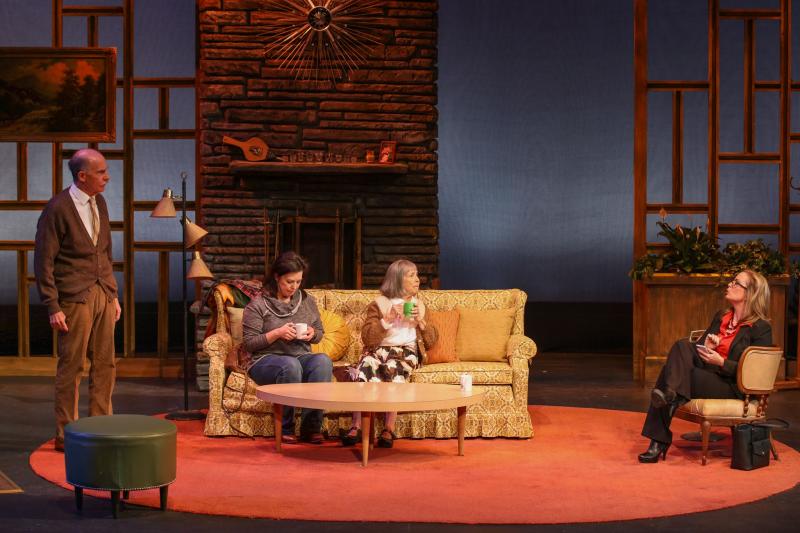 Anna Grigo's set design (based on the original design by Bob Phillips) deserves mention. Queens Theater is a large, old space with an occupancy of 472 (and a stage larger than some Broadway theaters) that housed the World's Fair. The mid-century modern décor of this middle to upper-middle class family, from the light fixtures to the stone fireplace to the Harvest Gold kitchen, sets the scene perfectly.
The last third of the play is the strongest, though one might say that the ending is too pat. By the end, the function of the social worker (Whitney Andrews) who wanders in and out somewhat randomly becomes clear. But Fritz captures some basic truths about family in her well-meaning play. Some self-referential or pseudo-autobiographical works transcend their immediate impetus (here, a heartbreaking experience with Fritz's own father and family). Great art happens when the personal becomes something greater than itself. That isn't the case with IN THE CAR WITH BLOSSOM AND LEN, which feels a bit like it was written from a therapist's notes. But therapy, particularly group therapy which functions like a support group, is valuable. This, I think, explains the audience's largely positive response.
In The Car with Blossom and Len runs through November 20 at Queens Theater. Tickets can be purchased at www.queenstheatre.org. Note: A shuttle bus takes one to the theater from the Willets Station stop on the 7. If coming from the city in cold weather, it is advisable to dress warmly.