Review: BASTARD JONES Rocks the House at the Cell Theatre
"It's not unusual to be loved by anyone..." Admittedly, this is the wrong Tom Jones and yes, I may have stolen this little pun from the show's opening narrative, but that Mr. Jones was on the perfect track to describing what chaos ensues in the life of a man whom everyone seems to adore: the literary Tom Jones. This is a man who cannot limit his constant self-indulgence but yet is still seen as "good" despite his ill reputed sexual conquests. As a disgrace to both his family and a disappointment to those who truly feel for him, his reputation is one that follows him as a sort of fate; and to reverse fate, some pretty drastic things have to happen.
Turn all of this into a musical and what we now have is Bastard Jones, an incredibly clever, zany and sexy raucous of a show that is as funny as it is profound. Now in performances at the Cell, this is just the sort of guilty fun that everyone is looking for and, for a little over two hours, will bring such joy to your heart and a "tingle" to everywhere else - prepare yourselves indeed.
With book and lyrics by Director Marc Acito (who is also responsible for the book of the Broadway musical Allegiance), music and lyrics by Amy Engelhardt and Artistic Directors Kira Simring and Nancy Manocherian, Bastard Jones was originally developed with the Millikin University New Musical Workshop and now haphazardly (in a good way) brings a professional cast together to delight New York audiences...and what an utterly amazing job they do bringing this scandalous plot to the stage.
Based on The History of Tom Jones, A Foundling by Henry Fielding, Bastard Jones is so saturated with hilarious puns, risqué humor and a myriad of nuances that make this show not only very unique, but charged with an urging force all its own. Characters who insist their ways and ideologies are correct are challenged by others who question why people can't just be free to love whomever (and however) the heart desires; for all its promiscuity, being "free" to express oneself can be good if there is good intent. And there is much freedom of expression going on here: from characters to actors, to how fluid and genius the writing is, to just how much damn fun I had experiencing the emotions this show makes the mind go through, Bastard Jones is really a lingering mental and physical treat everyone should want.
Bastard Jones starts off with a bang (literally...) and immediately delves into the world of Tom Jones, a "bastard" child with no knowledge of his mother or father. He is the ward of Squire Allworthy, a wealthy widower who lives with his sister Bridget and her son Blifil at their estate in Somerset. Promiscuous and uncontrolled in his sexual deviancy, Tom's desires bring him into the beds of many, including that of the promiscuous Molly, who he believes carries his child.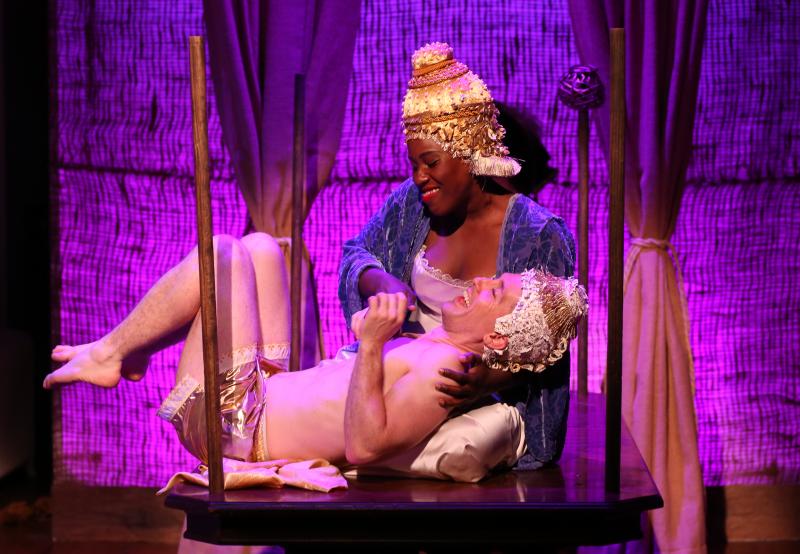 Amongst characters who are equally as scandalous in their ways (including men supposedly devoted to God), Tom realizes that his behavior is leading him further and further away from his true love, the beautiful Sophia Shepherd, a young virgin not yet corrupted by the likes of Tom but in love with him nevertheless. As Tom seeks to win back her trust, he finds that using his reputation to appease those on the path back towards Sophia is much more difficult than he ever anticipated. With a score that is heart-pumping, contemplative and altogether wonderful and a plot that is given a dose of modernity to make it comical, Bastard Jones will become one of your favorite shows you hope to see on a Broadway stage one day.
Just to add a little bit about how awesome this show really is, I'd like to point out how far a small stage, minimal set and tons of wit and talent can really go. There is a little bit of everything in this show: from a violinist rising from the pit to serenade the actors on stage, to Partridge's ode to show readiness by reminding the audience of their bathroom needs and the inclusion of good old-fashioned fart jokes, there is never really a dull moment in this show. If the problems created by the characters on stage and the secrets they hide aren't enough to keep the dramatic juices flowing, the humor behind the rather dark nature of the plot is bound to keep the audience "up" (I can't help quoting from this show).
Actors enter and exit the stage every which way, doors hit people in the face, cross dressing does occur, impossibly high tenor notes fly recklessly about in the face of adversity and shadow-sex behind sheets add to the comedy while slowing down ever so slightly to weigh the significance of Tom's actions towards the end. Nothing is lost with this show, and I can only imagine that once I read the novel, I will without doubt be humming a song from this musical in between the pages (seriously can't stop).
And the actors...I always appreciate a show that has an incredible cast a plot is helpless without, but this one in particular has gone above and beyond to make this show the shining, sweating and sexy spectacle that it is. Evan Ruggiero as Tom Jones is really something - not only because of how his looks make him perfect for the role, but because of how incredibly talented this man is. Despite his disability, I am in awe at how he makes playing the role of Jones just about effortless, as though he just glides right onto the stage and something wonderful happens before everyone's eyes. The show even incorporates his leg into the show, but does so in such a classy way that you really can't help to just smile and simultaneously think how nice the world would be if everyone could just "be," as this novel and musical so emphatically dictate. I would have loved to congratulate the whole cast myself afterwards, but I wanted to mention how inspired I was by Evan's performance.
Rene Ruiz, Crystal Lucas-Perry, Alie B. Gorrie, Adam B. Shapiro, Matthew McGloin, Tony Perry, Cheryl Stern and Elena Wang are literally the perfect cast for this production. I would really love to hear their beautiful voices and see their faces again if this show is performed again elsewhere (my first thought was Provincetown, oddly enough).
Matthew Liu on Keyboard 1/violin (also serving as Music Director), Emily Croome on Keyboard 2, Thomas Monkell on Guitar, Amanda Ruzza on Electric Bass and Marques Walls on Drums round out a wonderful band, while Gertjan Houben on Light Design, Siena Zoe Allen on Costume Design, M. Florian Staab on Sound Design, Joe Barros as Choreographer, Federico Berte as Fight Choreographer and Louisa Pough as Production Stage Manager must also receive credit for making this show everything it is. Bravo guys!
Bastard Jones began performances at the Off-Broadway venue the Cell (338 West 23rd Street) on June 14th and will continue thru July 14th. Tickets are $40 for general admission and $60 for reserved seating and may be purchased by either visiting www.thecelltheatre.org or by calling 646-861-2253. Please visit the theater's site to view performance schedule, as dates and times vary.
100% of the production's proceeds will benefit Cyndi Lauper's True Colors Fund, so if you can't attend the show, please donate what you can to a great cause.
And of course, enjoy the show!
Photo Credit: Carol Rosegg