BWW REVIEW: The Goree All-Girl String Band Forges A Path To Freedom (And Audience's Hearts)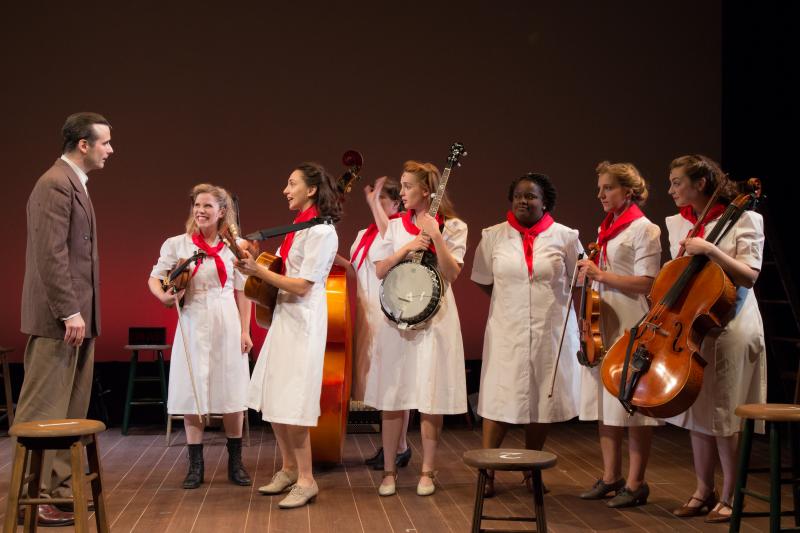 One of five shows singled out as "ones to watch" at the prestigious 2017 New York Musical Festival festival, THE GOREE ALL-GIRL STRING BAND successfully couches a message about redemption through music in a consistently funny play about a female prison in Texas circa 1938. The true story of female inmates at Goree State Farm doesn't pull punches about racism, sexism, or the justice system. While the grim reality of incarceration (and the possibility of forced sterilization) is ever-present, it is ultimately the humanity of these women "who've done bad" that emerges from Michael Bradley's well-plotted book and the fine acting of GOREE's ensemble, led by Lauren Patten (Fun Home).
The story begins with the arrival of a new inmate fresh off the "one-way wagon." Mozelle McDaniel (Ruby Wolf), a willowy strawberry blonde just 17 years old, evokes Suzy Amis in Rocket Gibraltar (1988). The timid Mozelle's introduction to Goree is bitter Nora (Miche Braden), who goes by the nickname "Cocaine." "Captain" Heath (Nick Plakias), the gruff but mostly benevolent warden who longs to run the Huntsville men's prison, warns the wisecracking, fearless Reable Childs (the talented Lauren Patten) to make no trouble.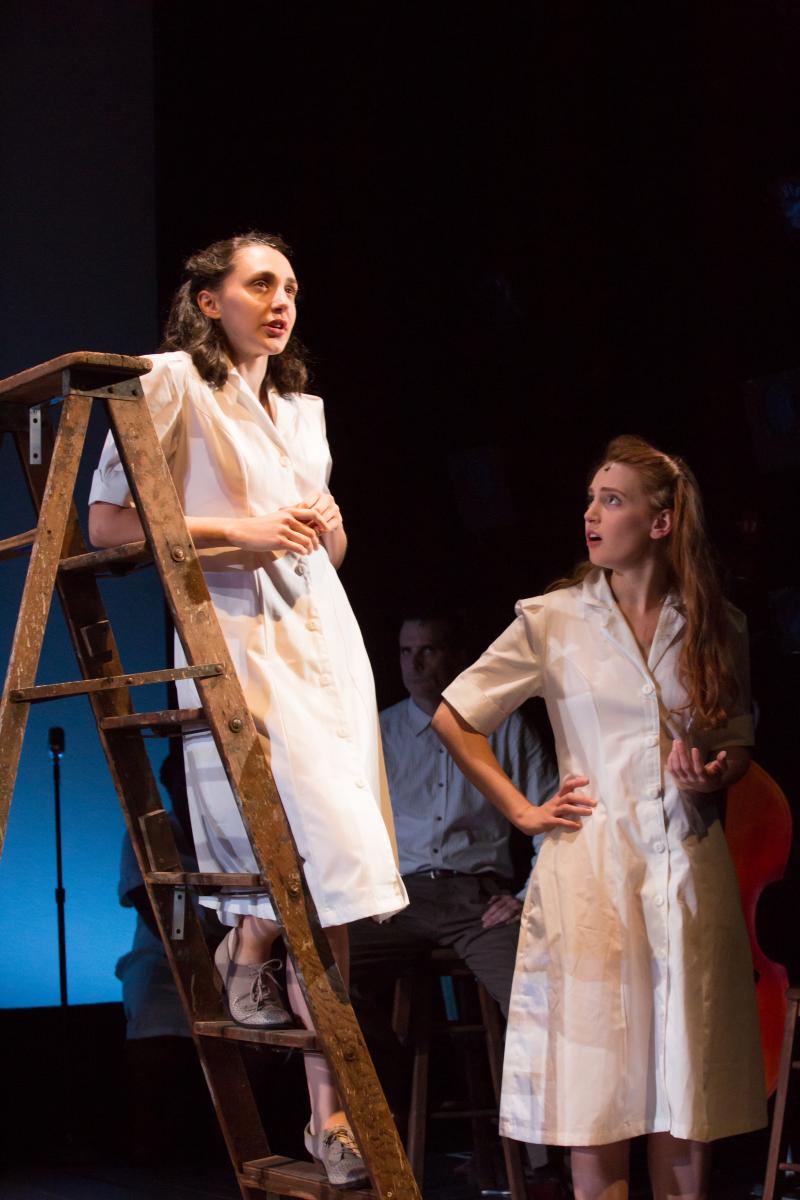 The Captain's angelic wife, Clyde (Broadway veteran Tamra Hayden, who played Cosette on tour over 1800 times), seems too good to be true. She brings the girls biscuits, stands up to her husband when necessary, and believes that loving and supporting these girls is the only way to rehabilitate them so that they can find their place in the "great big world" (the title of her somewhat trite solo song).

The girls do their best to make Mozelle feel at home. In "Did It Cuz We Had To," each girl explains how she ended up at Goree. Even when singing about murder (whether out of passion or self-defense), the mood is mostly upbeat. It's gallows humor with a Southern twist and a whole lotta fiddling', clappin', and singin'. The a capella singing is tight and the actors play the instruments with the cohesion one would expect of a longstanding band.
Except for Reable, these girls in Depression-era Texas led fairly desolate lives before Goree. Those who committed property crimes did so to secure a better life, never dreaming they'd get caught (though Bonnie and Clyde were "heroes" to the affable, take-things-in-stride Ruby Mae, nicely played by Chanel Karimkhani). And while they don't all claim innocence, they all (to varying degrees) feel justified and misunderstood.
But the play neither glorifies these women (or their crimes), nor makes them objects of pity, which would be to deprive them of personhood: "Here we are in the Goree State Farm/For the crimes we done commit/Cuz we could not get out of it/They ain't believe our tales a single bit/But our song ain't for pity or woe." The second scene ends on a sober note, when Reable says in a soft but brutally honest tone, "Your first night sleep is gonna be tough. The elements are gonna get to ya." This is typical of Bradley's deft writing, which turns serious whenever we're liable to forget that these women have lost their freedom, perhaps forever.

The "Wednesday night movie" brings gender into the mix when, in one of the first act's best scenes, Burma Harris (Kendra Jo Brook) asks why cowboys get away, literally, with murder. Reable claims it's because "the moviemakers don't know nothing about reality," adding that no one wants to watch a movie about people doing time: "It's a hard ticket to sell."
Mozelle, who enjoyed Westerns with her family during happier times, argues that a good story is a good story. It's interesting that Burma, a heroin mule under five feet tall and the coarsest, least bright inmate at Goree, poses the question. While dim (and if necessary, physically aggressive), she nevertheless has a cheerful toughness and improbable innocence.

When news of a radio show, "30 Minutes Behind the Walls," reaches Goree, Heath wants nothing to do with it. But Clyde thinks that hearing a radio show about fellow inmates will boost morale. She's of course right; the riotously funny show is a welcome change. Reable jokes she might have killed Captain Heath if made to sit through one more Western.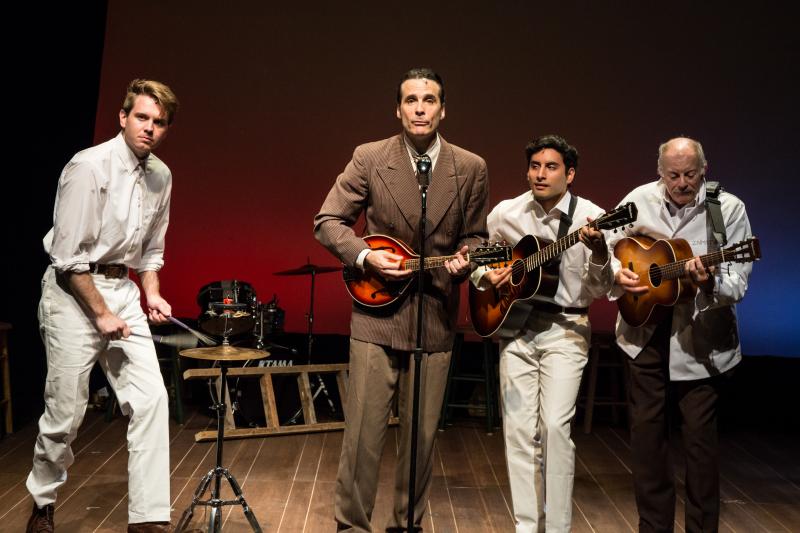 Nelson Olmstead (Luke Darnell) has all the the sincerity and empathy of a used car dealer twice convicted of fraud. His questions--posed in exaggeratedly smooth radio voice--are daft and his follow-ups worse. Nelson introduces Paul Mitchell (Robert Ariza, whose charisma and voice rivals Jarrod Spector), "Folks, I give you Paul Mitchell. Hiya Paul... And what brings ya here?" Paul stutters slightly, "I-I did a crime." "Well right you did!" Nelson replies, "Folks, you can't see him but Mr. Mitchell is mighty fine on the eyes. Now Paul, why are you on death row? Why oops! I just let your secret slip right out!"

Paul expresses genuine remorse for his crime, the shooting of a store clerk. He is haunted daily by his actions but tries to focus on the "enjoyable moments of his life," like performing on this very radio show. In one speech, Paul displays more integrity than Nelson, who profits from the tragedies he broadcasts. Nelson eerily prefigures the inanity of early reality television (Entertainment Tonight, Hard Copy) and the peppy network news anchors mocked by James L. Brooks in Broadcast News, when flash became more important than substance and journalists "became the story," in Albert Brooks' memorable phrase.
Clyde prevails on Heath to let the girls form their own band, stressing that the girls' success is good for him and his career. So begins the girls' plan to play their way to freedom, when the Texas governor ("Pappy") begins to pardon exceptionally talented musicians, one by one. One must suspend temporal disbelief: the girls with no musical background get up to speed in a matter of weeks.
When the girls get their day on air, Nelson refuses to let Hattie (Nattalyee Randall) perform. Texas, he tells Heath, is not ready for a "blended band." The girls proceed without Hattie or they don't perform at all. Eventually he relents; Randall's "I Don't Mind" is without question GOREE's standout vocal performance and the best song overall, a perfect union between Bradley's lyrics and Artie Siever's music. Randall infuses the gut-wrenching song with dignity and grace that characterizes her entire performance.
The songs in Act II (a mix of country and R and B) are stronger than those in the first act. Braden's "How They Leave You" is a piercing statement on the logic of recidivism, and as relevant today as in 1938. Nora returns to Goree because there's nothing out there for her as a female ex-con. "On Bended Knee," sung by the Paul (Aziza) and Terrance (the excellent Titus Tompkins), is a fine duet between the two men vying for Reable's affection.
The last few songs are anti-climactic, adding little to Mozelle's moving disclosure of her crime and her poignant farewell to Reable. But the ensemble finale is grand, and the GOREE ALL-GIRL STRING BAND (a recipient of the 2017 Artists of Choice Award for Musical Theater) ends on a high note. As Reable said of prison stories, country music is "a hard sell" in New York musical theater, but solid direction by Ashley Brooke Monroe (and insightful work by dramaturg Molly Marinik) helps close the deal.