BROOKLYN NO NAMES Comes to The SheNYC 2018 Summer Theater Festival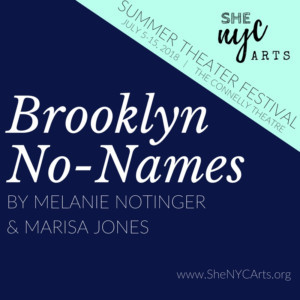 Sometimes getting what you need means you have to lie. Sometimes you have to hand your email address to an insta-famous dickbag or date a cokehead production designer. A filmmaker and a musician, who just moved to Brooklyn post-grad with no professional credits, desperately search for artistic success in a series of awkward, messed-up encounters.
Melanie Notinger will be playing Izzy and Marisa Jones will be playing Elliot in this summer's production. Notinger is a writer, performer and filmmaker from Texas. Her short film, Choke Artist, recently screened at The East Village Queer Film Festival. Jones is a performer, dancer, and creative humanoid from Mississippi. Her recent credits include Lakehouse (Jenny) and dancing professionally at The William Vale. The director of this summer's production is Diane Meo, the founder of the Austin TX based theater company, Ensemble Mercury.
For tickets and more information, please visit www.shenycarts.org.
The SheNYC Summer Theater Festival is New York City's only festival devoted to producing full-length plays, musicals, and adaptations by women writers annually, and in 2018 will be joined by the inaugural year of the She L.A. Summer Theater Festival. SheNYC's commitment to an open submissions process allows it to discover and cultivate the best up-and-coming talent in the industry. The 2018 NYC Festival will run from July 5-15th in the East Village's Connelly Theater, and will feature eight new works. The L.A. Festival will run from July 23-29th at Hollywood's Zephyr Theater and feature five new works. Visit www.shenycarts.org for more information on the other participating shows, as well as performance dates, times, and ticket info.