Click Here for More Articles on BC/EFA
Ashley Griffin's Fairy Tale Take SNOW to Return to NYC to Benefit BC/EFA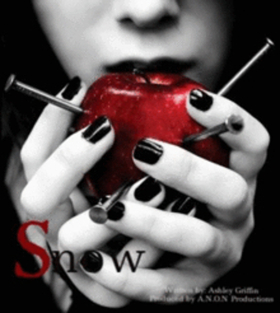 After a highly praised development at Playwrights Horizons, NYIT Award nominated A.N.O.N. Productions will be bringing SNOW to Theater 54 in Times Square this fall to benefit Broadway Cares - Equity Fights AIDS.
Exploring the power and importance of storytelling, Snow (a new play written by Ashley Griffin, creator of the pop culture phenomenon Forever Deadward, and the first person ever nominated for a major award for both playing and directing Hamlet) follows three disparate storylines that all revolve around the fairy tale Snow White.
Utilizing a structure similar to Cloud Atlas and The Hours, six actors playing multiple roles tell the stories of the Grimm Brothers (who originally collected and published the classic fairy tale), the Campbells (a Victorian theatrical family whose lives begin to mirror Snow White), and modern day Astrid (a young woman who, after her abusive mother puts her in a coma, must decide whether or not to wake up).
Incorporating aspects of American Gods, and classic storytelling techniques a la Peter and the Starcatcher, Snow is a dark and moving play that mines our storytelling traditions both in style and subject matter.
Note: This work contains adult subject matter, including the death of a child, sexual content and drug use. It is not recommended for small children. Parental discretion advised.
Written by Ashley Griffin (Forever Deadward, Trial,) SNOW is directed by Sage Barrie (Peculiar Creatures) produced by NYIT Award nominated A.N.O.N Productions and features: Leslie Alexander* (The Boy From Oz, Mamma Mia!), Gracie Beardsley (How The Grinch Stole Christmas), Ryan Clardy* (One Life To Live), Ashley Griffin* (Hamlet, NYIT Award Nominations), Jay William Thomas* (Dementia 13 (NBC Universal)) and Ryan Williams* (Joseph and the Amazing Technicolor Dreamcoat).
Snow will premiere at The Sonnet Theater (358 West 44th St between 8th and 9th in The Producers Club) for ten performances October 17th through October 26th: Tuesday Oct. 17th - 8pm performance; Wed Oct. 18th eve - 8pm; Thurs Oct. 19th eve - 8pm; Sat Oct. 21st mat and eve - 2pm and 8pm; Sun Oct. 22nd eve - 7pm; Mon Oct. 23rd eve - 8pm; Tues Oct. 24th eve - 8pm; Wed Oct. 25th eve - 8pm; and Thurs Oct. 26th mat and eve - 3pm and 8pm. For tickets, visit www.brownpapertickets.com/event/3078309 or call 1-800-838-3006.
* Appear courtesy of Actors Equity Association