A MODEST PROPOSAL to Play Limited Engagement at the Cherry Lane Theatre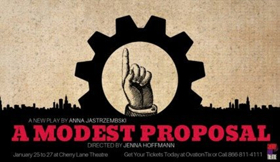 A Modest Proposal, written by Anna Jastrzembski and directed by Jenna Hoffmann, will be presented at the Cherry Lane Theatre for a limited engagement on January 25th, 26th, 27th, 2019 at 7pm.
Imagine a world where death and old age are nearly defeated. A happy, roomy place where clean drinking water is available year-round, and no one is ever in a hurry. Would you like to live in such a world? What if it meant restricting your individual liberties in pursuit of a collective happiness? Set in a near-future, imposed utopia ruled by population control, A Modest Proposal follows the lives of various citizens caught up in a system of government-encouraged suicide, where life is reduced to a precarious game of numbers. Through multiple storylines that converge in a hospital waiting room, A Modest Proposal considers how one person's worth can be qualified over another's, in a world that values collectivism over rights of the individual.
The cast of A Modest Proposal includes Yannik Encarnação, Adam Foldes, Heather Holmes, Alexandra Kumala Moerdomo, Kadence Neill, Rora Brodwin, Joe Rivera, and Brian Joél Sanchez.
The production team includes Co-Producers Jon Bleicher and Maryl McNally, Co-Production Stage Managers Acacia S. Drake and Chloe Seare, Lighting Designer Christina Tang, Scenic Designer Matthew Imhoff, Composer Emily Erickson, Sound Designer Renee Yeong, Video Designer Olive Nwosu, Graphic Designer Sean Chia.
"This incredible collaboration of artists has built such a morally complex world-- not too far for the imagination to generate with where we currently stand politically," said Hoffman. "How much government influence is too much? What will happen if we don't actively work to maintain our freedom and individuality? These are questions we persistently ask in rehearsal."
A Modest Proposal will run for a strictly limited engagement at the Cherry Lane Theatre at 38 Commerce Street, New York, NY 10014. Performances are January 25-27 at 7pm.
Tickets: $25 General Admission/ $15 Seniors with code MODSENIOR/ $15 Students with code MODSTUDENT
Ticketing Info: https://web.ovationtix.com/trs/pr/1004139
Playwright: Anna Jastrzembski
Anna Jastrzembski is a New York City based playwright by way of Minot, North Dakota. In 2014 she received her B.A. from Hamilton College in Comparative Literature and Theatre. Anna is currently pursuing an M.F.A. in Playwriting at Columbia University as a member of the Class of 2019, and is interested in exploring how theory, poetry, and performance intersect.
Director: Jenna Hoffmann
Jenna Hoffmann is a Chicago native and NYU Directing graduate. She has trained with Siti Company and has a passion for physical storytelling. Her current focus is creating experiences that go beyond the theater space and into the world. She is constantly asking 'What can we do at this moment to enact the change we want to see?' Jenna is a vigilant and persistent creator with a passion for bringing community together to continue conversation sparked by a theatrical experience. Recent directing credits: Jesus (Chuck Mee), Violet, Hedda Gabler, Alkestis, Jack, or the Submission, Lordes (Associate). She's assisted directors and choreographers such as Kim Weild (Soot and Spit, Stepchild: A New Musical, First Love (Cherry Lane)) and Danny Mefford (choreography workshop of Miss You Like Hell). She has been mentored by the incomparable Mikhael Tara Garver and Barney O'Hanlon. Many thanks to Angelina Fiordellisi for believing in Jenna and this project to help make this production happen.
Related Articles View More Off-Broadway

Stories

Shows
More Hot Stories For You