BWW Review: Virginia Repertory Theatre's Imaginative CURIOUS INCIDENT is Can't-Miss Theatre
Virginia Repertory Theatre opens its 2018-2019 season with the creative masterpiece, THE CURIOUS INCIDENT OF THE DOG IN THE NIGHT-TIME. The fast-moving production is chock-full of fantastic performances, inventive staging and technical accomplishments. The production runs through October 14 at the November Theatre.
Based on the heartwarming 2003 New York Times bestseller of the same name, CURIOUS INCIDENT... follows Christopher Boone (Michael Manocchio), an extraordinary 15-year-old who, following the murder of the neighbor's dog, Wellington, sets out on a journey, against his father's (Joe Pabst) wishes, to find the assailant. Christopher's overcharged and gifted mind drifts similar to that of someone on the autistic spectrum, though the book's author, Mark Haddon, explains his novel is "about difference, about being an outsider, about seeing the world in a surprising and revealing way." Christopher is a mathematical marvel but isn't sharp on common sense. He dislikes being touched and is suspicious of everyone. Wellington's murder takes Christopher on a Sherlock Holmes-inspired journey that completely upends his world.
While earlier productions of CURIOUS INCIDENT have taken place in theatres-in-the-round, with design that relies on audience visibility of the stage floor, Artistic Director Nathaniel Shaw has adapted the National Theatre's (UK) ambitious and award-winning technical marvel for the November Theatre's traditional proscenium stage and, thanks to its production team's seamless collaboration, it is a sweeping success. Tennessee Dixon's scenic design consists of geometric shapes, strategically placed television screens and shifting flats. BJ Wilkinson's dramatic lighting complements the impressive projection work of Daniel Brodie. Julian Evans' sound design heaves the audience inside Christopher's chaotic and complex mind. Sue Griffin's contemporary wardrobe selections are effective. Special mention also goes to the dialect work of Erica Hughes.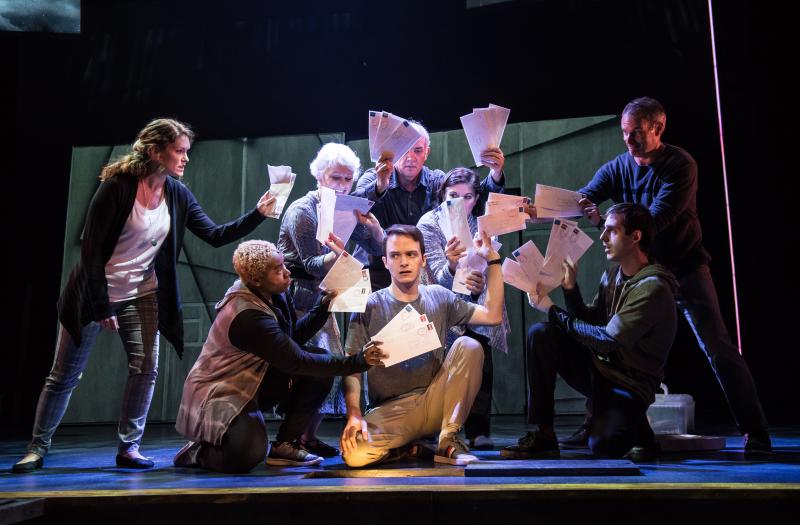 CURIOUS INCIDENT is an immersive production that, through Shaw's dynamic choreography, often uses its ensemble as objects and abstract exchanges to convey the type of unceasing sensory overload Christopher experiences. Whether the cast is lifting Christopher off in a space-like fantasy or raining down newly discovered correspondences, Shaw's choreography uses the very interactions to which Christopher is averted to advance the story.
In this ensemble masterwork, every cast member has its shining moments. Standouts include Irene Ziegler, Matthew Radford Davies and Sara Collazo.
Joe Pabst hits emotional strides as Christopher's sensitive and overprotective father, Ed. Laine Satterfield is convincing and conflicted as Judy. Emilie Faith Thompson is endearing as Christopher's teacher, Siobhan, who oftentimes serves as his therapist or internal voice to help identify the solution to his many dilemmas.
But this is Christopher's story. In his Richmond debut, Michael Manocchio delivers an energetic and unforgettable performance as Christopher Boone, perfectly capturing the cadence and tendencies of someone with an atypical neurological condition.
THE CURIOUS INCIDENT OF THE DOG IN THE NIGHT-TIME is ensemble storytelling at its very finest. Due to bouts of strong language, the production is not recommended for children.