BWW Review: TheatreLAB's I'M GONNA PRAY FOR YOU SO HARD: Bare Bones, Metaphysical Theatre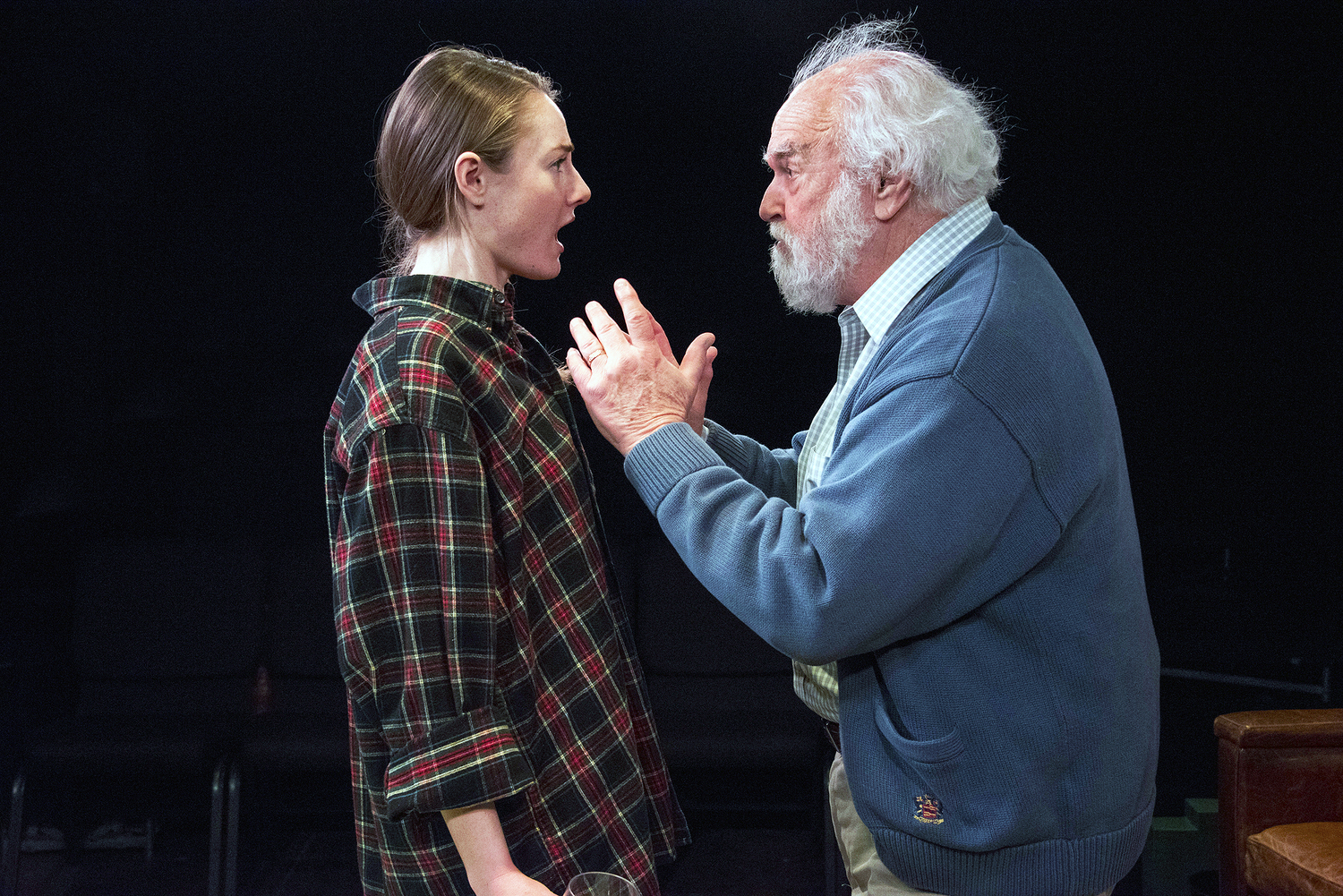 *Review by Brent Deekens
I'M GONNA PRAY FOR YOU SO HARD is a theatrical piece... about creating theatrical pieces.
Though set in New York City, the play's entire action take place in an intimate living room. Framed theatre and movie posters adorn the main wall. Copious copies of plays - and only plays - are compacted on the single bookshelf under the aforementioned placards. A well-worn couch rests under the books. A large, round coffee table diminutively stands by the couch. An armchair sits at the opposite end of the room. A dinette shelf carries wine, cigarette packs, and illicit drugs in arms' length of the chair. Complete with a Turkish rug, a front door leading outside, and a path to a separate hallway, that's it.
All that's needed are playwright Halley Feiffer's characters. There are two.
Liz Earnest play's Ella in a sweet and sometimes fierce performance. Ella is an earnest and hardworking actress who, perhaps, in keeping her emotions a tad too close to her heart, causes her to fall victim to her own bouts of depression and helplessness. Her current conflict involves her assuming the role of Masha in a credible production of THE SEAGULL; she is at odds with an actress named Clementine who seized the more impactful role of Nina (through perhaps questionable means). Out of spite to her competitors, Ella might harbor aspirations of carrying on the family business by composing her own plays.
Ella's greatest champion - and her greatest enabler - is her grizzled, old father David: a Pulitzer Prize-winning playwright of the days of the classic contemporary scribes such as Arthur Miller and Tennessee Williams. David, dynamically played by Alan Sader, is simple and warm but also sullen and ill-tempered. As he muses over his more productive times (the posters are of his plays and Oscar-nominated film), his ego remains fragile, causing him to vociferate at anyone, living or dead, that happens to board his outbound train of thought. This includes Ella.
To dampen these random moments of near-delirium, David takes to smoking cigarettes, imbibing wine, taking bong hits, and even to snorting cocaine. This also includes Ella.
Inevitably, this drug-fueled juggling act of rowdy cogitation culminates into a bitter (and bloody) separation between father and daughter. And this is just the end of Act I.
Without giving anything away, Act II takes a most arresting and unexpected turn. For better or worse, one might ask? That's entirely up to the viewer; I thought it was fittingly expected given the "meta" nature of the play.
A general axiom maintained (perhaps unconsciously) by writers who pen stories about writers or the creative process is that the self-awareness of the overall story structure seems to become imminently subjective. The author thereby choses to toss said structure aside, and make way for daring changes (comedies do this for laughs and can be very affective at it). In making such a gaudy move, such a feat of narrative abandonment may not quite sit well with an onlooker's preconceived notions of how the story they're currently reading/watching should pan out. Yet such is the price of the "meta" dealings of writing about writing, and Miss Feiffer's example is no different.
Either way, the production remains engaging throughout. Director Deejay Gray maintains the pace, tied with the actors who never give the audience a dull moment. Highlights include Michael Jarett's deceptively simple lighting of a deliberately suburban domicile designed by David Melton (with further props to carpentry by Mark Caudle and properties management by Benjamin Burke). Dialects by Erica Hughes were welcome assets (yet again). And Emily Atkins' costume design was also appropriate (the Velcro shoes were a spot-on touch).
Lastly, a further shout-out goes to stage manager Breezy Potter and her assistant, Connor Scudder, simply for cleaning the stage - this was a messy play in terms of smoke, ash, and spilled liquids.
Onlookers sensitive to herbal cigarette smoke should pay heed, respectfully.
I'M GONNA PRAY FOR YOU SO HARD runs at TheatreLAB through Saturday, February 17th.
Related Articles View More Central Virginia

Stories

Shows
Brent Deekens is an actor, singer, playwright, and occasional director/dancer. Brent's play The Currency premiered Off-Off-Broadway in 2015, and he continues to write for future (read more...)