BWW Review: RICHMOND SUMMER THEATRE at Various Local Theaters
In a mid-size metropolitan area like the greater Richmond, Virginia region (population 1,263,617 as of 2016 (www.grpva.com)), you wouldn't expect much of a cultural calendar. You would, however, be mistaken. The theatrical season, professional and non, amounts to about 60-75 productions per year, an amazing statistic. Theatre keeps pace with music in this town and the sleepy summer is no exception.
Richmond is rich in summer theatre. Richmond has its very own Shakespeare Festival performed in an actual transplanted Tudor Mansion and a Musical in the Park. In Richmond the main stage theatrical calendar doesn't end until the end of July and picks right back up in September. Catching workshops and shows at the end of the season and one at the end of its run provides for very entertaining summer nights.
RICHMOND TRIANGLE PLAYERS, the South's premier LGBTQ Theatre house opened GREY GARDENS (the musical) at the beginning of June. The show had been generating buzz and had been extended when I saw it in its seventh week. A rare opportunity, as critics are traditionally invited to opening nights in the hope of generating positive publicity which will generate positive business for that production. By and large, however, few productions are as good as they will eventually become on opening night.
The buzz was reliable. The production was stellar all around: acting, directing, ensemble, lighting, costumes, scenery, dialects, hair, props, music, and choreography. Richmond favorite Susan Sanford shines in a tour de force double role as both mother and daughter. Very satisfying. May I have some more, sir?
Transition from a tight ensemble piece to a focused one man collision course. GREY GARDENS gave way to VERGE, a one man show by Dante Piro, a local Richmond playwright. This venture is produced by FIREHOUSE THEATRE as part of their Richmond playwright summer series featuring brand new plays by local talent.
VERGE is about a man named Virgil, an employee of a gentleman who has made his fortune selling ice cream toppings and is now apparently deceased. A group of eight strangers are called to an event that Virgil has arranged (or has he?). You arrive at the BRANCH MUSEUM OF ARCHITECTURE AND DESIGN on Monument Avenue, a building to which I had never been. The greeter/secretary (?)/maybe something else/ ushers you to a private room with a table with eight chairs, art, novels on desks, wine poured for no one in particular, engaging you in conversation that leads to the man of honor, the ice cream condiment King.
I had heard this was an interactive piece. I have a theatre degree, so I'm excited. I like playing with actors, being one, but you're invited for a purpose I would guess and I assumed it was for the reading of a will and that I was some character that was supposed to be there because of some connection to the Condiment King. I HAD A BACKSTORY.
But no. This was a tightly scripted affair wherein the audience is enlisted to help solve dilemmas and in the finding of evidence.
Of the eight my night, some were staff so knew the structure. Sometimes they helped the script go places it needed to go. Other guests I thought were plants but later learned were not. They were most interactive, moving freely about the set.
I sat in my chair and decided to be childishly contrary. I did not help to solve anything. All in fun and the playwright generously allowed me to do so. In reality he had no choice since he invited the participation. What I did shall remain locked in theatrical vaults.
A playwright writing for themselves is special. They have to let you in, don't they? Since they're living what they created, how can they not be honest? I suppose the playwright might have no acting ability or improvisatory skills, but those playwrights know not to ACT in their plays. Piro has such skills so he can sustain one guy for 70 minutes leading the audience like a ringmaster from station to station making them do what he wants (well, almost everybody).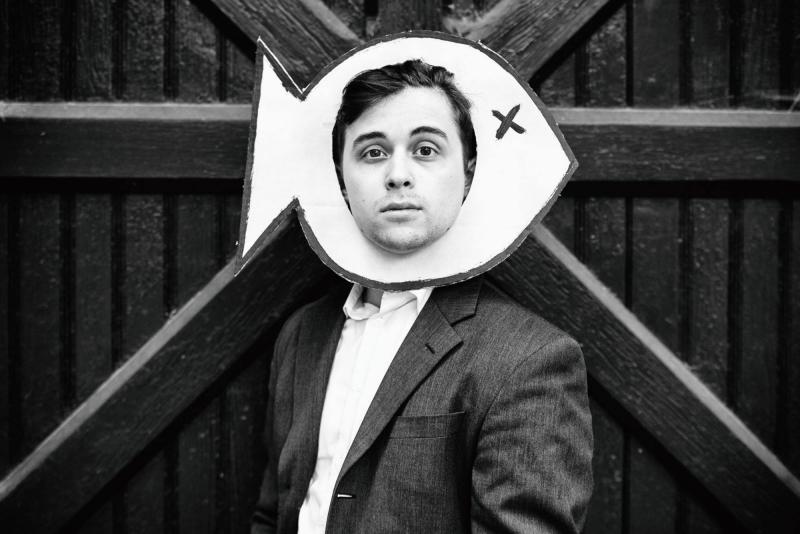 I thought the evening fascinating and annoying because although Piro made me care about Virgil, I didn't really care to be a solver of problems. Did I mention I had a backstory that never got realized?
I also wasn't invested in whether Verge ran the company or was taken care of like an invalid for the rest of his life. That has to be okay too when you invite extemporaneous characters into your world. You deal with what you get.
Mr. Piro did that and more. Bravo. Weird. Interesting. Not commercial in the least and I say, more please.
Transition to the musical MATILDA in the park! 8:30 curtain, have to get a good seat by 6:30. Bugs till the sun goes down, all your friends on lawn chairs eating fried chicken.
The Richmond Department of Parks and Recreation does one spectacular theatrical event in the park FOR FREE. And it's a family friendly musical! And this city cares what these shows look like.
They produce their plays at a city owned amphitheater called DOGWOOD DELL in Byrd Park which seats 2000 people. Many years these musicals are sweet but less than stellar affairs.
Not this year. Oh, my, my! Three good theatrical experiences in one review. None perfect but all worthy and entertaining. Who could ask for anything more?
MATILDA is the favorite Roald Dahl character who finds the magic to overcome bad parenting and bad education. The musical version of the story is true to the book and provides plenty of high spirited family fun. My kids and I had a blast.
Director Happy Mahaney fills the Dogwood Dell stage with enough talented children to fill a School of the Arts. Ali Thibodeau creates fun, athletic choreography that keeps your eye constantly excited. Music Director Ben Miller keeps the pace lively and his pit band sounded pretty darn good.
Unusual thing for a city park play, this production was polished. These guys were very good. Another well-rehearsed, tight ensemble. Stellar lead performances. 11 year old Cora Metzfield had the poise and spunk as Matilda that has to be a natural gift. She was endearing and delightful. She had her best moments with Levi Meerovich a hulking masculine giant of a Miss Trunchbull, the predominantly satanic grade school teacher. Meerovich channels every nasty adult who ever gave him a hard time growing up to inflict the maximum amount of torture upon the little crumb-snatcher. Thier scenes became a battle of the wills and both actors had the goods to see that it was an even match throughout.
Ah, summer play acting! A time when experimentation blooms, the Bard comes out to play and Richmond buzzes with creativity. And all with local talent. Richmond. It's for lovers. Theatre lovers.
Summer Theatre Fun Richmond VA - A Cornucopia of theatrical riches: WHO KNEW?
Related Articles View More Central Virginia

Stories

Shows