BWW Review: DAMES AT SEA at SWIFT CREEK MILL THEATRE: As Cutely-Camp As Can Be!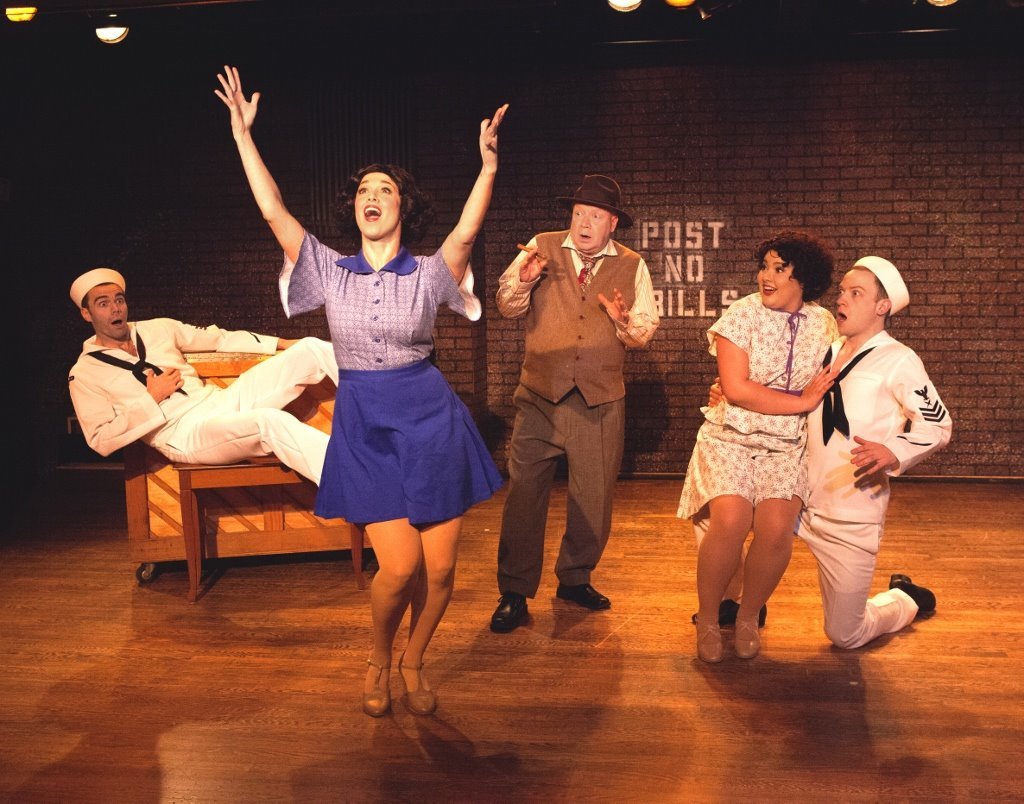 DAMES AT SEA, in its original lead-off at the Café Cino in New York City 1966, began as a short, song-filled comedy routine spoofing the Gold Diggers flicker shows of 1930s (a reasonably priced respite for the downtrodden working masses of The Great Depression). The chief conceit to DAMES AT SEA, as it further developed, was that the show featured a small orchestra accompanying a cast of six - a teasing contrast to Busby Berkeley's sweeping camera angles that captured the slew of sequined hoofers tearing it up to the big band blares of the Golden Age of Hollywood. Indeed, those mammoth production numbers were just the icing on the cake; the story and characters composed the central core - a sugary element in and of itself in terms of the layers of overt sentimentality that said component whipped up.
Thence authors Robin Miller, George Haimsohn and composer Jim Wise came in to recreate that abject sense of gooiness that profusely perspired from those "all smiles," "peachy keen," and "happy ending"-ending romances of yesteryear.
And director/scenic designer Tom Width, affectionately dovetailing off the Mill's production of DAMES AT SEA 26 years prior with the incidental reenlistment of cast members Robyn O'Neil and Steve King, has set his sights on another direct hit that should stoke the cheeky grins of audiences across generations!
(Indeed, in terms of content, apart from some ever-so mild instances of innuendo, this show is appropriate for kids of the, respectfully, non-restless age and persuasion.)
O'Neill stars as Mona Kent, the headlining though somewhat burned-out diva of a 30's era Broadway show that isn't close to being ready - and it opens in a matter of hours! King plays Hennesey, the overworked, Brooklynese-twanged director who is forced to relocate his show to a new venue: on the deck of the docked battleship, the U.S.S. Courageous, at the importunity of triple-threat sailors Lucky (Derrick Jaques) and Dick (Travis West).
As the clock to performance time ticks away, the show's success further rests on Mona Kent's cast mates: the tap-dancing chorus girls. We have Ruby: the sweet and innocent "new girl in town" played with warbling prowess by Anne Michelle Forbes. And there's Joan: the tough veteran performer played by Nicole Morris-Anastasi who, while often at odds with Kent, carries herself with poise and an unflappable esprit de corps - and a flap-happy set of spark-emitting feet to boot.
And it shouldn't go unmentioned that every cast member in DAMES AT SEA taps up a metronomic impetus to Alissa Pagnotti's fierce choreography. Future tap-dancers in the audience, young and old, could become enduringly inspired by these rousing displays of percussed footmanship with every flap, hop, step, shuffle, ball-change, et al...
The cast is appealing from the top, down; each has a standout song accompanied by Lelani Fenick and her nostalgic-sounding, eight-piece orchestra. Forbes' rendition of "Raining In My Heart" is undeniably mellifluous; the same goes for her and the sweet-sounding West for "It's You." Morris-Anastasi is commanding as ever when she takes the lead in "Good Times Are Here To Stay," and she's affably paired with an endearing and sure-footed Jaques in "Choo-Choo Honeymoon."
And for the "The Beguine," O'Neill and King (who doubles as the Captain of the Courageous) bring down the house with this, the funniest number in the show. O'Neill is equal parts melodious and comically clumsy, while King, a skilled singer in his own right, is a scream as his face displays a series of hilariously stupefied countenances (think Joe E. Brown - "zowie").
Theatregoers are sure to go in and experience a dandy ol' time, leaving the theatre a little happier than when they arrived. Also, seasoned or would-be dancers interested in observing the intricacies of the tap-dancing should coordinate with the box office to reserve seats as close to the stage as possible to bear witness to the full, syncopating brunt hammering down upon the Mill floor.
DAMES AT SEA plays at the Swift Creek Mill Theatre through May 5th.

Related Articles View More Central Virginia

Stories

Shows
Brent Deekens is an actor, singer, playwright, and occasional director/dancer. Brent's play The Currency premiered Off-Off-Broadway in 2015, and he continues to write for future (read more...)