Palisades Virtuosi to Present Holiday Gala Concert at Unitarian Society of Ridgewood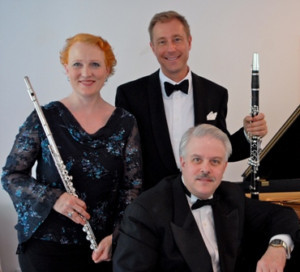 The Palisades Virtuosi flute, clarinet and piano trio presents their annual Holiday Gala Concert on Saturday, December 9 at 7:30 PM at the Unitarian Society of Ridgewood, 113 Cottage Place in Ridgewood, NJ.
In addition to the Premiere of a newly commissioned work by composer Steve Perillo, the presentation of their annual High School Young Artist Recognition Award Winner and holiday favorites and carols, works on the program will include PV's arrangement of the Overture to The Nutcracker , "Variations on an Appalachian Carol" [2003], one of PV's commissioned works from their first season and performed in memory of the composer, Godfrey Schroth who passed away earlier this year and Trio, op. 25 by Howard Blake for flute, clarinet & harp. Special guest will be harpist Katy Wong. Special holiday refreshments will be served at the post-concert reception.
Steve Perillo's composition studies were under the guidance of David del Tredici at Boston University. His works are a colorful and dramatic combination of pop, classical and 21st Century concert styles. While eclectic, he maintains a rigorous formal technique. His catalog includes dozens of piano works, pop songs, a flute sonata, brass quintet, 2 wind quintets, piano trio, string quartet, 8 extended "tone poems" for large orchestra, a piano concerto and symphonies. Visit him at steve.com.
Katy Wong is a harpist studying with Nancy Allen. Through her studies, Katy has traveled internationally to perform with prestigious orchestras. Katy joined the 2015 National Youth Orchestra of the United States of America (NYO-USA) on their first Asia tour - a seven city concert series across China. In 2014, she was selected to perform at the World Harp Congress in Sydney, Australia on behalf of the Focus on Youth Committee. Katy is represented by Elan Artists Entertainment Agency in New York, New York. Visit her at www.katywong.com.
Advance tickets are $20 - General Admission, $15 - Senior Citizens & Students, $10 - age 12 and under, available at holidaygala.brownpapertickets.com. At the door: $25 - General Admission, $20 - Student & Senior Citizen and $10 - age 12 & under. For more information, call 201-488-4983 or visit www.palisadesvirtuosi.org.
The Palisades Virtuosi, consisting of flutist Margaret Swinchoski, clarinetist Donald Mokrynski and pianist Ron Levy, is a 501 (c)(3) organization established to promote and enrich the repertoire for flute, clarinet and piano and present concerts that include existing and newly-commissioned repertoire for this configuration (each of their concerts includes a work commissioned by the ensemble), supplemented by solos, duos and larger works featuring guest artists. Volumes One, Two, Three, Four, Five and Six of their New American Masters CD series are available from Albany Records. For photos of the ensemble, visit www.palisadesvirtuosi.org/Downloadable%20photos.html.