ONLY HUMAN Comes to Vivid Stage This Month
Performances are February 23 - March 5.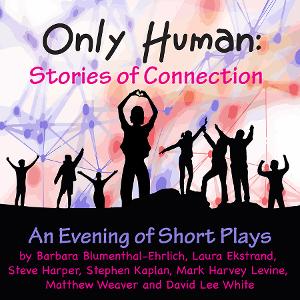 Vivid Stage, in residence at Oakes Center at 120 Morris Avenue in Summit, will present Only Human: Stories of Connection from February 23 through March 5. The evening is made up of seven short plays by the playwrights Barbara Blumenthal-Erlich, Laura Ekstrand, Steve Harper, Stephen Kaplan, Mark Harvey Levine, Matthew Weaver and David Lee White.
Funny and heartfelt, these short plays span settings as varied as a farmers market, a frantic cab ride, a bus stop, a late-night phone call, a manager's office, a park bench, and a café. The one thing they all have in common is the moment when these characters reveal their humanity and help each other cope with being alive in this crazy world.
Directed by Andrew Binger (Montclair), the cast includes Vivid Stage ensemble members Harry Patrick Christian (Montclair), Noreen Farley (Clinton) and Harriett Trangucci (Summit) and guests Joshua T. Crockett (Nutley), Mitchell Leigh Gordon (West New York) and Serena Marie Smith (South River).
Only Human will appear at Vivid Stage at 120 Morris Avenue in Summit from February 23 through March 5. Performances are Thursday, Friday and Saturday nights at 8pm, and Sundays at 2pm. Special dates: Thursday, February 23, is a preview performance; all tickets are $25. Sunday, February 26, is Senior Sunday; seniors age 65+ pay $25. Girls Night Out, featuring networking, shopping, buffet dinner and hard beverages from Bull n' Bear Brewery, is at 6:30 on March 2 as a $35 add-on to the ticket. Talkbacks follow the February 26 and March 5 performances.
Tickets range from $25 to $39, with special rates for subscribers and groups. For touchless advance ticket purchases, go to our website. For more information, call 908-514-9654. The theatre at Oakes Center is wheelchair accessible. Assisted listening devices are available at all performances. The parking lot is accessible from Ashwood Avenue, behind the theatre. For information on any of Vivid Stage's programs, please call 908-514-9654, www.vividstage.org.