BWW Feature: THE GARDEN STATE LOVES LUCY!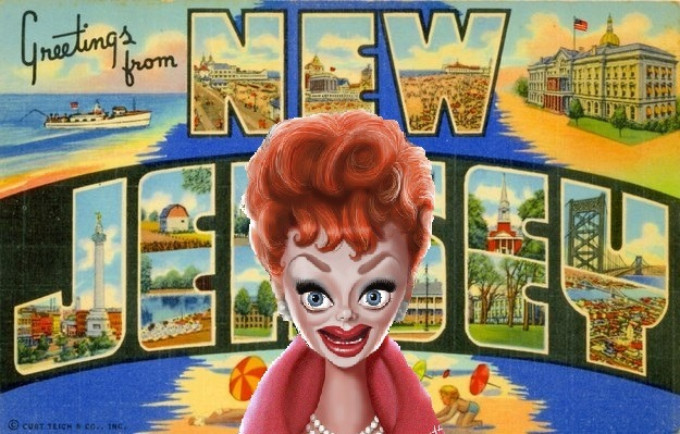 This Lucy-lover was born on a snowy Valentine's Day in New Jersey in 1962. While my mother was being wheeled into the delivery room, hospital rooms with the luxury of a television enjoyed a re-run of "I Love Lucy." Just 13 minutes into the episode, I became the world's newest Jersey boy. No matter where I've traveled and how many TV shows I've binged in my 57 years, two things remain constant: New Jersey and Lucy - Perfect Together!
HAVING A 'BALL' IN NEW JERSEY
As an infant, Lucille Ball's father was a lineman, and briefly lived with newborn Lucy in Trenton, New Jersey, the state capital, although no official address has ever been established for her short stay in the Garden State before her family settled in Jamestown, New York. Ball's television characters continually haled from Jamestown, bringing fame to the small Chautuaqua County town. Had Lucy's family stayed in Trenton, history might have been very different, but the Garden State stayed peripherally involved the Queen of Comedy's life and work.
In 1937, Lucy landed the role she hoped would lead her to Broadway, the Bartlett Cormack play Hey Diddle Diddle, a comedy set in a duplex apartment in Hollywood. The play premiered at McCarter Theatre in Princeton, on January 21, 1937, with Ball playing the part of Julie Tucker, one of three roommates coping with neurotic directors, confused executives, and grasping stars. The play was scheduled to open on Broadway at the Vanderbilt Theatre, but closed after one week in Washington, DC, when leading man Conway Tearle suddenly became gravely ill.
A decade later, Ball returned to McCarter in a play called Dream Girl by Elmer Rice. Lucy played the role of Georgina Allerton and toured the play to several cities, including New York (albeit Brooklyn and the Bronx). In 1948 she got an opportunity to play the role in Los Angeles, but once again illness - this time hers - scuttled the plans.
When Ball finally got to Broadway in 1960 in the musical Wildcat, harsh weather forced the closure of the New Jersey Turnpike, stranding the trucks transporting the scenery and thereby delaying Lucy's long-awaited Broadway debut.
In 1983, Lucy came to Paper Mill Playhouse in Millburn to see her daughter Lucie Arnaz and her husband Lawrence Luckinbill in The Guardsman. Due to her great fame, Ball was ushered in the side door just as the lights went down. This was the same theatre where Lucy's TV co-star Vivian Vance performed in Phoebe Ephron's play My Daughter, Your Son in 1970.
Speaking of Paper Mill, one of its brightest 'Rising Stars' is Bergen County's own Matthew Scott, who had the privilege of performing opposite Lucille Ball (or rather Sandra Dickinson as Lucille Ball) in the 2017 London premiere of I Loved Lucy, a play by Lee Tannen about the later years of America's favorite redhead. The Jersey boy (who was actually on Broadway in Jersey Boys) played author Tannen in the two-person show.
Although Tannen's theatrical homage to Lucy has yet to play the Jersey boards, in 2011 Suzanne LaRusch brought her one-woman show Thank You for Asking: An Evening With Lucille Ball to Beach Haven's Surflight Theatre. The show featured direction by none other than Lucie Arnaz. A year earlier, the JERSEY SHORE hosted a reading of The Cuban and the Redhead by Robert Bartley and Danny Whitman. The one-night-only reading in Asbury Park paved the way for full productions of the new musical about the tempestuous romance of Lucy and Desi. Could Broadway be in its future?
Although actor Oscar Nuñez (TV's "The Office") was born in Cuba, the Nuñez family relocated to Union City when Oscar was just four. In an inspired bit of casting, Nuñez is set to play Cuban-born Desi Arnaz in an Actors Fund benefit reading of I Love Lucy: A Funny Thing Happened on the Way to the Sitcom by Gregg Oppenheimer, son of one of the creators of "I Love Lucy." The one-night-only reading will take place in Beverly Hills, California, in March.
Middletown actor and writer Billy Van Zandt has said that the highlight of his career was acting alongside his comedic hero Lucille Ball on her final television series "Life With Lucy" (1987). He was nominated for an Emmy Award for his television special "I Love Lucy: The Very First Show" (1990), the first airing of the long-lost pilot for the series filmed in 1951 and not previously seen by the public. The pilot was used to interest potential sponsors, and it wasn't long before tobacco company Philip Morris agreed to back the new show. The series premiered in the fall of 1951 and the rest is television history. For the remainder of the 1950s, America came to love Lucy - as well as Ricky, Ethel, and Fred.

Just off the Parkway, on the corner of Clive Street and Mason Drive in Edison, is the famed Lucille Ball house and Pond. Despite the nickname, neither Lucille Ball nor anyone in her family ever owned or lived in the home. The property was recently purchased by developers and word quickly spread about plans to demolish the home and fill in the pond. This brought an outpouring of community support to help save the pond for ecological and aesthetic reasons.
The Metuchen-Edison Historical Society indicates the famed actress did visit the area at least once in late 1960 after divorcing Desi Arnaz and before marrying Gary Morton. She was about to appear in Wildcat on Broadway and was 'dating' Realtor Kenneth Berg, one of two brothers from the Berg Agency, which may have led to speculation that she was there looking at homes. Of the many homes in the area, the Clive Street one was thought to look the most like a movie star's home, and the legend stuck!
While on Broadway in Wildcat, Lucy's onstage love interest was another talented Jersey boy, Ocean City actor Keith Andes. Offstage, however, Lucy's heart was won by comedian Gary Morton, whose family lived in the Colonia section of Woodbridge. People often thought that Lucille Ball lived there, too, and the Mortons got calls and visits by fans looking for Lucy (aka the new Mrs. Morton)!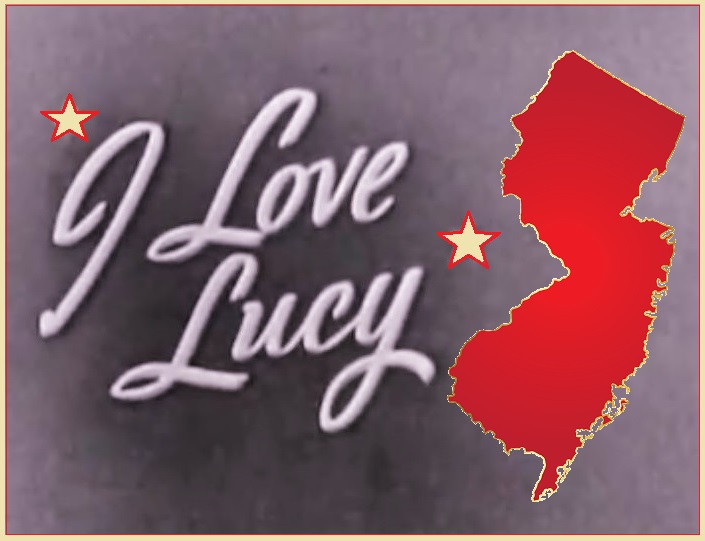 THE GARDEN STATE ON "I LOVE LUCY"
During the 179 regular episodes (plus 13 hour-long specials) of "I Love Lucy", there were quite a few references to New Jersey by the Ricardos and the Mertzes, who initially lived on the East Side of Manhattan until they relocated to Westport, Connecticut, in 1957.
Just three months into season 1, Ricky (Desi Arnaz) presciently ponders moving to the country. He first considers Long Island or Westchester, but also considers New Jersey. "That's nice," he says.
In 1951's "Drafted", Ricky is asked to entertain at Fort Dix in Burlington County. Former vaudevillian Fred (William Frawley) volunteers to come along. Naturally, Lucy and Ethel (Vivian Vance) think they've been drafted!
After finding out that their marriage license has been revoked in a 1952 episode, a distraught Lucy clears her head by taking a little walk - to East Orange, New Jersey! "How I ever got through the Holland Tunnel, I don't know."
East Orange and the Holland Tunnel were mentioned again three years later when "Lucy Learns to Drive". New motorist Lucy reports that she tried to make a u-turn in the Holland Tunnel resulting in traffic being tied up to East Orange, New Jersey!
When Lucy and Ethel pretend to be women from Mars at the top of the EMPIRE State Building, newspaper reports warn "Hordes of invaders also seen in New Jersey and Connecticut." Any similarity to Orson Welles' 1939 "War of the Worlds" radio invasion of Grover's Mill, an unincorporated community within West Windsor in Mercer County, is definitely intentional! Welles was a friend and frequent house guest of the Arnaz family and would appear as himself in season 6 of the series.
Even before the advent of casino gambling, Atlantic City was known as 'the playground of the nation.' One of Ricky's shows at the Tropicana was set in Atlantic City during the Gay '90s. The episode ends with the lyrics:
"On the Boardwalk in Atlantic City I found what I waited for. In romantic, enchanting Atlantic City, down by the old New Jersey shore!"
At one point in the beach resort's recent history, Atlantic City hosted a traveling exhibit of Lucille Ball and "I Love Lucy" memorabilia, including a recreation of the Ricardo's New York City apartment.
In the summer of 2013, I Love Lucy: Live On Stage played Harrah's Atlantic City Resort and Casino. The show, which first hit the stage in Los Angeles in 2011, takes audiences back to 1952 and puts them into the audience at Desilu Studios where they await the filming of two actual "I Love Lucy" episodes.
Another mention of Atlantic City was cut from the ending of "Cuban Pals". To ditch Ricky's sexy dance partner Renita, Fred pretends to be a taxi driver who will bring her to the Tropicana "by way of Philadelphia." The original script, however, ended with Ethel reading a telegram from Fred informing her that he took Renita to Atlantic City, and that they were living it up!
"Come on, Ethel. You take the East side and I'll take the West side, and I'll be in Jersey afore ya!?" ~ The last line of "Million Dollar Idea", as Lucy and Ethel roller skate off into the sunset to sell Aunt Martha's Old Fashioned Salad Dressing!
The last time the world saw the Ricardos and Mertzes was on an April 1960 episode of "The Lucy-Desi Comedy Hour" guest-starring Trenton native Ernie Kovacs and his real-life wife Edie Adams, who grew up in Tenafly.
On Lucy's follow-up sitcom, "The Lucy Show", Ball cast newcomer Candy Moore from Maplewood to play her teenage daughter Chris. In one episode, Mr. Mooney (Gale Gordon) reports that his daughter Rosemary has had a baby - in Trenton, New Jersey. Exactly where Lucy lived as an infant!
---
For more about Lucille Ball and her television career, check out the author's Tumblr blog PAPERMOON LOVES LUCY. There you'll find trivia-filled entries describing nearly every appearance of Lucille Ball on television - from 1947 to 1989! Click on 'archives' to search for your favorite episode!