Algonquin Announces the Cast and Creative Team of WAIT UNTIL DARK
The show will run at Algonquin Arts Theatre from February 18 through February 26.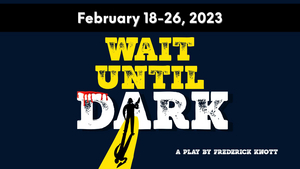 Algonquin Arts Theatre has announced the cast and creative team for its winter thriller, Wait Until Dark by Frederick Knott. The show will run at Algonquin Arts Theatre from February 18 through February 26. Tickets start at just $26 and may be purchased at www.algonquinarts.org, by calling 732-528-9211 or by visiting the Algonquin Arts Theatre box office Monday through Saturday, 10AM-4PM located at 60 Abe Voorhees Drive, Manasquan, New Jersey.

Murder, secret identities, and a switchblade named Geraldine set the stage for this white-knuckle thriller that will have you sleeping with the lights on. In 1944 Greenwich Village, Susan Hendrix, a blind yet capable woman, is imperiled by a trio of men in her own apartment. As the climax builds, Susan discovers that her blindness just might be the key to her escape, but she and her tormentors must wait until dark to play out this classic thriller's chilling conclusion.

The cast for Wait Until Dark includes:

Rebecca Conn (Suzy) is honored to be involved in the most unique play and challenging character of her theatre life. Rebecca has previously been seen in School of Rock (Ensemble), Puffs (Sally Perks) and Mamma Mia (Ensemble). She would like to thank Jan, Chip, and her fellow cast mates for making this experience truly incredible. Special shout out to her mom who will probably be clutching the armrests in the audience as her daughter bumps into things on-stage.

Stephen Rubino (Roat) is happy to be back on the Algonquin stage where he last played Count Orsini-Rosenberg in Amadeus. Favorite roles include: Cabaret (Emcee), Pippin (Leading Player), Sweeney Todd (Anthony), Titanic (Ismay), JC Superstar (Pontius Pilate), Peter Pan (Capt. Hook) and Evita (Magaldi). Stephen is employed by CentraState Healthcare System as the Manager of Workforce Relations and Development. Special thank you to friends, family and colleagues for your support. OATS!

Brendan Flanagan (Talman) is so grateful to be a part of Wait Until Dark. He was last seen at AAT as Jean Shepherd in A Christmas Story. Other favorite credits include Man of La Mancha, The Who's Tommy, Amadeus, South Pacific, Carousel, Peter and the Starcatcher, Jesus Christ Superstar, Noises Off!, and A Christmas Carol. Thank you to the staff for their hard work and guidance.

Bryan Poneman (Carlino) is ecstatic about making his return to the stage. He received a B.F.A. degree in Theater/Dance from SUNY @ Buffalo. In NYC, Bryan performed Off-Broadway in The Donkey Show, and regionally in Other Desert Cities (Trip), All My Sons (Chris Keller), Death of a Salesman (Biff), Danny & the Deep Blue Sea (Danny), & The Shape of Things (Adam). He has appeared in commercials and print ads for Coca-Cola, Clorox, AT&T, and Optimum. Bryan appeared frequently on the soap opera, All My Children and the NBC show, Ed. Without the love and support of his wife, Valerie, and their three children, this "Peter Pan" would never be able to remain in Neverland. Love you.

John C. Short (Sam) is thrilled to be making his Algonquin debut. Recent roles: Hamlet (Horatio) and Much Ado (Benedick) with the Hudson Shakespeare Company, writer and performer for Jurassic Park After Dark with the Second City Hollywood, and Assassins (John Wilkes Booth) with the Little Village Playhouse.

Ayla Ergunay (Gloria) is excited to be performing in her second production at Algonquin Arts Theatre! Previously she was in the children's ensemble of A Christmas Story and attended the Algonquin Youth Ensemble program. She was also seen in Spring Lake Theatre Workshop's Alice in Wonderland, Jr. (Cheshire Cat). She thanks her family and friends and the wonderful and talented cast and crew for giving her this amazing opportunity!

Chip Heptig (Cop #1) is an inveterate theatre rat. AAT credits include The Laramie Project (Dennis Shepard) Harvey (EJ Lofgren), Forum, A Christmas Carol, Noises Off, Newsies, Biloxi Blues (Stage Manager). He has spent the past 52 years working in the performing arts as a teacher, actor, director, stage manager, grip, musician, and sound designer. He currently works as day care provider for his eight beautiful grandchildren.

John B. Gekle, Jr. (Cop #2), a regular on the Algonquin Arts Theatre stage, is pleased and proud to mark another show at the Algonquin since 2013 (10 years!). His last role was the Kappelmeister in the 2022 production of Amadeus (Kappelmeister). Thank you for supporting the arts!

The Wait Until Dark creative team includes; Jan Topoleski, Director; Chip Heptig, Rehearsal Stage Manager; Joe Ficarra, Production Stage Manager/Props; Jason Greenhouse, Scenic Designer, Roman Klima, Lighting Design; Emily Davis, Costume Design; Jan Topoleski, Sound Design and Julie Nagy, Producer.