Feature: NIEUW SEIZOEN GEWOON HOMO DE PODCAST!
Binnenkort start het 3e seizoen van de succesvolle podcastserie Gewoon Homo.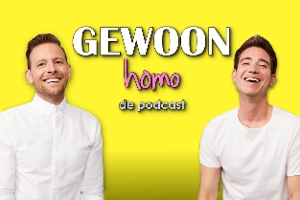 Binnenkort start het 3e seizoen van de succesvolle podcastserie Gewoon Homo. Makers Danny Houtkooper en Barry Beijer hebben hun krachten wederom gebundeld en gaan het gesprek aan met verschillende mensen binnen het 'regenboog-alfabet'. Zo praten ze o.a. met Oleksandr, een homoseksuele vluchteling uit de Oekraïne en met Erik die in homogenezingstherapie heeft gezeten. Ook spreken ze met actrice Hanna van Vliet en met Richard Groenendijk over wat humor heeft betekend in zijn leven. Het nieuwe seizoen van Gewoon Homo start op 3 oktober.
Het eerste seizoen werd in 2020 genomineerd voor een Online Radio Award waar het een eervolle vermelding ontving en in 2021 werd de podcast genomineerd voor de AVROTROS Pride Awards.
Dit seizoen wordt mede mogelijk gemaakt door PwC die met hun internationale Shine Netwerk en hun slogan 'Be Yourself. Be Different' ervoor willen zorgen dat iedereen zich betrokken en gewaardeerd voelt- niet ondanks maar dankzij de verschillen. In totaal bestaat ons 3e seizoen uit 10 hele bijzondere, open en intieme gesprekken. Vanaf 3 oktober komt Gewoon Homo de podcast elke maandag met een nieuwe aflevering en is te beluisteren op Spotify en alle andere podcast apps.
Over de makers
Barry Beijer (39) en Danny Houtkooper (39) zijn al 20 jaar beste vrienden en allebei werkzaam in het theater vak. Momenteel zijn ze respectievelijk te zien in The Prom en Tina, de Tina Turner musical. Daarvoor speelden ze in voorstellingen als The Lion King, Hij gelooft In Mij, Soldaat Van Oranje, Jersey Boys en Annie.
Klik hier om de podcast te beluisteren er voor meer informatie.
Chantal is a passionated theatregoer and takes the same passion into her day job: voice casting director, where she casts voice-actors for commercials and other projects. 
From her home ... (read more about this author)
Feature: STEEFS O. SHOW TERUG IN OUDE LUXOR THEATER ROTTERDAM MET GASTARTIESTEN ALEX KLAASEN EN BRIGITTE KAAN at Oude Luxor Rotterdam!

November 29, 2022

Volgend jaar van 25 t/m 27 mei is Steefs O. Show opnieuw te zien in het oude Luxor Theater in Rotterdam. Tijdens het internationale festival O. keert Steefs O. Show terug op de plek waar het eerder dit jaar voor bijna uitverkochte zalen stond. Alex Klaasen en Brigitte Kaandorp zullen hierin opnieuw met gastoptreden te zien zijn. De muziek in Steefs O. Show wordt live uitgevoerd door het 70-koppige Codarts Symphony Orchestra onder leiding van Sander Teepen.
---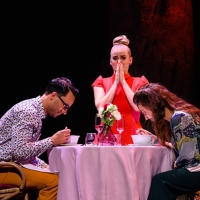 Review: BLIND DATE, A NEW DUTCH MUSICAL COMEDY ⭐️⭐️⭐️⭐️⭐️ at Schouwburg Het Park Hoorn

November 27, 2022

What did our critic think of BLIND DATE, A NEW DUTCH MUSICAL COMEDY at Schouwburg Het Park Hoorn?
---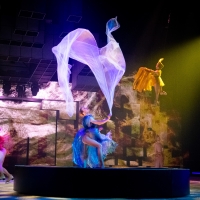 Feature: AL 50.000 KAARTEN VERKOCHT VOOR SUPERNOVA VAN HOLIDAY ON ICE!

November 23, 2022

De internationale ijsshow SUPERNOVA van Holiday on Ice heeft in de voorverkoop al meer dan vijftigduizend kaarten verkocht. Dat is een unicum in de geschiedenis van de ijsdansvoorstellingen van Holiday on Ice in Nederland. Na een periode van zes jaar is Holiday on Ice eindelijk weer in ons land te zien en gaat de wervelende nieuwe show SUPERNOVA, vanaf 8 december te zien door heel Nederland.
---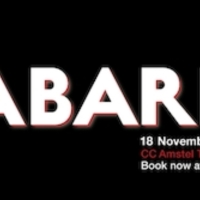 Feature: REVIEW ROUND UP - QETC'S CABARET BACK IN DECEMBER at CC Amstel

November 23, 2022

Following its total sell out run in November, the legendary musical Cabaret is back in Amsterdam's CC Amstel theatre for just 7 more shows - 14- 18th December. The show got amazing reactions from both public and press - here are just a few highlights of the reactions.
---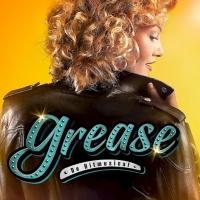 Feature: MARJOLIJN TOUW, ESMEE DEKKER, WILLIAM SPAAIJ EN JONATHAN VROEGE IN GREASE!

November 23, 2022

Ik ben enorm blij met deze cast,' laat Albert Verlinde weten. 'Marjolijn, William, Jonathan en Esmée zijn stuk voor stuk zeer ervaren acteurs die deze voorstelling naar een hoger niveau tillen. De musical is een fenomeen. Een begrip. Zelfs bij de jonge generatie. Het is fantastisch dat deze voorstelling wellicht de grootste fan schare, in alle leeftijden, ter wereld heeft en deze zelfs na 45 jaar blijft groeien. Van de acteurs verwachten we veel. En ik heb alle vertrouwen in de cast die we nu hebben.
---