Click Here for More Articles on THE PHANTOM OF THE OPERA
BWW Review: After 30 Years, PHANTOM Has Lost None of Its Gilt-Edged Luster
Thirty years after its Broadway premiere - and just two-and-a-half years since its last run at Nashville's Tennessee Performing Arts Center - Andrew Lloyd Webber's The Phantom of the Opera returns to Music City in celebration of that momentous anniversary with another stand in Andrew Jackson Hall, replete with all the firepower and starpower one so readily associates with the production. And Nashville aduiences once more respond with rapt attention and thunderous applause, almost as if they are witnessing the Phantom's exploits for the very first time.
Or, if they are longtime aficionados of the tale, they are likely to be poring over the minutiae of the show, arguing the finer points of scenic design and stage movement while lamenting the changes to the iconic scene during which the Phantom deposits his lady-love Christine Daae into his personal gondola to transport her to his lair, where he is certain to demand an exacting performance from her, while expressing his unyielding devotion to her.
If a word to the wise is indeed sufficient, be forewarned that the scene is staged differently nowadays - certainly, there is a boat to which he spirits away Christine in an overheated, emotional and we daresay romantic example of kidapping - but the multitude of candelabra which at one time rose from the stage floor to surround the ill-fated couple (bathing them in romantic candlelight that disguised their assignation as something far more palatable than the efforts of a stalker to secure his prey), are gone. Now, a single lantern lights the way amid the fog and mysterious intrigue that abounds in this reimagining of The Phantom of the Opera, which was overseen by Matthew Bourne and producer Cameron Mackintosh. It may be heralded as new and different - and there have been some minor, perhaps inconsequential changes, made - but it is essentially the same production last seen here in March 2016.
The legendary visual statements made by the original production of The Phantom of the Opera have been altered, after a fashion, for the tour that launched a few seasons back to traverse the provinces in a hopeful enticement for longtime fans to return to experience the story once more. Replaced with an equally stunning physical design that remains as eye-poppingly gorgeous as one could ever hope for, such memorable scenes as the "Masquerade" number that opens Act Two, are reconfigured - again for maximum dramatic effect, as well as to effect a sense of something new and different for a show approaching middle age - and they are, in fact, just as stimulating as ever.
If you're a loyal follower of The Phantom of the Opera, it's likely you'll be grinding your teeth at the mere prospect of someone fiddling around with your beloved show, but if you instead allow your perceptions to be changed, odds are you'll leave the theater totally captivated by this "new and improved" take on a time-honored classic. Fearing that changes to the show you love and fanatically follow might result in superfluous elements that would inflict undue harm to Phantom, you may have initially been nonplussed and concerned: To longtime Phantom Phans, at least, Phantom was perfect in its original packaging, as if an NRFB (never removed from box) designation is important for the organic evolution of musical theater, in general, and The Phantom of the Opera, in particular.
But theater, like every other art form, is a living and growing thing. Therefore, change shouldn't be needlessly feared: it is not necessarily a bad thing and evolution is necessary if theater - specifically, in regards to The Phantom of the Opera - is to continue to attract new congregants. Fresh eyes can see something new and invigorating in what has become a theatrical behemoth, making it more appealing and engaging for new audiences, rather than keeping it encased in its original packaging or gathering dust in a far-flung corner of some imagined musical theater museum.
If you give yourself over to the Grand Guignol aspects of Gaston Leroux's timeless story that inspired the long-running musical - if you allow yourself to be transported by Webber's lushly beautiful score that harkens back to grand opera and the more plebeian aspects of operetta - you will still walk away, deeply in love with the romance of the piece, your imagination sent soaring by the evocative storytelling. If, however, you look at the story too closely, you're likely to see cracks in the book and the rather unnerving way in which the show's anti-hero is transformed into a romantic heartthrob. At least, that's how audiences during this period of post-Me Too movement reflection, are likely to judge The Phantom of the Opera.
Bourne's reimagining (in concert with scenic designer Paul Brown, lighting design by Paule Constable and video and projections by Nina Dunn for Knifedge) of Phantom is visually stunning - a startling realization of what theater technology has wrought in the 30 years since its Broadway debut. The glittering crystal chandelier in the Paris Opera House still plummets downward toward the audience, there are plenty of pyrotechnics and all manner of theatrical legerdemain apparent throughout, and while the grand staircase is gone, it's been replaced by a gorgeous ballroom (apparently constructed from smoke, mirrors, imagination and creativity) that showcases the performers and, not inconsequentially, the still-beautiful costumes designed by the late Maria Bjornson for the original production. No matter one's perspective, The Phantom of the Opera is beautiful to behold, with its opulent and sumptuous physical trappings continuing to elicit gasps of appreciation and unfettered ardor and "Masquerade" is breathtakingly staged and performed.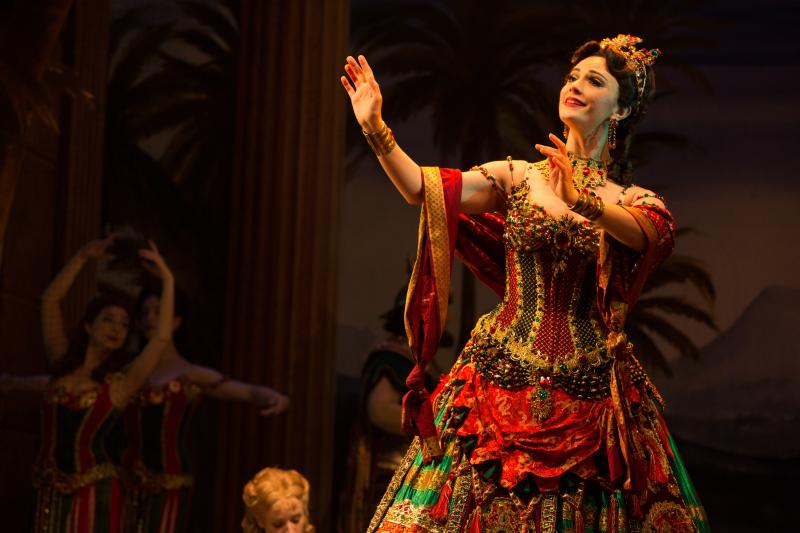 While some critics may argue that Webber's music, for this or any other of the musicals on his extensive resume, is perhaps too schmaltzy by half and overly sentimental - and, make no mistake about it, the composer knows how to manipulate his audience, to engender an emotional response from them through melody - the sheer volume of his work shows his wide-ranging skill and his musical integrity. His Phantom score is lush, evoking theater and opera of the 19th century (his show-within-a-show scores for Hannibal and Don Juan Triumphant, two works performed within the Phantom framework, are certain to evoke both laughter and appreciation for his clever compositions) to glorious effect. If you are perhaps unable to appreciate "Music of the Night," "All I Ask of You," "Point of No Return," "Think of Me" or the pathos of "Wishing You Were Somehow Here Again" (which is my favorite in the show's score), might we suggest you enroll in a musical theater appreciation class. Musical theater exists to allow fictional characters to express themselves more eloquently and emotionally, to give voice to the powerful thoughts that live in their souls.
Assaying the role as The Phantom in this particular company is Quentin Oliver Lee, whose towering figure (the man is around 6'7", we'd say) ensures he becomes the center of attention in every scene he plays. Lee's first act performance seemed a bit too tentative, perhaps even detached from the all the portentously dramatic events happening around him and because of him, but in Act Two he seemed on much firmer footing, delivering a performance more expected of the character. While Lee's Phantom seemed rather passionless at times, in a role that demands he be larger than life in all ways possible, he instead appeared somewhat aloof and directionless. His initial scenes with Eva Tavares - who is as spectacular a Christine as we have ever seen - lacked the emotional heft necessary for audiences to accept the Phantom's dangerously thrilling attracter to her. However, in subsequent scenes between the two, Lee managed to capture some of the fiery passion necessary to fuel imaginations instead of relying on technical wizardry to win over his audience.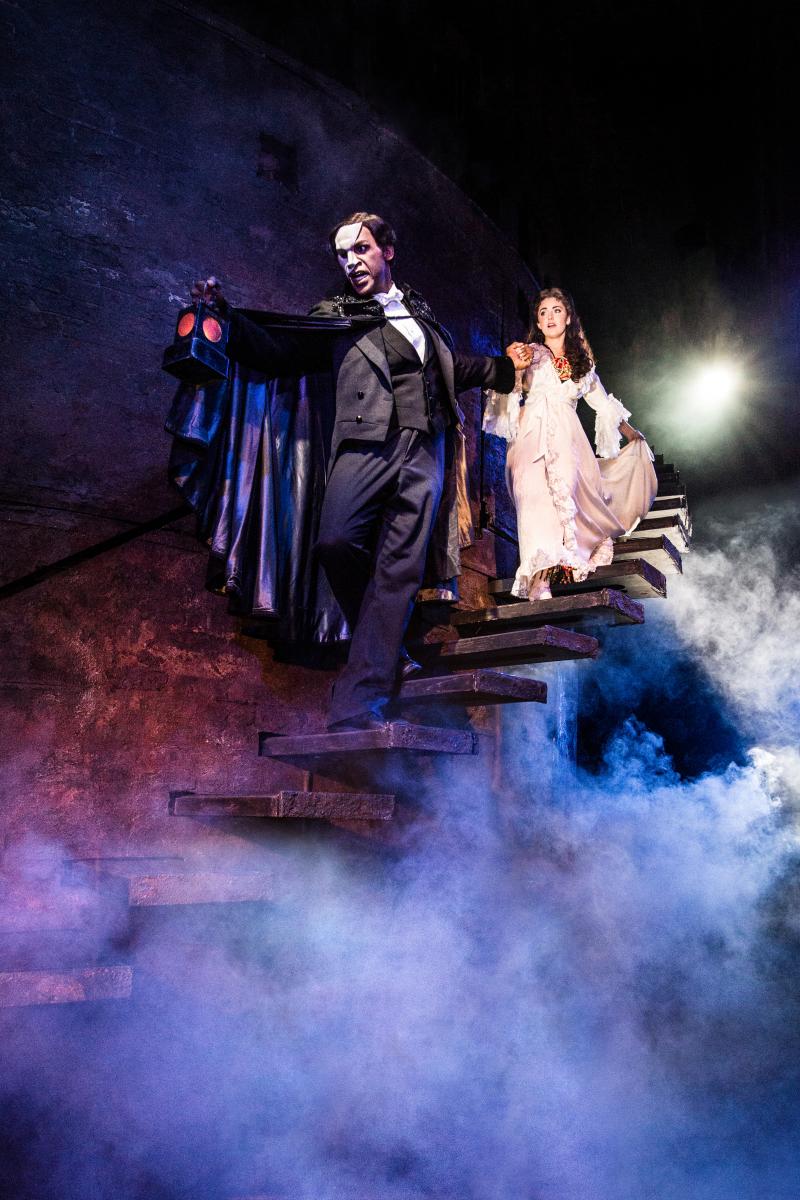 Tavares' crystalline soprano and her thorough commitment to the character of Christine are dazzling reminders of why she powers the imaginations of her two suitors to pursue her with such ardor. There's not a lot of exposition about why Christine is so easily hoodwinked by the Phantom's machinations - audiences are often left wondering why she, like so many other heroines in the genre of fictional horror/thrillers seems so daft and easily led into danger - and so it's incumbent upon the actress playing the role to supply enough back story to make her tale more plausible and accessible. Tavares delivers the goods, to be certain, and her Chrstine's actions are authentic and believable. Her second act performance of "Wishing You Were Somehow Here Again" is exquisite - I could listen to her singing it on a continuous loop for years to come.
As Raoul, the Vicomte de Chagny, Herb Porter (who is one of the two understudies to Jordan Craig, a graduate of The University of the South in Sewanee, who was off for the performance to which reviewers were invited) gives a beautifully sung and completely believable performance, providing the perfect counter-balance to the Phantom's pursuit of Christine. With his tall, Teutonic and broad-shouldered physical presence, he provides the ideal manifestation of the polar opposite of the hideously deformed, yet romantically heightened and physically prepossessing Phantom. Equally forceful and commanding, it's clear why Christine might find herself torn between Raoul and the Phantom.
Providing support throughout the two-and-a-half hours of spectacle - which, upon reflection, may explain why Phantom is so beloved by audiences, whether they are theater-centric or otherwise engaged by other pursuits - are a coterie of impressive performers who provide The Phantom of the Opera with strong talent from top to bottom. Trista Moldovan is wonderfully imperious, the personification of stage presence, as Carlotta, the prima donna of the Paris Opera who finds herself supplanted by the Phantom's efforts to install Christine Daae in that coveted position. David Benoit and Rob Lindley deftly convey a sense of their amusing roles as neophyte theater owners as Monsieur Firmin and Monsieur Andre. Kristin Dale Sanders is regal and demanding as the rather mysterious Madame Giry, the exacting and demanding mistress of the Paris Opera's corps de ballet, while Phumzile Sojola is endearingly obtuse as the company's reigning tenor, and Emily Ramirez is quite notable as Christine's friend and confidante Meg Giry.
The Phantom of the Opera. Music by Andrew Lloyd Webber. Lyrics by Charles Hart. Additional lyrics by Richard Stilgoe. Book by Richard Stilgoe and Andrew Lloyd Webber. Based on the novel by Gaston Leroux. Directed by Laurence Connor. Choreography by Scott Ambler. Presented by The Really Useful Group and Cameron Mackintosh and Broadway at TPAC. At Andrew Jackson Hall, Tennessee Performing Arts Center in Nashville. Through November 4. For details, go to www.TPAC.org or call (615) 782-4040 for tickets. Running time: 2 hours, 45 minutes (with one 20-minute intermission).
photos by Matthew Murphy