BWW Interview: Maks and Val Chmerkovskiy Talk MAKS & VAL: STRIPPED DOWN Tour, DANCING WITH THE STARS & More!
Everyone's favorite dancing brothers discuss how they put the Stripped Down tour together, what it means for them to be back on stage, and much more!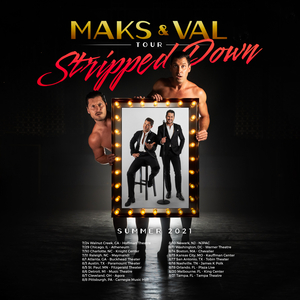 Maks and Val Chmerkovskiy have been lighting up our screens and stages with their brotherly bond, unmatched charisma, and show-stopping talent for decades, bringing us trophy-winning dances on Dancing with the Stars, the magic of live performance with shows like SWAY: A Dance Trilogy, dance and fitness classes on their Dance & Co app, world class dance instruction through their Dance With Me studios, and much more.
Now, the dancing duo is back on stage with their 'Stripped Down' tour, showing audiences a whole new side of Maks and Val. Featuring dance, comedy, and personal stories from the lives of the Chmerkovskiy brothers, the Maks & Val: Stripped Down tour will make you laugh, cry, and everything in between.
For tickets to Maks & Val: Stripped Down, CLICK HERE!
BroadwayWorld's Chloe Rabinowitz spoke with everyone's favorite dancing brothers discuss how they put the Stripped Down tour together, what it means for them to be back on stage, and much more!
---
Let me start out by saying I'm a really big fan of you guys, I've followed you forever and it's awesome to get to talk to you!
Val: Thank you. But, Maks has a question, who are you more of a fan of?
Oh, it's equal! In college I would have people over to my apartment, and I would take all their phones and vote for you both on every single person's phone.
Val: Are you still friends with any of those people?
Yes, I am!
Val: [laughs] Because they're really good friends!
So, let me ask about this tour, how does it feel to not just be back on stage, but back on stage with each other?
Maks: The same it's felt for 25 years now! It felt like, if we're going to do anything and try to figure something out, that I would rather figure it out with him! So, it felt very organic for us, and like home, if you will. We've been dealing with a lot of issues that have to do with this stripped-down version of a stage production. And the way we're doing it now, as opposed to how we're used to touring, with buses and trucks and a big crew, we wanted to do it different, but within what we are comfortable with.
Val: We've had a long career together, and it's always evolving, in a sense, we both have our phases where we create some separation so we can tackle our own personal missions and creative undertakings and projects, and they're very fulfilling, but there's a comfort and a chemistry that Maks and I have together on stage that I think we both can always lean on and depend on working. If there is a product I am most confident in, it would be a product that I do with Maks. Like Maks said, it's something that we've done for a really long time, and there's just a natural chemistry about how we translate on that stage. And like I said, as much as I enjoy projects outside of the Maks and Val duo, I'm - especially after last year - beyond excited not to just be out on the road performing, but to be doing it with my longtime partner, and brother, and friend. It's been a double plus.
Absolutely. When did you decide that it was the right time to hit the road again with this tour, and who came up with the concept for Stripped Down?
Val: We didn't decide this was the right time, as a matter of fact, it was a decision made mid-to
-late May that we were not going out on tour. It was with our production partners, rightfully so, the bandwidth of that tour was a sixty-city tour, a large amount of personnel involved, it was a much bigger undertaking, and there was a decision made that it didn't feel right to go out on tour at this time. Maks and I almost immediately, with that decision being made, made a different decision for ourselves, and said, "Well, why don't we just do the absolute opposite of this decision?" And we started working backwards. We said, "No, we are going to perform this summer in some capacity. It doesn't have to be in the capacity that we're used to, we don't have that type of ego, but we have to perform." So, "Where can we perform? Which theaters are allowing performers? What capacity are they allowing? Is it limited audience? Is it limited production? What are the protocols?" And so, that's how we started working.
And then, the process of figuring out our parameters, logistically, in that conversation, once we started thinking about it and discussing which theaters, and how to rally, our agent was like, "It is a project that can happen, but it's going to have to really be stripped down of all the crazy things and the buses and all that." And we were like, "Cool, we're cool with that." And as we kept going, later in the conversation, they were like, "Well, what are you thinking? What would you call it?" And we said, "Why don't we just call it Maks & Val: Stripped Down?" And that's how that came to be. It became one of the jokes that we wrote for the opening, is how that title gets lost in translation between Maks and I. Where I think of it more of a strip down creatively, emotionally, Maks takes it literally and strips down physically.
Both great approaches, both are fun, both make sense!
Val: Whichever one creates the most excitement!
And when you started preparing for the tour with rehearsals, what was it like putting all of that together behind the scenes and making sure that you were doing it in the safest way possible for everybody, but also in a creative way, with the parameters you were given?
Val: A lot of times, creativity and artistry is derived in the midst of the biggest challenges, right? Parameters, if you will. The safety was easier, because now we were working with a crew and cast of a total of five people; Maks, myself, two extraordinary female dancers who were crazy enough to say yes to doing this, and so it was the four of us. And at any which point there was one person, perhaps, the choreographer, or our associate director. Our creative director, a partner of ours that we worked with in the past, an incredible talent, an incredible creative mind, he Zoomed the entire time. So, that was remote. We definitely created a new system. And we were hesitant about whether this would transpire into a good product. And that is why we are so excited now, somehow we created a show that is just, if not more, entertaining than the previous shows we've had, or other projects we were involved in that were much bigger in scale.
And you two are the consummate performers, you're the ultimate partnership, what can audiences expect when they come to see on stage in Stripped Down?
Maks: The same! The beauty of this, I think that Val said it, in how it's all come to be and where it's at now, is that the brand continues, and the challenge was, yes, stripped down, but not a cheaper version, if you know what I'm saying. Nobody wants that product. A lot of people's hesitation in going out and seeing the show, and our hesitation was too, "What are we selling?" if you will. "What are we presenting now? Are people going to think that we took everything away and tried to fill in the hour with just anything?" But that's not our show at all. As a matter of fact, this is the most physical- movement- dance-action act that we have ever done onstage within an hour and half. We took away the intermission, this is a one-act show, and a full show at that. There's a lot of elements that made the show become what it is, which we had not foreseen.
So today, people can expect exactly what they have been expecting from Maks and Val in the past, minus the staging and some of the lights and some of the talent that we had with us in the past and multiplied by a triple-dose of Maks and Val at the same time. It's that kind of show. It's whatever you've come to love about Val and I and what we represent, times a lot more because it's just us.
Val: To add to that, there's a lot of surprises in this show as well. Like Maks said, I don't know if it's our immigrant fabric, a lot of our art draws from our life experiences, but we've had to recreate ourselves our entire life. We've had to adapt to a new setting, new world, new structure, new industry, and so our evolution from being dancers that perform to now performers that dance has been a very constant evolution. We are more than just dancers, and yes, you can expect what you've seen us do for so long, but I think we take it a step further. I think we prove our chops on the mic, we prove our chops in a sense of storytelling, and theater, and stand-up comedy, and then we sprinkle world class dance on top of that, giving us our own unique pocket in this field. We're one show away from borderline, maybe not singing but... eventually! We're showman. We've been making people laugh, cry, feel, hopefully walk away a little more happy and entertained our entire life. And this show is yet again another one of those experiences.
People love you both and love to see you do this. It's super exciting to watch everything that you do.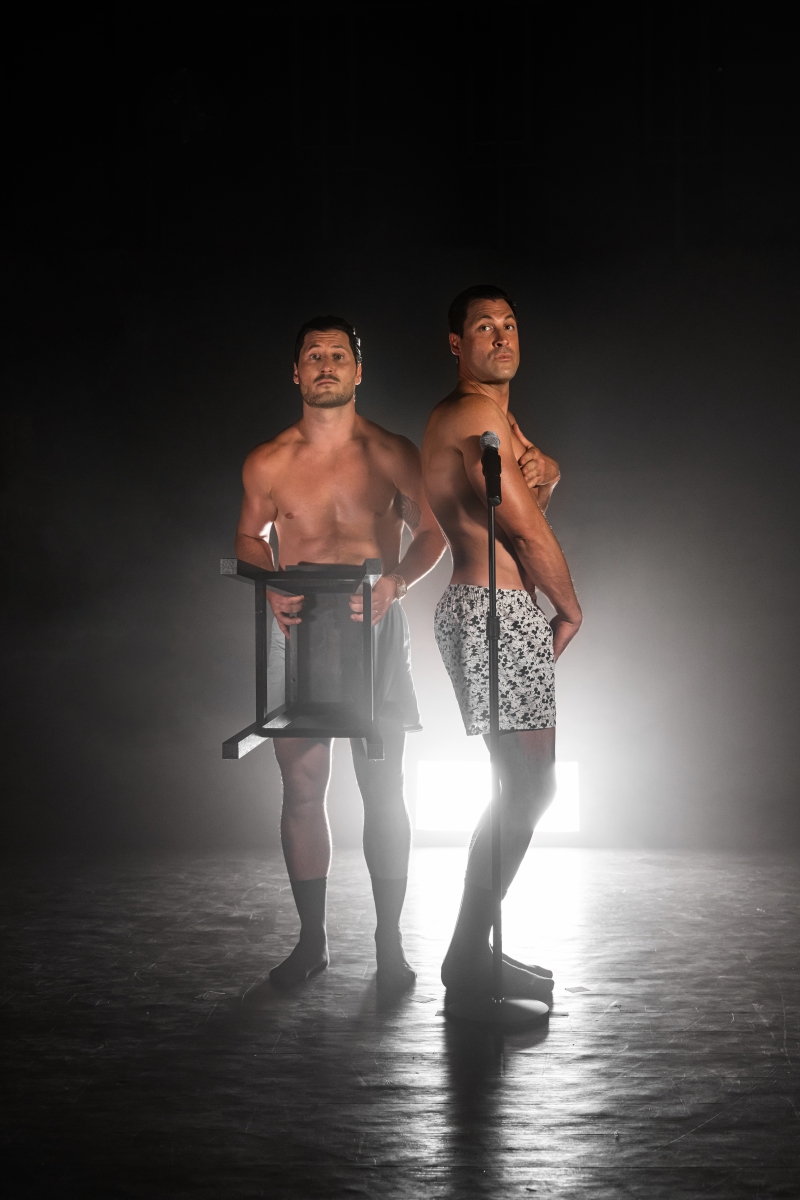 Maks: We try to honestly tell what we feel, and we know that it will land with someone in the audience because we're just being honest and true to ourselves. This is not a made-up story. We can always rely on our personal experiences and on telling our stories. I'm extremely proud of it. I know Val is too.
I wanted to ask you about some of the other projects you two have coming up. Maks, you are going to be a judge on Dancing with the Stars Ukraine, how do you feel about moving from the ballroom floor over to the judge's side?
Maks: Like a fish in water! I feel great. I've had this experience here, it's certainly not an intimidating job opportunity for me, but more of a natural progression, I guess. I would have loved to be a part of it in this country, but I've had the opportunity, I've had the chance to sit on this desk as well [in the US] and see what this is. [With] Ukraine... I'm not a savior at all, I'm not anything that's going to add or subtract or any of that, I'm just Maks, I'm doing my thing, but I do believe that that country needs a little help, especially now. This year signifies 30 years of Ukraine's independence from when the USSR fell apart, so it's a big year for the country.
When this offer came in it was sort of a no-brainer in the sense that, yeah, absolutely, this is definitely something that I would love to do, this is the medium that I love, that I know most about, and I can't wait to offer my opinion. Whether it's an expert opinion or just 'I've done it all' kind of opinion, I'll try to add something positive to the experience of the performance, of the celebrities, and of the show itself. I love the fact that that country is still welcoming me, and I would love to do my best for it.
And Val, Season 30 of Dancing with the Stars is going to be premiering in September, are you allowed to tease for me in any way if you are going to be involved at all?
Val: I'm not allowed to tease, but I will, that's what I do. I'm excited for season 30, it's crazy that it's season 30. To think that now, the little brother, the youngin, the newbie, has now been a part of most of those 30 seasons is crazy. I'm not confirmed... I can assume that with my seniority, my relationships, and my contribution to the show, that I'll be asked back, but anything is possible!
---
UPCOMING TOUR DATES
Wed, Aug 11, 2021
Washington, DC, Warner Theatre
Sat, Aug 14, 2021
Medford, MA, Chevalier Theatre
Sun, Aug 15, 2021
Kansas City, MO, Muriel Kauffman Theatre
Tue, Aug 17, 2021
San Antonio, TX, The Tobin Center For Performing Arts
Wed, Aug 18, 2021
Nashville, TN, James K. Polk Theater
Thu, Aug 19, 2021
Orlando, FL, Plaza Live
Fri, Aug 20, 2021
Melbourne, FL, King Center For The Performing Arts
Sat, Aug 21, 2021
Tampa, FL, Tampa Theatre