Friday 5(+1): The Cast of Circle Players' HAIR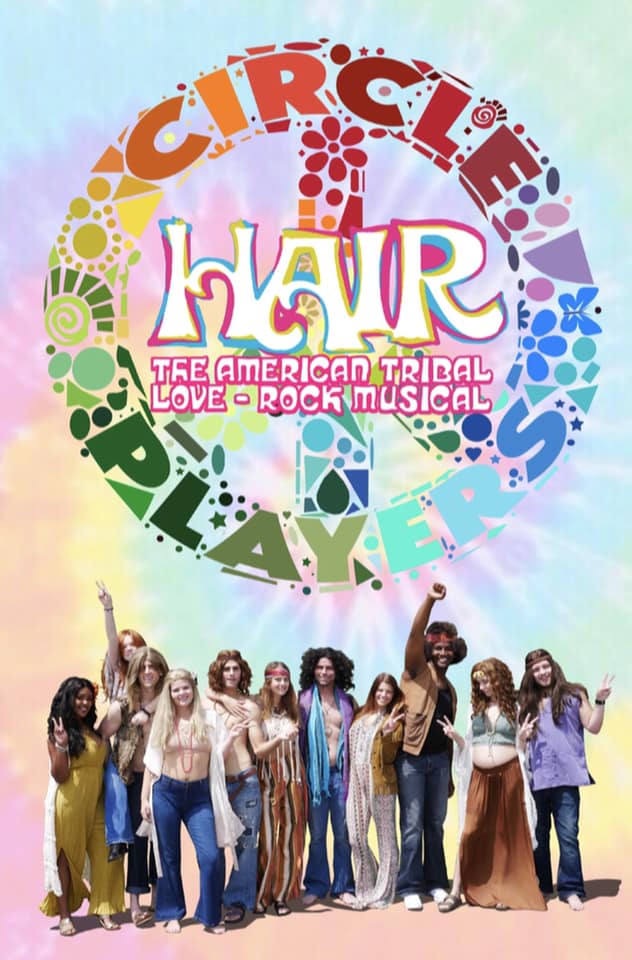 Circle Players continues to celebrate of its 2018-19 season with tonight's opening of Hair, the 1969 tribal love rock musical that made musical theater history with its premiere 50 years ago. Directed by Jason Lewis and choreographed by Tosha Pendergrast, the eagerly anticipated production features a cast of Nashville's favorite actors, with Nicholas Page starring as Claude.
Hair: The American Tribal Love-Rock Musical features a book and lyrics by Gerome Ragni and James Rado and music by Galt MacDermot. A product of the hippie counterculture and sexual revolution of the late 1960s, several of its songs (which include "Aquarius"/"Let The Sunshine In," "Good Morning, Starshine" and "Manchester, England") became anthems of the anti-Vietnam War peace movement.
Four members of the cast - Amanda Grace Creech, James David West, Lindsey Kaye and Maggie Wood - took a break from a rigorous tech week to tell us about their theatrical backgrounds, what their favorite rituals and stories are from their theater pasts and to offer some motivation for audiences to come see their show in today's Friday 5(+1).
Circle Players' production of Hair runs October 5-21 at the Z. Alexander Looby Theatre in Nashville. For tickets and other information, go to www.CirclePlayers.net.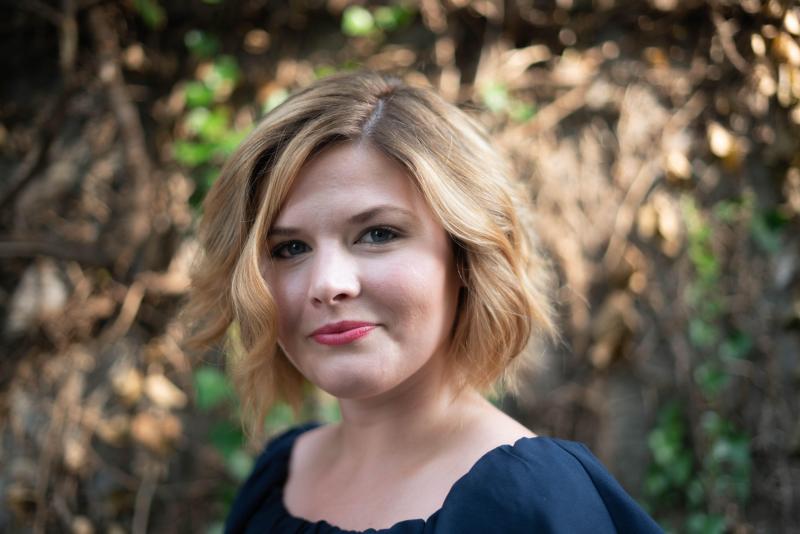 Amanda Grace Creech
What was your first "live, onstage" taste of theater? My first memory of live theatre was in 1997 when my grandmother took my sister and I to see a Winnie the Pooh puppet show. I remember having no understanding of the plot, but being so fascinated by the puppets that it didn't matter.
What is your favorite pre-show ritual? I love a good pre-show stretch. Also, despite struggling with chronic lateness, I tend to show up ridiculously early for performances because l hate feeling "rushed" to dress and do makeup.
What's your most memorable "the show must go on" moment? A few years ago, I did Jesus Christ Superstar, which was also with Circle players. During the overture of our first performance of closing weekend, I came offstage and badly injured my right ankle. I thought it wasn't that bad and adrenaline was going, so I went right back out. At intermission it was purple and twice the recommended size. Thankfully, I finished the run with heavy bracing and an unhealthy dosage of ibuprofen.
What's your dream role? I don't know that I have any One Dream role. I've met some of my favorite characters by auditioning for shows I know nothing about. I do have a soft spot for lady villains, though.
Who's your theatrical crush? Definitely my castmates. This show is all about love and I am so grateful to have a cast that's willing to invest in each other outside of rehearsal.
Why should people come see Hair? My hope is that our Hair can acknowledge the great division and frustration of our times, while instilling hope that there is still sunshine to let in.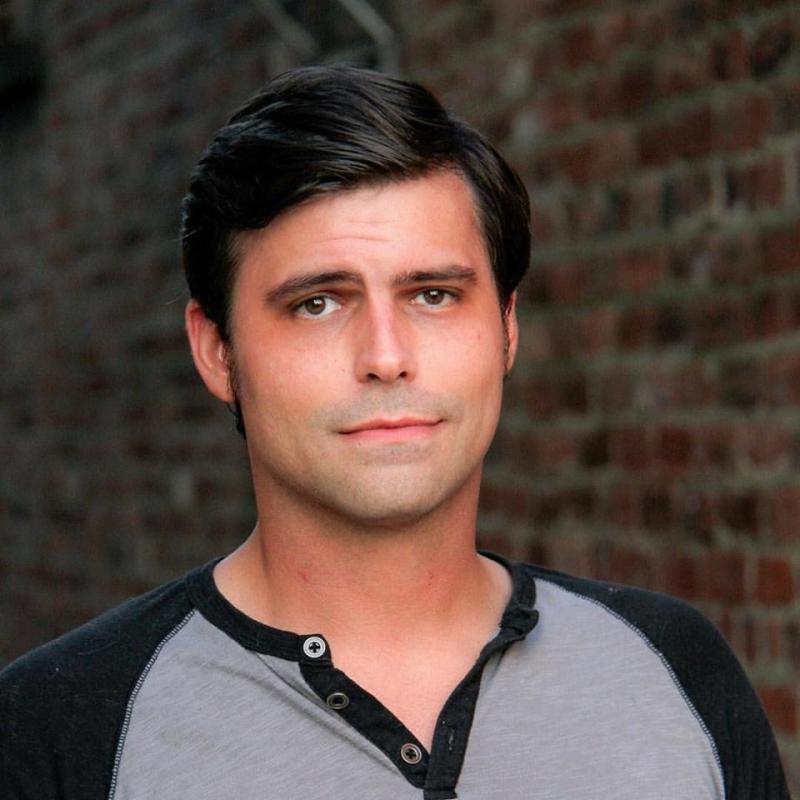 James David West
What was your first "live, onstage" taste of theater? My first taste of theatre was The Prince and The Pauper in elementary school. I didn't catch the "bug" then, as it was much later in life that I decided to become an actor.
What is your favorite pre-show ritual? Sometimes I listen to music to get into the right headspace. Sometimes I make a point to touch every member of the cast and wish them many leg breakings. Sometimes I stay quiet and don't talk to anyone until we are on stage together. It really all depends on who my character is and what their personality is like. I build my "backstage persona" to be similar to my "onstage persona," this way my interactions with the other cast members is authentic as it can be during show nights.
What's your most memorable "the show must go on" moment? Last year in Evil Dead: The Musical I did a front flip onto the hardwood stage floor and botched the landing. My right foot banged so hard on the floor that I immediately saw stars and felt an intense build-up of heat in my Achilles tendon. I had to finish the scene, and then the rest of the show I'm intense pain, with my right foot slowly swelling more and more. I spent the next week on crutches until the following weekend performances.
What's your dream role? My dream role would be to play The Joker on the big screen. He very much fascinates me, and I do think I could take it in a direction that hasn't been done before, given a good director and good script. Yes, I know that's a tall order. But it's my dream and not yours.
Who's your theatrical crush? I don't really have a singular theatrical crush. I am vibing on the entire cast of Hair, though. We've become pretty close in the last few weeks. Our characters are in love with each other and have been for quite some time before the musical takes place. I couldn't be any happier with the casting choices of this show, and to feel this much comfort with such a large group of people is pretty unheard of so far in my acting career. It is definitely one of my favorite "big cast" experiences to date.
Why should people come see Hair? Right now, our political climate is, simply put, garbage. It may always have been that way, but now we are all exposed to it on a much larger scale and the things that are happening are impacting everyone, not just select peoples. Our show is about love. Our show is about acceptance. Our show is about being whoever you want to be and not being afraid to show it to everyone you meet. The story itself is beautiful, and I haven't been able to get the songs out of my head since Day One. The choreography is also the most impressive I've been a part of to date. I think everyone who sees this show will not only be entertained but also effected on a deeper level. But I digress, as that's for the attendees to experience and not for me to tell you.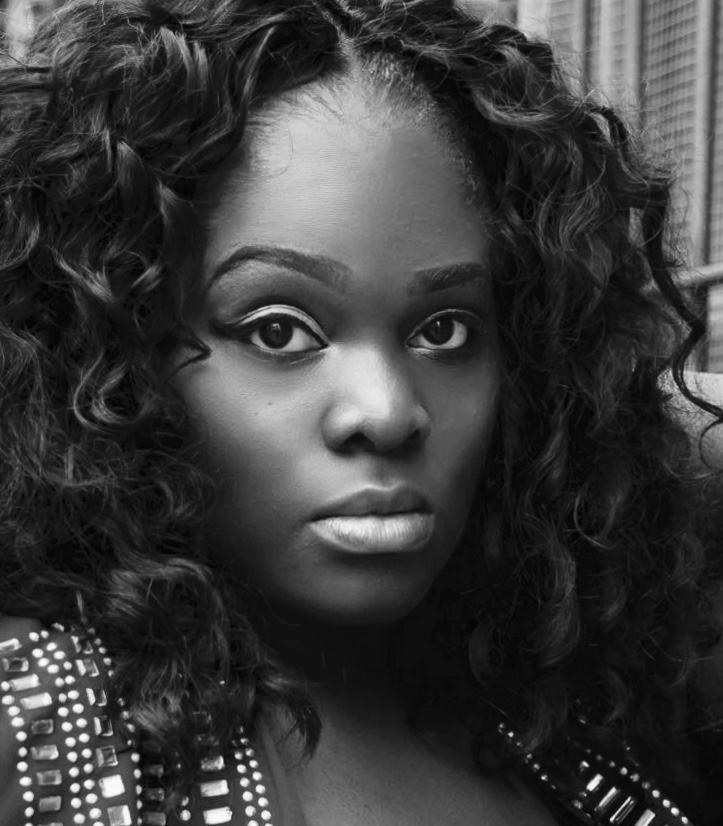 Lindsey Kaye
What was your first "live" onstage taste of theatre? When I did Lagoon in high school, I wasn't a main character but I remembered how much the audience reacted to my character and to the show itself. I was so captivated by being able to change into someone else without judgement or thinking i was weird.
What is your favorite pre-show ritual? I am very observant, I like to sit and take in all that's about to happen. I won't eat or drink, just sit and study everyone's movements and behaviors. I want to be totally connected to myself and the energy of others, I feed off of that. Before going out I'll say a prayer it's my thanks for being able to do what I am about to do! I say the same one before I walk out on stage every time, it helps me to stay focused.
What's your most memorable "the show must go on" moment? My senior year in high school, I was picked to be Sandy from Grease, I ended up breaking my ankle a month after getting the role and had to be out for three months; I was told I would never walk the same again. The whole three months, I taught myself how to walk again without therapy, still learned my part and all my songs, returned to school with a wheel chair and crutches. I was so determined to keep that role that I literally went to rehearsals in a cast and crutches. That was my first experience of resilience, I wanted that part, I had to push through no matter what and I finished it without crutches or a cast.
What's your dream role? I want to eventually move to film, but before I do, my dream role would be Dorothy from The Wiz. I fell in love with that character at the age of 10 when I saw it "live" at a local theater in my hometown. I was so in love with the songs and how innocent yet brave that character was even in the movie.
Who's your theatrical crush? Anthony Ramos from Hamilton, he is so handsome and talented.

Why should people come see Hair? Hair challenges people to think outside the box, the message is so relevant to today's problems just as they were back when it was first created. It opens your eyes to the taboos of life. It's full of color, energy and an amazing cast that is sure to deliver a good time. I truly believe it's more than the music, the message makes it worth seeing.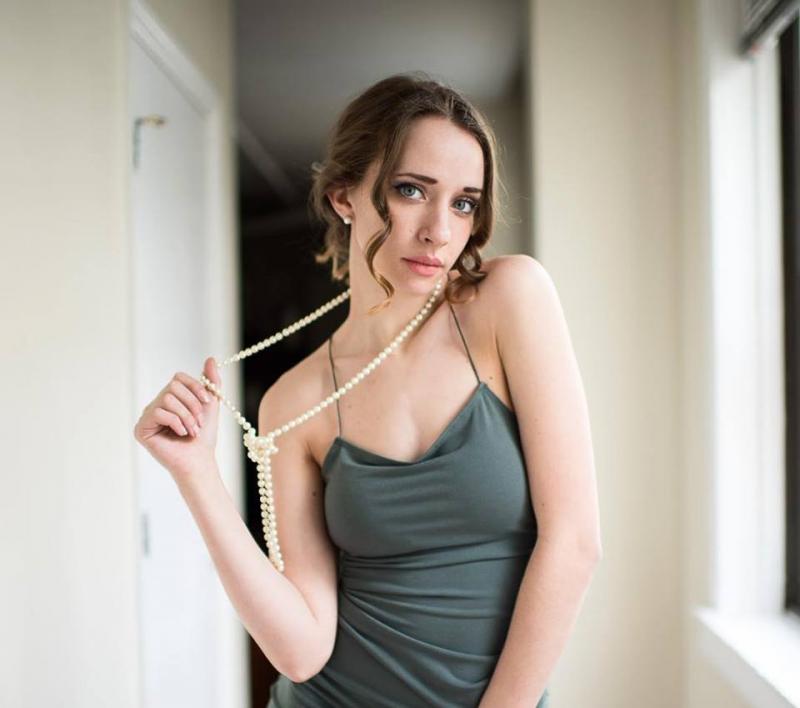 Maggie Wood
What was your first "live, onstage" taste of theater? My very first experience onstage was during a summer day-camp while I was in elementary school. For a week we did an arts workshop and part of it was performing a musical theatre-styled song. I picked a song from High School Musical because I was not experienced in any musical theatre at that time. But being on that stage and feeling the rush of energy you get when you perform in front of people...gosh I will never forget that moment. After that I knew performing of any kind would be a prominent part of my life.
What is your favorite pre-show ritual? Honestly, I never really did any pre-show rituals until just recently. I now have to clear my mind with doing a few yoga sequences to get in my acting mode. Also, I love being at the theater early to do my make-up and feel the energy of the space on each night. Preferably before most people get there.
What's your most memorable "the show must go on" moment? I don't have a story specifically for that, but I could think of a very serious scenario where I would still go on if it happened. Right now I am playing Jeanie in Hair and she is a pregnant character. Luckily for my situation I actually am pregnant. I'm going into my third trimester. I have thought about during the run of the show, if my water broke early and I went into labor. Or I just simply started getting contractions during a performance. I know I would be able to make it through the rest of the show and rush to the hospital...do not tell my doctor I said that. She would kill me.
What's your dream role? Gosh, that's a hard one. I have to go with my very first character I felt a connection with. Christine Daae. Phantom of the Opera is a classic and definitely a dream role for a lot of female actresses. I personally connected with her because of her desire to connect with her father on a spiritual level any way she could. I grew up without my biological father being a prominent part of my life so I felt her on that level even at such a young age. I also loved that she's a ballerina. (Ballet is my favorite style of dance and always will be).
Who is your theatrical crush? I really don't have a theatrical crush. If we are talking about an actor who is well known, I don't really follow that many actors in musical theatre. If we are talking about a character from a show, I could definitely fall in love with Jack Kelly from Newsies. His wild spirit and taste for adventure would drive me up the wall. (in a good way)
Why should people come see Hair? People should see this show because of the message that seems to be a trend generation after generation. I guess this message hasn't been caught onto yet because history seems to just go in circles in this life. I don't want to say anymore because I simply want the audience to portray the show the way that they personally will read it for themselves. It has the potential to be that powerful.
| | |
| --- | --- |
| Vote Now for the 2022 BroadwayWorld Nashville Awards | |
| voting ends in | |
Jeffrey Ellis is a Nashville-based writer, editor and critic, who's been covering the performing arts in Tennessee for more than 35 years. In 1989, Ellis and his partner l... (read more about this author)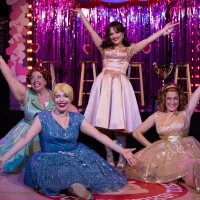 Review: Nostalgic and Warm MARVELOUS WONDERETTES May Be the Cure For What Ails You

November 16, 2022

There's really nothing better for what ails you – particularly on a cold, wet and dreary Sunday afternoon – than a stroll down memory lane, thanks to a tuneful trip to the 1950s and '60s with The Marvelous Wonderettes, a nostalgic and enormously entertaining musical revue by Roger Bean.
---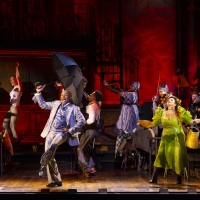 Review: HADESTOWN 'Mesmerizes and Captivates' During Weeklong Stand at Nashville's TPAC

November 2, 2022

Mesmerizing and captivating are just two of the words that might best describe Hadestown, the Tony Award-winning best musical of the truncated 2019-20 Broadway season, which is now commanding ovations of rapturous applause from adoring fans at Nashville's Tennessee Performing Arts Center during an eight-performance run through Sunday, November 6.
---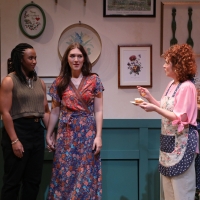 Review: Lauren Shouse's Sublime Direction of THE CAKE Provides Much Food for Thought

October 28, 2022

Lauren Shouse's directorial resume is quite the impressive one and over the years she's helmed productions for Nashville Repertory Theatre that have been justifiably acclaimed both by audiences and critics alike. But despite the notoriety that seems to always accompany a "Lauren Shouse-directed production," perhaps none is more deserved than the accolades that follow in the wake of The Cake, the latest entry on her already stellar list of shows.
---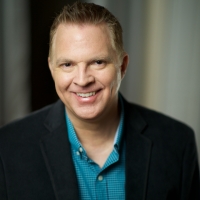 Interview: Award-winning Author Lewis Kempfer On The Publication of 120 SEATS IN A BOILER ROOM

October 10, 2022

Tomorrow – October 11, 2022 – marks yet another momentous day in the history of Boiler Room Theatre, the late and lamented theater company that originally brought professional theater to The Factory at Franklin. 120 Seats in a Boiler Room: The Creation of a Courageous Professional Theater, the latest book by BRT co-founder Lewis Kempfer (who is an award-winning author in addition to his multi-hyphenate theater titles as director-producer-actor-designer), will be released by Amazon.
---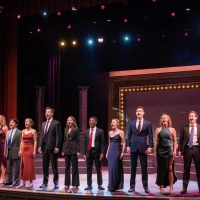 Review: Belmont University Musical Theatre's Inspiring and Astonishing SONDHEIM ON SONDHEIM

October 9, 2022

Since his death in 2021, Stephen Sondheim and his canon of work have justifiably been on the hearts and minds of theater people from around the world, with revivals, retrospectives and remembrances filling the calendars of an amazing range of companies paying homage to the master of contemporary musical theater. Just in time for a new season of productions highlighting the Nashville theater calendar, Belmont University Musical Theatre has chosen the aptly named musical revue Sondheim on Sondheim to launch a two-show semester that honors the genius of the master while showcasing the talents of its roster of musical theater majors who continue to add luster to the program's reputation.
---