Review: Perfect Timing for A SNOWY DAY at Nashville Children's Theatre
What perfect timing! Kudos to Nashville Children's Theatre executive artistic director Ernie Nolan and education director Alicia Lark Fuss (who does double duty as director of the play) for their impeccable midwinter choice of A Snowy Day as the venerable company's first show of 2018. That they had frigid temperatures and snowy conditions to herald the opening of A Snowy Day, playwright Jerome Hairston's adaptation of four stories by Caldecott winner Ezra Jack Keats, was indeed serendipitous, lending some of Mother Nature's authenticity to the show's launch.
Directed with absolute charm and a commitment to entertain her young audiences by Fuss, A Snowy Day reflects on the life of a young boy named Peter, who with his adoring and attentive parents and his best canine pal named Willie - along with an assortment of classmates, neighborhood friends and some not-quite-dastardly older kids - and brings Keats' characters and stories to life with imagination and heartfelt emotion that ensures audiences, whatever their ages might be, will become engaged and involved in the day-to-day events in young Peter's day-to-day adventures.
Brought to life by a trio of versatile actors - Elvie Williams plays Peter, with Tamiko Robinson Steeler as his mom (and friends Archie and Amy) and DeYonte Jenkinis as his dad (and other characters, including the aforementioned dachshund named Willie) - A Snowy Day celebrates the wonder and enchantment felt by the youngster who wakes up to the season's first snowfall and follows him through the excitement of meeting his first pet, learning how to whistle and the search for an unexpected and newly found special treasure. The events in Peter's life may not seem, at first glance, the stuff of great drama or the portentous harbingers of bigger things to come in his future, they instead represent the opportune moments in his life that will shape his adulthood.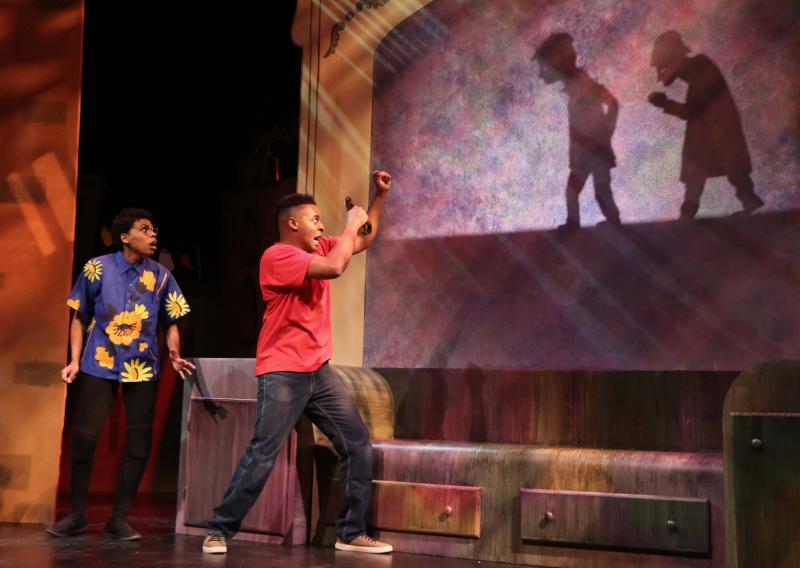 Told through briskly paced scenes played against the backdrop of Scott Leather's cleverly designed and brightly colored set, A Snowy Day takes its young audiences along for every one of Peter's jaunts through his neighborhood, illuminating those times in his life that will surely remind them of their own youthful exploits. In addition to A Snowy Day, Hairston includes Keats' Whistle for Willie, Goggles! and A Letter To Amy in his adaptation to create an effective portrait of Peter as he grows up under the watchful gaze of his parents.
Williams is delightful as Peter, capturing the boy's sense of wonder with wide-eyed glee and a genuine and palpable sense of excitement that fairly radiates from the stage into the theater's seats. Steele, displaying even more facets to her already impressive bag of actor's skills and tricks, is warmly maternal in one scene, mischievous in the next. Jenkins has stage presence to spare and he ably morphs from one character to the next with graceful ease (though we admit his animated portrayal of Willie is our favorite).
Leathers also provides the illuminating lighting design for the piece, while Patricia Taber's costumes provide just the right touch to help the stories come alive onstage. Colin Peterson's multimedia designs add to the show's overall visual impact, while his sound design provides an even stronger sense of time and place for the play.
Karly Bergmann's superb puppet design, which helps to populate the stories with a sense of whimsy that spurs the audience's collective imagination to flights of fancy.
A Snowy Day continues to play at Nashville Children's Theatre through February 11 and while the weather forecasts indicate that spring is definitely approaching, now offers the perfect time to revel in Peter's sense of adventure and recall all the snowy days of your own life.
The Snowy Day and Other Stories by Ezra Jack Keats. Adapted for the stage by Joseph Hairston. Based on the books by Ezra Jack Keats. Directed by Alicia Lark Fuss. Musical direction by Shawn Knight. Presented by Nashville Children's Theatre. Through February 11. For details, go to www.nashvillechildrenstheatre.org or call (615) 254-9103 for ticket information.
photos by Michael Scott Evans