Click Here for More Articles on Ballet!
BWW Review: Nashville Ballet Debuts Christopher Stuart's 7 DEADLY SINS
Pride. Greed. Envy. Sloth. Gluttony. Lust. Wrath. Collectively, they are the seven deadly sins - the cardinal sins, the antitheses of the seven virtues. Creatively, they are the inspiration for choreographer Christopher Stuart's most recent work, 7 Deadly Sins featuring music by the Nashville-based collective known as Ten Out of Tenn, and now brought to life by Nashville Ballet in a twin-bill that closes out the company's 2016-17 season on a resounding note of artistic achievement.
Paired with company CEO and artistic director Paul Vasterling's contemporary reiteration of Aaron Copland's Appalachian Spring, the debut of Stuart's newest project is danced with a sense of thorough commitment by the dancers of Nashville Ballet, whose myriad talents are on full display in the choreographer's perhaps all too literal evocation of the seven deadly sins - Christendom's classification of the vices one must work to overcome throughout a lifetime - that nonetheless is compelling and challenging both for the audience as well as the dancers.
Performed on the expansive stage of Andrew Jackson Hall at Tennessee Performing Arts Center, with dramatic draping and a pair of large and imposing doors dominating the setting, 7 Deadly Sins is translated via Stuart's vision in imaginative ways, his various interpretations easy to comprehend and to follow in an altogether linear fashion that succeeds almost in spite of itself.
Nashville Ballet stalwart Jon Upleger dances the role of the protagonist in Stuart's evocative work, presiding over the 40-minute ballet with his customary strength and total command of the stage. Upleger's amazing athleticism and complete focus take his audience along on his character's dramatic arc as he does battle with the demons that he must confront, leading ultimately to his redemption. It's a near-heroic struggle that Upleger dances, his sure-footed movements propelling him throughout in a way that is certain to engage and to entertain.
In that struggle, Upleger is accompanied by the ethereal Kayla Rowser (who will dance the role on Saturday, alternating with the equally expressive Mollie Sansone, who takes on the role for Friday and Sunday performances) as Agatho, who serves as his guide, providing a touchstone that keeps him grounded as he is pummeled by the elements that test his mettle. Rowser's elegant carriage and superb line, her resolute but somehow soaring ability to transcend the stage-bound, creates a memorable visual portrait that reverberates long after the curtain has fallen on the performance.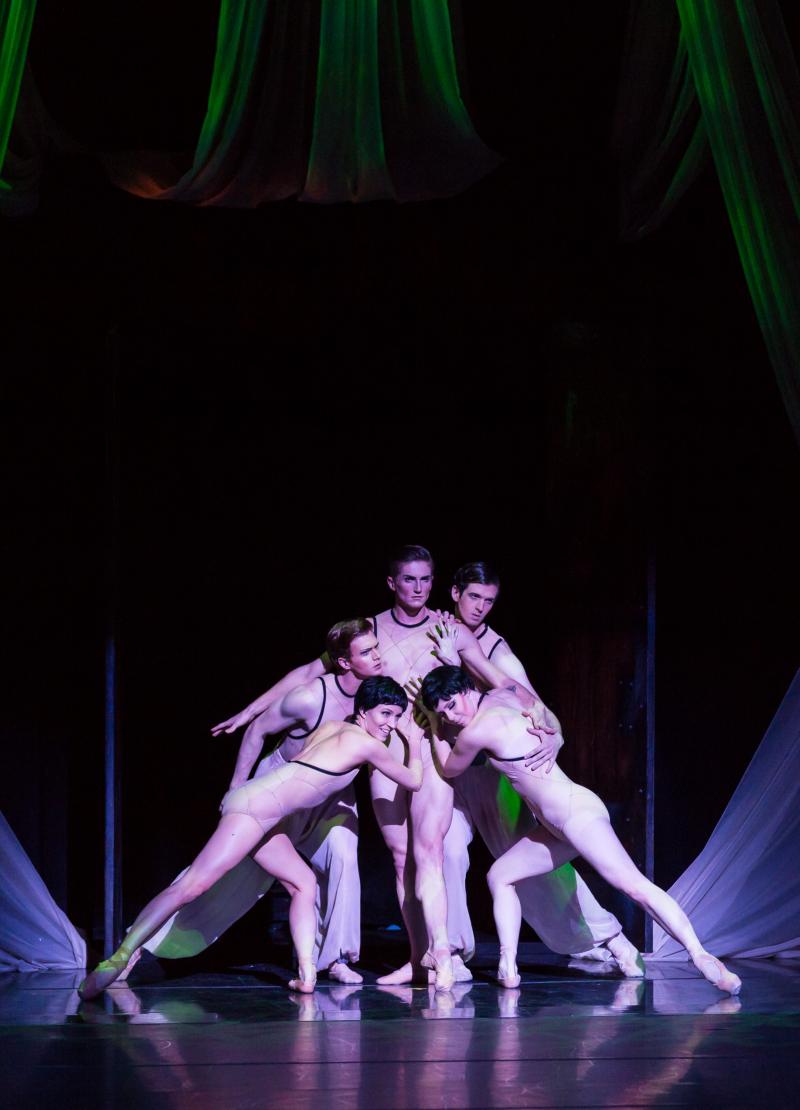 With his usual wit and intelligence, Stuart has created an imaginary setting - one replete with strict guidelines and structure that are overcome with brief flashes of color and fiery forms of self-expression - that is accessible to his audience, yet it possesses an otherworldly quality (thanks, in large part, to scenic design by Stuart and Scott Leathers, and Leathers' moody lighting design, and Maria Silver's rather regimented costume design) that gives his choreography the freedom to flourish and to grow beyond what is expected. His dancers respond beautifully to his vision, bringing it to life with a sense of urgency.
Sarah Cordia and the company's women bring Pride to life with a glorious sense of who they are and what the sin exemplifies, while Nicholas Scheuer's embodiment of Greed is ideally conceived and impressively danced. Lauren Thompson and Katie Vasilopoulos are impressive as Envy, while Julia Eisen takes to the stage with the company's men to perform Sloth with incredible power. In Gluttony, perhaps the most literal translation (there's no mistake the company is caught up in a Dionysian orgy of revelry and over-indulgence from even the first moment) in Stuart's creative arsenal, Augusto Cezar dances with a sense of fearlessness, and Keenan McLaren Hartman and Julia Mitchell join Upleger for sexually-charged and erotic romp indicative of Lust.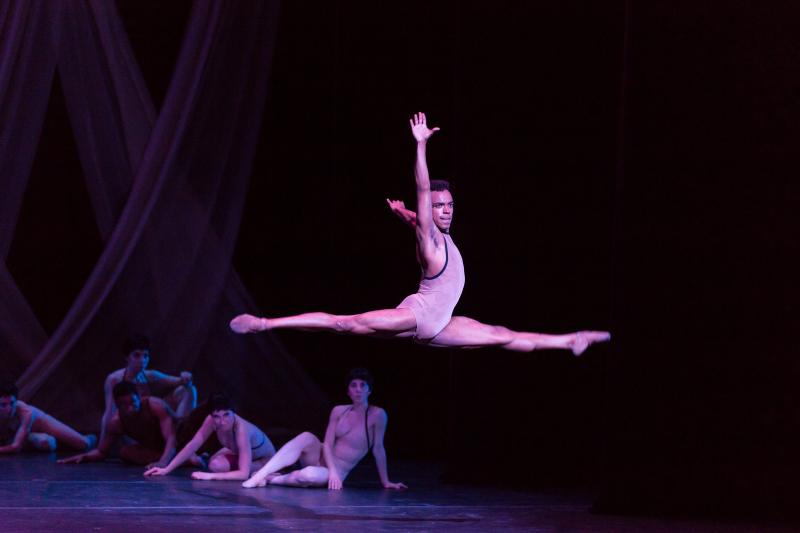 Finally, Judson Veach - backed by all the men in the company - does battle with Upleger to represent Wrath, here seen as not so much God's retribution on the world and on one man in particular, but rather as a contretemps between two men who must battle it out against each other to determine the true victor. It's thrilling, as the struggle plays out onstage before you, but somehow it seems rather stilted and arch despite Stuart's best intentions. The full cast takes the stage for the ballet's final scene, in which our protagonist is offered redemption from his sins, washing them away in a cascade of rain that drenches him and Agatho.
The music for the piece, performed by the Nashville Symphony under the direction of Nathan Fifield and composed and arranged by K.S. Rhoads, features a score of songs created by the members of Ten Out of Tenn that are as eclectic as the individual songwriters. There is, however, enough of a thematic similarity among the songs to help move along the action of the ballet in a way musical theater devotees will recognize and likely appreciate.
In the haze of post-performance retrospection, however, some of the music seems too heavily influenced by 1980s-era techno-pop - music that conjures up visions of John Travolta's overly earnest and maddeningly over-dramatic dance performance in Staying Alive, the ill-fated Saturday Night Fever sequel - that perhaps undercuts the impact of Stuart's storytelling.
Vasterling's masterful retelling of Appalachian Spring - the ballet first created in 1944 by the legendary Martha Graham and set to music composed by Aaron Copland, inspired by Shaker melodies - retains much of the story and structure of the earlier work, but he gives it a new and intriguing contemporary interpretation that is as striking as Graham's original work and just as emotionally stirring as Copland's music always been.
Nashville Symphony musicians bring Copland's music to life with a vigor that is to be expected, each note falling gracefully and lovingly on the ear, paying tribute to the sense of Americana, the sense of time and place that reverberates in every heart hearing the music performed with such intensity and beauty.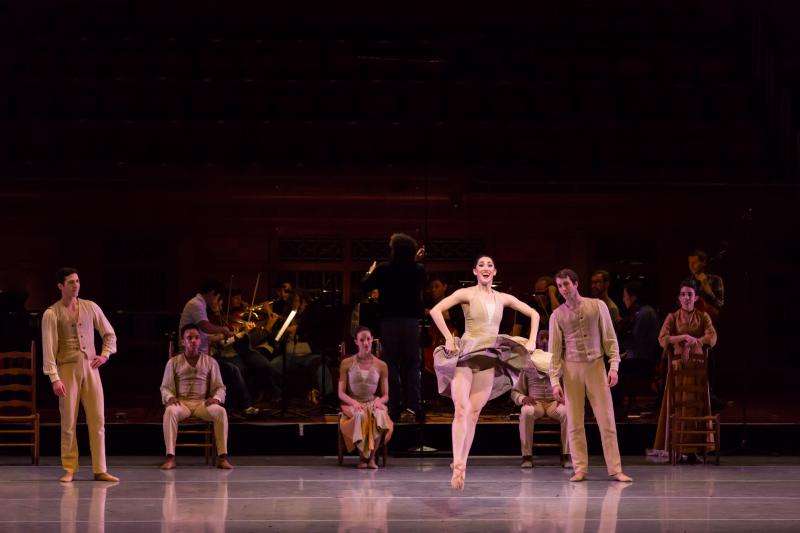 Katie Vasilopoulos dances the role of the pioneer woman at the epicenter of the piece, leading the revelry and celebration at the conclusion of farmhouse raising to fete a pair of newly married young people amid the clamor of their church congregation, family and friends. Vasilopoulous beautifully dances her role with a sense of joy that permeates her every movement, yet she somehow manages to underscore her performance with a sense of uncertainty and tinge of sadness that, at first, seems a bit off-putting but which ultimately pays off with a sense of dramatic import that may bring tears to your eyes.
As Vasterling reenvisions (and reinvents, in the process) the gathering, the camaraderie of the assembled characters is obvious, but he - as he is wont to do - goes far deeper to reveal a sense of community in flux, changes coming, tradition embraced, as we see the paring of same-gender couples welcomed into the circle of love and life. Audacious in its inclusion of all types of people and all manner of love, Vasterling's Appalachian Spring is hopeful and tenderly evocative in its exquisite storytelling. It offers the perfect example of the evolution of our society from the conventions of the past to the equanimity of a future still to come.
Vasilopoulos is given artful support by the dancers who share the stage with her, each equally as vital to the telling of the story as they are to the successful rendering of Vasterling's choreography: Augusto Cezar, Julia Eisen, Keenan McLaren Hartman, Mollie Sansone, Brett Sjoblom, Jon Upleger, Justin Veach and Gerald Watson.
Leathers' beautiful lighting plays an especially vital role in relating the story and Holly Hynes' costumes - both theatrical and authentic in a way only the best costume designer can achiever - clothe the dancers in the perfect garments for the piece.
Seven Deadly Sins. Featuring Ten Out of Tenn and the Nashville Symphony. Choreographed by Christopher Stuart. With Appalachian Spring. Choreographed by Paul Vasterling. Presented by Nashville Ballet. At Andrew Jackson Hall at the Tennessee Performing Arts Center, Nashville. May 5-7, 2017. For reservations and ticket information, go to www.NashvilleBallet.com or call (615) 297-2966.
Featured This Week on Stage Door
Shoutouts, Classes, and More from Your Favorite Broadway Stars
Related Articles
Jeffrey Ellis is a Nashville-based writer, editor and critic, who's been covering the performing arts in Tennessee for more than 35 years. In 1989, Ellis (read more...)