BWW Review: Country Comic Legend Minnie Pearl Comes to Life at Chaffin's Barn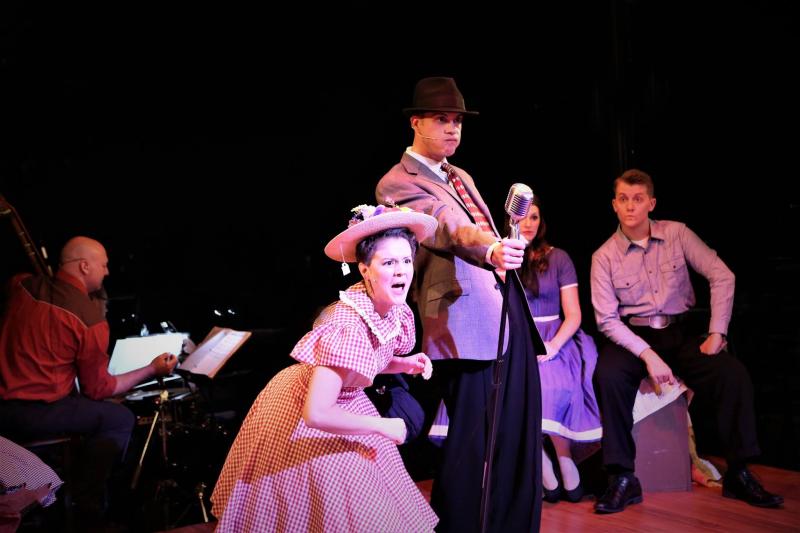 Country comedy legend Minnie Pearl is brought to life thanks to Minnie Pearl: All The News From Grinder's Switch, a musical comedy revue making its debut this weekend at Nashville's Chaffin's Barn Dinner Theatre in a very limited, four performance engagement through September 13. Directed with obvious respect by Joy Tilley Perryman and featuring a top-flight ensemble of tremendously talented actors, the newly created show from Belmont University professor and music historian Don Cusic takes a lovingly nostalgic look at the show business career of Sarah Ophelia Colley Cannon, the Hickman County native who rose to the top ranks of country stardom with the comic creation of her alter ego.
Mrs. Cannon's dual nature - in "real life," she was a society doyenne whose home was next door to the Tennessee Governor's Mansion in the upscale Nashville enclave of Oak Hill, while in her richly imagined stage life, she was a raucous and rollicking (if tremendously sweet natured) countryfied comic whose act focused on her humble upbringing and the good country people who filled her life - is exemplified by the casting of one actor to play Sarah (the queen of all things musical theater in Music City, the formidable Martha Wilkinson) and another to take on Minnie (the rise to musical theater stardom continues for Melissa Silengo). It's a dramatic conceit that works beautifully in Cusic's slight play, giving audiences a glimpse into the process of how Sarah became Minnie and, in turn, the evolution of a seemingly cornpone comic helped her became an entertainment legend whose name still evokes images of a woman with a broad, wearing a blossom-crowned straw hat with a price tag dangling off it.
Minnie Pearl: All The News From Grinder's Switch promises a down-home good time and it delivers that, even if Minnie Pearl's brand of humor seems rather precious and dated in contrast to contemporary comedy standards. What seems most apparent, however, is Cannon's heartfelt consideration of her audience, her steadfast determination to remain kind and cognizant of her "people." Minnie Pearl's somewhat gentle brand of comedy made her a household name in virtually every region of this country, but none more so than here in Tennessee, where her influence and impact continues to be felt throughout the Volunteer State.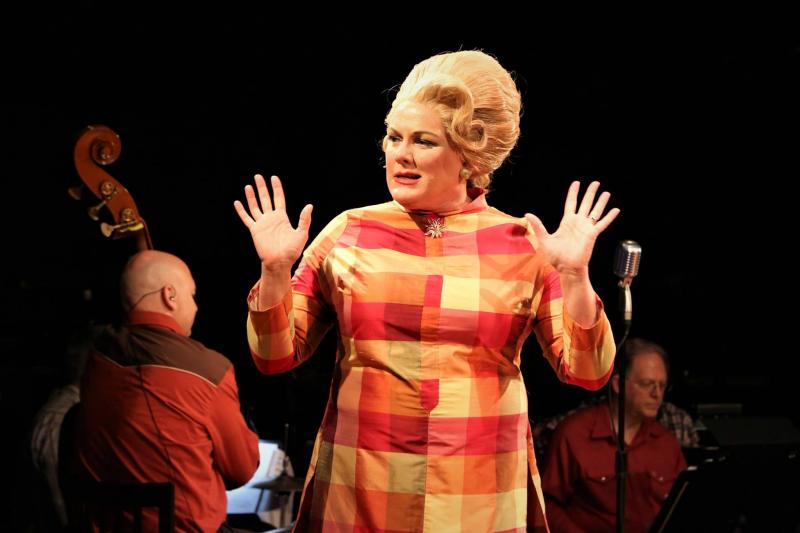 Sarah Cannon's rather charmed life - she grew up as the beloved daughter of a relatively well-to-do Tennessee family in Centerville (about 50 miles west of Nashville) and went to finishing school at Nashville's Tony Ward-Belmont School (which eventually became Belmont University) - is captured evocatively in Cusic's script and her desire to become a serious dramatic actress (the story of her efforts to join the cast of Oklahoma! on Broadway, by turns, is eye-opening and inspiring) adds some intrigue and colorful background to her story (whether you grew up with her as a "friend of the family," thanks to her frequent television appearance - or if this show serves as your initial introduction to Minnie Pearl).
Cusic provides the musical's book and a score of original songs that allow Minnie's story to be told, focusing in Act One on her stage act, through a series of onstage vignettes that show her evolution from neophyte to seasoned veteran. When first we meet Minnie, she is introduced onstage at the Grand Ole Opry, greeting her audience with her trademark "How-dee! I'm just so proud to be here," the phrase with which she became a part of every family from here to Johnson City, from Chattanooga to Memphis and every place in between. Silengo confidently delivers some of Minnie's best-known and most beloved lines (even the ones that are sure to elicit the most groans and guffaws), cracking wise and telling homespun jokes with total commitment. In the process, Silengo invests a very real sense of authenticity in the character.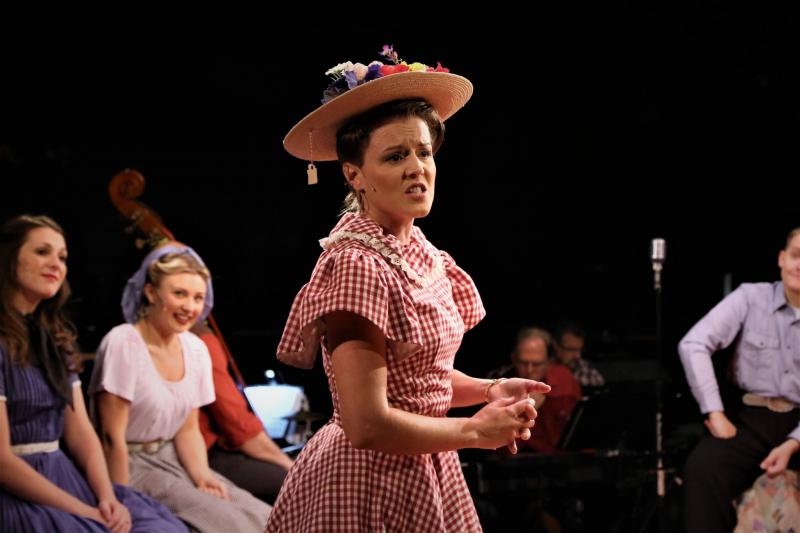 But perhaps Silengo is even more impressive when she sings in Minnie's voice - which Sarah intones later was the result of seeing another performer create a characterization who was either tone deaf or just a genuinely bad singer with intensity and focus - to give contemporary audiences an opportunity to "hear" Minnie. It's a startling transformation; Silengo is, in fact, a wonderfully talented actor and singer and her ability to be so good at sounding so bad is noteworthy.
When Wilkinson takes over, however, as Sarah, Cusic's script kicks things up a notch or two: Nashville's queen of musical theater shows what she is made of as she crafts a depiction of the queen of country comedy that is free from artifice and trickery. Instead, Wilkinson plays Sarah as she was perceived to be in her private life: every inch the grand Southern lady, Sarah cared sincerely for her neighbors, friends and family and reveled in the many pleasures she found in her life as Mrs. Henry Cannon when she wasn't onstage as the irascible Minnie Pearl. Wilkinson lends a quiet grace and dignity to the role, showing how the two wildly disparate elements of Sarah's life joined together to make her the woman she was.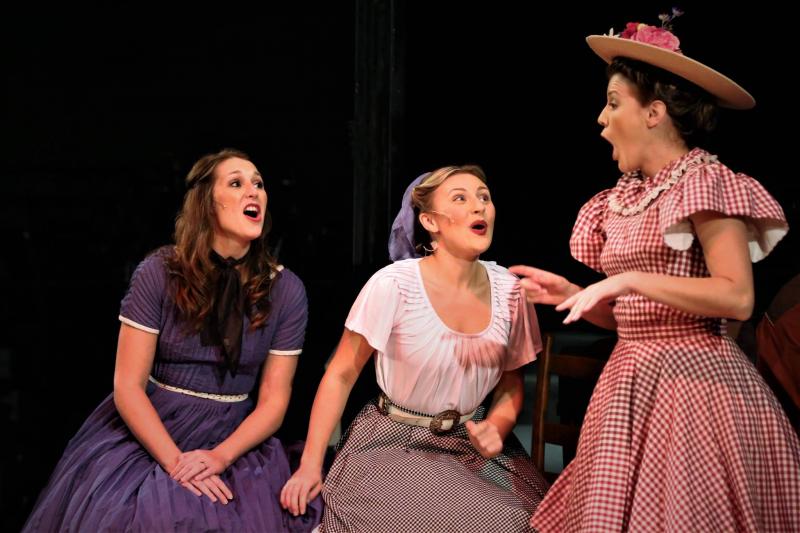 Cusic's script moves at a nice pace throughout the two acts of his show, but Act Two - which is structured more like a book musical with songs that advance the plot with ease, with moments of emotional resonance that make the larger-than-life character of Sarah Cannon more accessible than the homespun humor of Minnie Pearl ever could - is the most fully realized segment. Herein lies the heart of the show, in which Sarah talks about her response to her father's death, her commitment to creating a character that would make her parents proud and her growing romance with the man who become her husband.
The songs in Act Two are far better than the novelty songs (with the redundancy of the melodies) in Act One. "I Only Saw Her Once (But I Remember)," sung by the amazing Chase Miller as Henry Cannon, is a haunting love ballad, while "It's The Kind of Night Someone Could Fall in Love" ideally showcases Silengo and Miller in a sentimental love song, while "Guided By the Master's Hand" finally gives Wilkinson a showcase for her beautiful soprano, showing off her vocal talents to perfection. Finally, "Makin' You Smile," the joyous number that closes out the show, offers a stage-worthy conclusion to the show that shines the spotlight Perryman's versatile cast.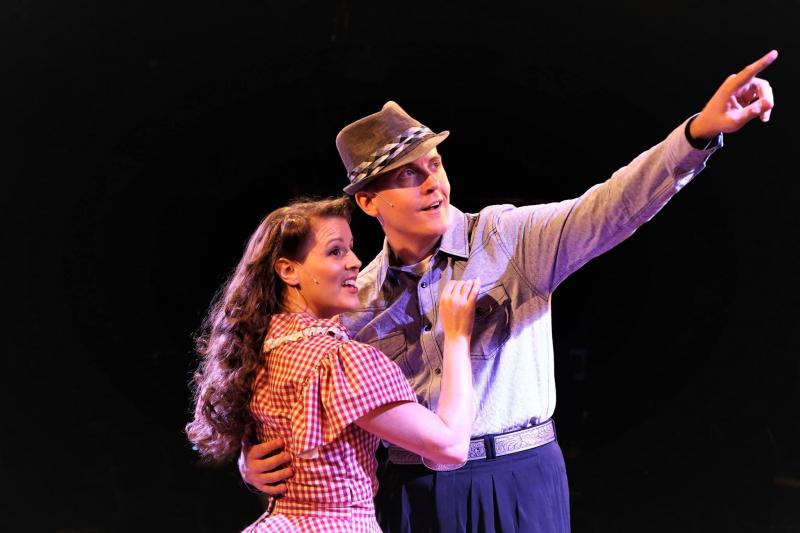 Act One's songs, most of which are written as part of Minnie Pearl's onstage act, are novelty songs from a bygone era that, while entertaining to be sure, become overworked and repetitive as the show moves along its way. The treatment of Minnie's career in Act One serves as a good introduction for audiences unfamiliar with her work, while ensuring that longtime fans are drawn into the tale even more willingly than they might realize.
In addition to the aforementioned Miller, who continues to show his skill in his all too infrequent onstage appearances, Perryman's ensemble includes the delightful Maggie Richardson and Loren Fleishman, who play singers on the Opry as well as Sarah's girlfriends from school, and the versatile Curtis Reed as a variety of men in Minnie's professional life and Sarah's private one.
Everett Tarlton, whose choreography gives the production some very tangible theatrical bona fides, shines as funnyman Rod Brasfield, the country comic who teamed up with Minnie in 1948 to create a memorable tandem made famous by appearances on the Grand Ole Opry. As Brasfield, Tarlton shows off the wide range of his capabilities as an actor (particularly in contrast to the roles already listed on his ever-growing resume) and his obvious talent as a choreographer is made known in spectacular fashion as Miller, Reed, Richardson and Fleishman perform a rousing clogging number that brings the spirit of the Opry right smack onto the Chaffin's Barn stage.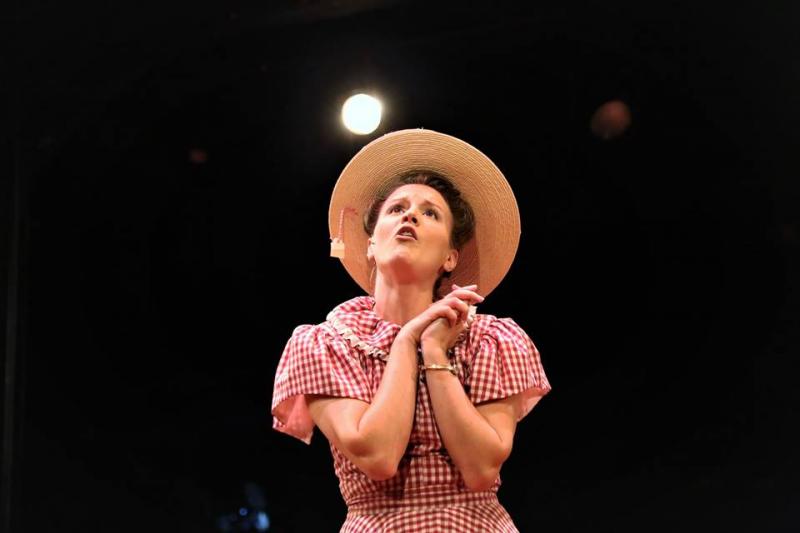 Musical director Jeff Lisenby leads the onstage musical ensemble in a spirited performance of the show's musical score and he is given able support from Walter Hartman on drums, Daniel Pentacost on fiddle/banjo/dobro/mandolin (who makes an onstage appearance as Roy Acuff), David Spicher on bass (showing off tremendous stage presence) and Tim Calhoun on guitars. Lisenby and his fellow players make certain every audience member leaves Chaffin's Barn with the very clear notion they've experienced a real Music City miracle onstage.
Cusic's script - and his ambitions for it - are unknown to me, but if he hopes to see the show take on a life outside this initial rendering at Chaffin's Barn, he might consider taking the successes found in Act Two and to apply those efforts to relating the story of Minnie Pearl's countless onstage conquests shown in Act One. The show concludes with her 1975 induction into the Country Music Hall of Fame and I can't help but wonder how effective some further consideration of her later life could make the universal story even more compelling and elucidating.
Minnie Pearl: All The News From Grinder's Switch. Songs and play by Don Cusic. Songs published by Mike Curb Music, BMI. Recording producer Jim Ed Norman. Music arranged by Bergen White and Jeff Lisenby. Directed by Joy Tilley Perryman. Musical direction by Jeff Lisenby. Choreography by Everett Tarlton. Presented by Chaffin's Barn Dinner Theatre, 8204 Highway 100, Nashville. Running through September 13. For details, call (615) 646-9977 or go to www.chaffinsbarntheatre.com. Running time: 2 hours, 5 minutes (with one 15-minute intermission).
Jeffrey Ellis is a Nashville-based writer, editor and critic, who's been covering the performing arts in Tennessee for more than 35 years. In 1989, Ellis (read more...)