BWW Review: CFTA's HEATHERS: Who Knew High School Could Be So Much Fun?

Heathers, the off-Broadway musical by Laurence O'Keefe and Kevin Murphy based on the 1989 cult classic film of the same name, wraps up its sold-out run today at Murfreesboro's Center for the Arts, offering audiences an outrageously fun and on-target treatise on mean girls and caught up in the gravitational pull of their starpower at a fictional Ohio high school. Even if the story is wrapped up with an ending that seems pat and conventional despite the script's sardonic tone and offbeat humor, Heathers still delivers on the promise of its celluloid inspiration.
With powerhouse vocals from Kaylea Frezza (amazing as manipulative, but good-hearted Veronica Sawyer), Emma Puerta (chilling as Heather Chandler, who is at the very top of Westerberg High's angsty adolescent food chain) and Seth Brown (the trenchcoat-wearing loner prone to quoting Baudelaire and concocting shocking plans of revenge on those he deems worthy - or unworthy, depending on your perspective), CFTA's Heathers offers a deliciously vile and over the top re-creation of everything horrific in society, as a whole, offering a Clearasil-scented, hormone-fueled satire of the highest order that is likely to put your own high school hijinks to shame.
Offering audiences a dystopian view of the entrenched social hierarchy of high school and a devastating skewering of the personalities who ensure its continued and unabated presence - it is just the latest in a line of musicals to consider the ramifications of popularity run rampant, ranging from Grease (we're looking at you, Pink Ladies!) to Ruthless (Joel Paley's musical inspired by The Bad Seed), and from Legally Blonde to Mean Girls (both Broadway hits based on successful movies) and beyond - Heathers proves that audiences have a huge appetite for (and a love/hate relationship with) vicious and vengeful, ruthless and reckless teenagers for whom the cafeteria serves as a coliseum in which to do battle, where finding the right date for the pep rally becomes a bloodsport, and handjobs (or the promise of something more, with or without a chainsaw involved) are social currency in one's ascendency to the top of the heap.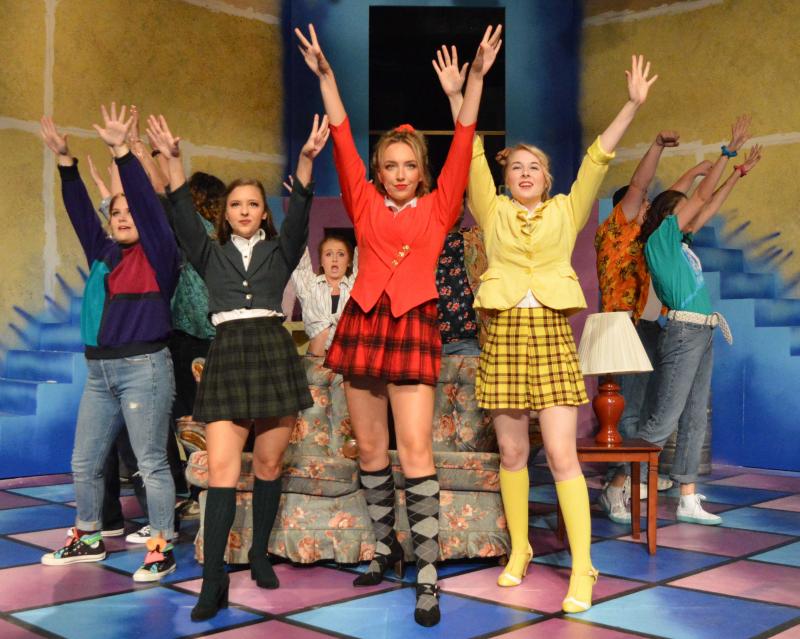 CFTA's rendering of Heathers is a quickly moving, thoroughly engaging two-and-a-half hours of mischief and mayhem set to the rocking rhythm supplied by the score from O'Keefe (Legally Blonde) and Murphy (Reefer Madness), and director Rachel Jones' uber-talented cast send audiences home completely satisfied with their extraordinary vocals and sharp portrayals of iconic characters. They are all "so very..."
The world of Heathers is dark and foreboding, but the satirical bent of the script and the irony of the lyrics make for a story that's funny and involving, even if you might feel a smidge guilty (not that I felt that way at all; I like my humor trenchant and my bullied and beaten characters vengeful and calculating) enjoying the carnage: Like any car wreck on the freeway, you can't help but stare at the metaphorical blood, guts and gore spilled all over Cody Rutledge's eye-poppingly colorful set that provides the cast its ideal playground.
Based on Daniel Waters' screenplay for the 1989 film, the stage-worthy Heathers tells the story of Veronica Sawyer (Frezza) whose first day of senior year sets into motion a tale of prejudice and cruelty that indicates she's near the bottom of the food chain at Westerberg High, which is gloriously crowned by a trio of girls, all of whom are named Heather ("mythic bitch" queen Heather Chandler, played by Puerta; the rather dim Heather McNamara, refreshingly played with a total lack of guile by Karisha Glover as the most likable of the three; and Heather Duke, the bulimic yearbook editor played by Holly Adams, who makes the most of her character's lack of personality by imbuing her with an icy stare that wilts anything in her eyesight) who rule the school with iron-fisted glee and a certain withering grace, effectively obliterating anyone who fails to measure up to their exacting standards.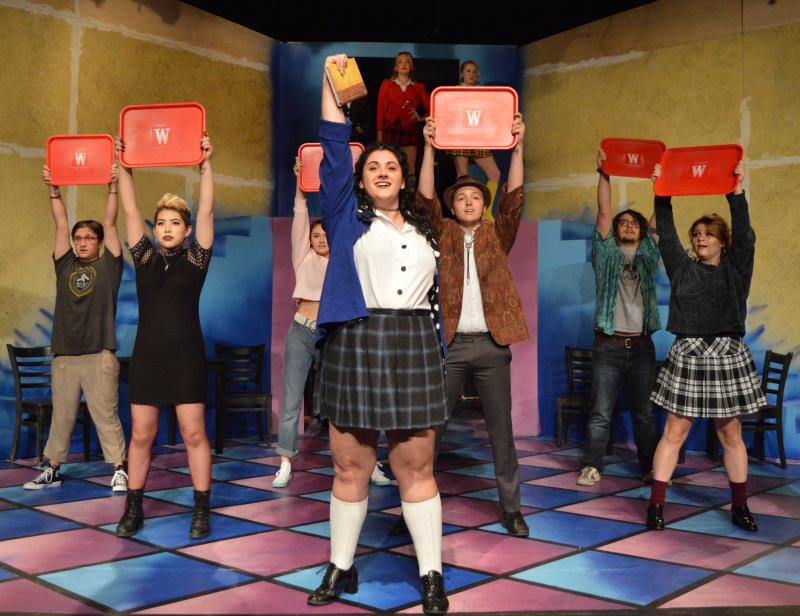 Two testosterone-charged, always horny football players (Ram, played by Andrew Sparks, and Kurt, played by Caleb Mitchell) manage to keep their minions in line with threats of lunchroom beatdowns and complete social isolation. Sweetly dorky Martha Dunnstock (Tori Peterson), the stereotypical "fat girl" (who isn't at all, of course) bears the brunt of the cruelest taunts and putdowns, to ensure she knows her place, to which she was relegated in kindergarten.
Once Veronica becomes a favorite of the three Heathers (she executes a perfectly forged note to save them from detention, so she's deemed worthy of inclusion in their coterie of conniving bitches), she revels in her newfound popularity and, as is the nature with this type of cautionary tale, she heads straight toward trouble and ruin.
However, thanks to Waters' original screenplay, the plot of Heathers doesn't follow the customary throughline of a typical secondary school sob story, and Veronica meets the darkly dangerous and intriguing J.D., the disaffected son of a man who "desconstructs" things (read: he blows up buildings to clear the way for "progress" as we came to know it in the late 20th century). Frankly, J.D.'s trenchcoat should serve as a warning sign to anyone cognizant of how things work during these wacko times in which we live, so while it's readily apparent that the course of true love won't run smooth for Westerberg High's cutest couple, their roller-coaster romance will keep you enthralled. In fact, when Veronica and J.D. get together, all hell breaks loose - before we know it, three of WHS' finest lie dead of apparent suicides, plunging the whole damn town into chaos and turmoil, a frenzy of grief and misplaced blame causing all sorts of recriminations.
The action is all set to a terrific musical score that effectively captures the moment (Nate Paul's musical direction ensures the score is impressively sung) and the production is electrified by movement that gives it energy (Gerold Oliver has the whole student body and assorted adults stepping lively and emphatically while delivering their sordid tale). Jones' production for CFTA is as fanciful as you might imagine and as clever as you can only hope.
The opening number ("Beautiful") perfectly sets the scene and introduces us to all the characters, firmly establishing who they are and how they rank among the group; "Candy Store" is a raucous rock anthem in which the Heathers state their very purpose in life; and "Freeze Your Brain" allows J.D. to sing the praises of a 7/11 Big Gulp.
Frezza's spectacular performance as Veronica Sawyer is a starmaking turn if ever you witnessed one and she takes total command of the stage with her pitch-perfect portrayal of the young woman yearning for acceptance and popularity despite all her best intentions. Frezza's Veronica recognizes the potential pitfalls of her newly achieved fame (even if it's centered on life in a very small pond, she loves being a big fish), but she's easily assimilated into the Heathers' circle of power. Resistance is indeed futile. And while Veronica surveys the desolation left in the wake of J.D.'s plot to exact revenge with some regret, she has no real problem keeping silent about her co-conspirator status.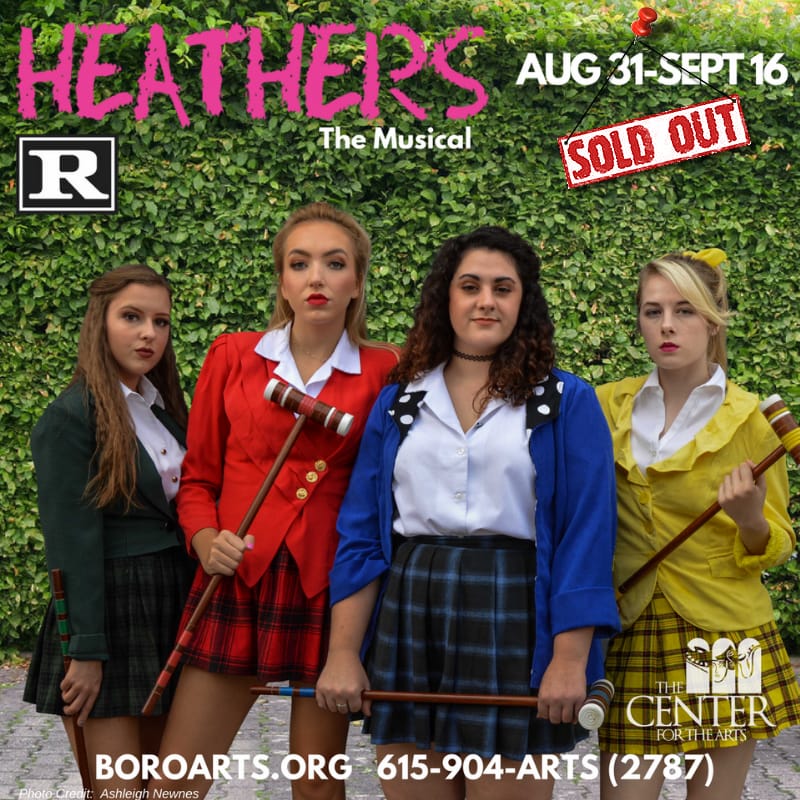 As Heather Chandler, Puerta leaves her everyday offstage sweet persona in the dressing room, taking on the personality of the vicious head Heather with remarkable ease and grace, crafting an onstage persona who is breathtakingly authentic. Mean-spirited and imperious, Puerta's Heather Chandler is a high school harridan of the highest order and she rules her domain with a will of iron, and so complete is her transformation that she leaves you stunned. Her stage presence is palpably unsettling and completely riveting.
Brown is spectacular as J.D., playing him with the ideal blend of bravado and vulnerability which makes him the quintessential teenaged heartthrob (J.D.'s dad might as well be some kind of evolutionary throwback - thanks in large part to Stephen Belk's performance and the way the character is defined by the script - and his mom killed herself in one of the many buildings brought crashing to the ground by his father's explosives). J.D. may be a sociopath, but he's our sociopath and, therefore, he can do whatever the hell he wants. Brown's startling vocals prove he is the perfect counterpart to Frezza's clarion-voiced Veronica. The pair fairly set the stage afire with the intensity of their theatrical chemistry.
Leah Williams proves her versatility, playing all of the adult women in Westerburg (flighty ex-hippie teacher Ms. Fleming and Veronica's midwestern mom) and Dakota Green shows off similar skill as WHS' feckless principal, and as the dad to both Veronica and to Ram, the cringeworthy footballer played to meathead perfection by Andrew Sparks. Mitchell gives another self-assured performance as Ram's best pal Kurt and the pair's attempted date-rape of Veronica leads to a showstopping tribute to gay pride and self-acceptance ("My Dead Gay Son," in which Belk and Green, in riotous fashion, do their part for the cause).
Heathers, the Musical. Music, lyrics and book by Laurence O'Keefe and Kevin Murphy. Directed by Rachel Jones. Musical direction by Nate Paul. Choreography by Gerold Oliver. Presented by Center for the Arts, Murfreesboro. Though Sunday, September 16. For information, go to www.boroarts.org. Running time: 2 hours, 30 minutes (with one 15-minute intermission).
Related Articles View More Nashville

Stories

Shows
Jeffrey Ellis is a Nashville-based writer, editor and critic, who's been covering the performing arts in Tennessee for more than 35 years. In 1989, Ellis (read more...)