BWW Review: LYRIC Arts Explores Parallel Lives In Phenomenal Musical IF/THEN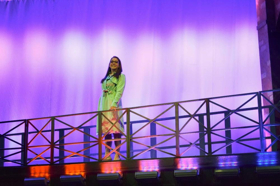 On September 7, Anoka's Lyric Arts opened a Drama League Award Winning musical "If/Then." In this edgy, provocative production, Tom Kitt's music complimented with book and lyrics by Brian Yorkey creates a musical force as they did in their Pulitzer Prize winning "Next to Normal." Their 2014 "IF/THEN" production opened at New York's Richard Rodgers Theater and details the life of 38 year old Elizabeth. Throughout the play of her parallel lives, she ruminates about day to day choices she makes: the what if to where a person deciders to be, including what cities to live in, which career opportunities to pursue, and which people to hold in her heart at any given moment that creates a memorable journey for audiences. The entertaining and intriguing musical poses some philosophical questions for Elizabeth, who earns her living as a PhD in Urban Planning, and hence, the audience, too. As this musical sings, "the next turn at the corner may change your life forever.
While the lovely Elizabeth muses about "how no one knows where the long road bends," the musical presents two options in Elizabeth's life simultaneously. One, where she wears glasses as Beth, and the other minus the black frames, as Liz. These diametric lives happen as if or then in contemporary New York using a multi level stage complete with an industrial catwalk designed by Brian Proball. The NYC scene changes seamlessly by lights projected on the pillars flanking each side of the stage courtesy of Lighting Designer Adam Raine while Choreographer Mathias Anderson keeps every one in step through the lively dance numbers. An ambitious production for the growing Lyric Arts theater company, the huge cast and challenging score makes this a risk taking production highly dependent on who acts as Elizabeth, the centerpiece to these parallel lives.
Lyric Arts casts a stellar Elizabeth with local actor Kate Beahen. On stage for almost the entire two and one half hour musical, Beahan possesses a stage presence and warmth that exudes the quandaries Elizabeth faces with genuine humanity. From the first notes of the opening "What If?" to the very humorous and real "What the Fuck?", Beahen carries the role with exceptional depth through Elizabeth's emotional highs and lows-and Beahen's electric voice-including the powerful solo regarding grief "You Learn to Live With Loss." The audience remains fixated to the luminous Beahen, Elizabeth's story and the stage the entire evening.
Besides the lovely Kate Beahan, Director Elena Gianetti casts a supreme force in Elizabeth's friend, Kate as Elinor Strandskov, and her lover, Anne, played by Jacleen Olsen. The two merge into a formidable team with their portrayal of womanly love which creates an interesting counterpoint to Beth's or Liz's romantic dilemmas.
As Elizabeth's two paramours, in her alternating lives, her best friend Lucas plays the hippie, liberal dedicated to contemporary causes, such as affordable housing and fighting urban development. Actor Carl Swanson plays Lucas with disarming aplomb and bubbly humor, especially in one life where he weds David, an equally charming doctor, played by James Ehlenz.
In the second story, Austin Lewis epitomizes the handsome military hero Liz fatefully meets on a street. Lewis' potent voice recreates "Best Worst Mistake You've Ever Made,' with earnestness, a premise audiences will relate to. Add in a substantial ensemble and six piece orchestra under Musical Director Mary Cay Stone to create this professional production to phenomenal effect on the Lyrics Art stage. In a moment after the production on opening night Beahen mentioned, "Everyone worked so hard on this challenging play, to make this play a success ."
Thoughts also echoed by Artistic and Executive Director Laura Tahja Johnson who toasted the cast and production staff on opening night with a hearty, tear filled, "I am so proud of this play."
Lyric Arts deserves exceptional kudos for this entertaining evening overflowing with existential drama. As Elizabeth's two lives merge in the final moments, the cast realizes what offers life meaning whatever the daily choices might be. The song "When the Moment Explodes" exemplifies how quickly life detonates before our eyes. Surprises such as those on stage create the song, "Always Starting Over," and "Love While You Can." Wise advice for anyone along life's bending roads or parallel lives as mothers and daughters, fathers and sons..friends, lovers. partners or siblings...Lyric Arts phenomenal production of "If/Then" proposes. despite the mistakes anyone makes in life, love whenever and however...merely love when your heart lets you."
Lyric Arts presents the musical IF/THEN at 236 Main Street, Anoka through September 23. For information on the complete 2018-2019 season or tickets to this performance, please visit www.lyricarts.org