Milwaukee Rep's TWO TRAINS RUNNING Begins April 16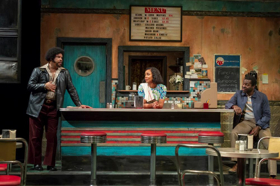 Milwaukee Repertory Theater's 65th Anniversary Season concludes in the Quadracci Powerhouse with Two Trains Running, part of Pulitzer Prize-winning playwright August Wilson's trailblazing American Century Cycle, April 16 - May 12, 2019.
The Two Trains Running cast features local husband and wife duo Chiké Johnson (Our Town, Milwaukee Rep) as Sterling and Malkia Stampley (Dreamgirls, Milwaukee Rep) as Risa along with Frank Britton (Shape, La MaMa) as Hambone, Doug Brown (Jitney, Cincinnati Playhouse in the Park) as West, Jefferson A. Russell (Our Country's Good, APT) as Wolf, Raymond Anthony Thomas (Jitney, Broadway) as Memphis, and Michael Anthony Williams (Persephone, BAM) as Holloway.
Two Trains Running is directed by Timothy Douglas (Gem of the Ocean, Milwaukee Rep) with set design by Tony Cisek (The Night is a Child, Milwaukee Rep), costume design by Kara Harmon (The Niceties, MTC), lighting design by Michael Gilliam (Bonnie and Clyde, Broadway), compositions and sound design by Matthew M. Nielson (Peter and the Starcatcher, Milwaukee Rep), and stage managed byKimberly Carolus (The Chinese Lady, Milwaukee Rep).
It's 1969 and change is in the air. But for the owner of a rundown diner in a dying Pittsburgh neighborhood, the Civil Rights Movement may just be an impractical dream. Torn between whether to gamble on an urban-renewal buyout or sell his building to a predatory businessman, he finds himself caught between idealism and brutal reality. Two Trains Running paints a compassionate and unforgettable portrait of ordinary people in the midst of transformation.
Two Trains Running is a co-production with Cincinnati Playhouse in the Park. Executive Producers are Jackie Herd-Barber and Michael Barber with Associate Producers Amy and Fred Croen and media sponsor Milwaukee Journal Sentinel. The Rep is sponsored in part by The United Performing Arts Fund.
Two Trains Running runs April 16 - May 12, 2019 in the Quadracci Powerhouse. Opening night is set for Friday, April 19 at 8pm. Purchase tickets at www.MilwaukeeRep.com, by calling the Ticket Office at 414-224-9490 or in person at 108 E. Wells Street in downtown Milwaukee.
More Hot Stories For You