Tickets Go On Public Sale For THE DONALD M. EPHRAIM PALM BEACH FILM FESTIVAL, January 5
Tickets go on sale Thursday for inaugural festival offering 37 world-class feature films and documentaries at 100 screenings at eight convenient venues.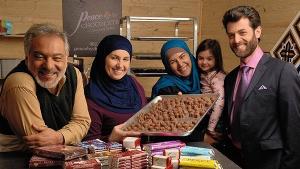 Tickets go on sale on Thursday, January 5, for The Donald M. Ephraim Palm Beach Film Festival© Presented by MorseLife, running January 26 through February 16, 2023.
"Our mission is 'to bring highly anticipated, critically acclaimed, and thought-provoking films to Palm Beach County... alongside exclusive events with actors, and directors,'" says Festival Founder Donald M. Ephraim. "We look forward to featuring the work of both emerging and established filmmakers from around the world; a high-quality mix of mainstream films with broad appeal, timely documentaries, and short films."
"In our inaugural Palm Beach Film Festival, we will offer 37 world-class feature film and documentaries at approximately 100 individual screenings that will foster dialogue and interaction among our attendees and supporters," promises Founding Festival Director Ellen Wedner. "The eight participating venues include CMX Downtown in Palm Beach Gardens, CMX Wellington, IPIC Boca Raton, IPIC Delray Beach, the Kravis Center, Movies of Lake Worth, Paragon Theatres in Delray Beach, and the Regal in Royal Palm Beach."
The Donald M. Ephraim Palm Beach Film Festival will open on January 26 with the USA Premiere of the French comedy Two Tickets to Greece, starring Laure Calamy (Netflix' Call My Agent, and My Donkey, My Lover & I), Olivia Côte (My Donkey, My Lover & I), and Kristin Scott Thomas (Four Weddings and a Funeral, The English Patient, Mission: Impossible, The Horse Whisperer, Gosford Park). Director Marc Fitoussi is scheduled to appear at the Festival's opening film at the Kravis Center's Cohen Pavilion.
The new 22-day film festival will also present:
+ Eight memorable documentaries, including among others the local based Calendar Girls, the rock bio of Rolling Stones bass player Darryl Jones: In The Blood, the moving and informative Lowndes County and the Road to Back Power, the inspirational Mission Joy: Finding Happiness in Troubled Times, and the toe-tapping Music Pictures: New Orleans.
+ 16 movies by emerging women directors such as Clio Barnard (Ali & Ava), Sylvia Ohayon (Haute Couture), Claudia Sainte-Luce (Love & Mathematics), Palm Beach County filmmaker Sasha Levinson (Sylvie of the Sunshine State), and more.
+ Seven films from Israel or with a Jewish focus, including Cinema Sabaya; Farewell, Mr. Haffmann; iMordecai starring Judd Hirsch and Carol Kane, and the documentary The Wild One about Auschwitz survivors, to name just a few.
+ Seven films of special appeal to LGBTQ+ audiences, including All Man: The International Male Story, Balaban, Breaking the Ice, Dos Estanciones, No Straight Lines: The Rise of Queer Comics, The Blue Caftan, and You Can Live Forever.
The closing night film of The Donald M. Ephraim Palm Beach Film Festival© Presented by MorseLife on February 16 at CMX Downtown in Palm Beach Gardens will be Peace by Chocolate, a heartwarming tale about Syrian refugees in Canada. Also at this event, the Festival will announce the Audience Award winners for Best Feature Film, Best Documentary Film, and Best Short Film-based on votes submitted by audience members.
Tickets to the The Donald M. Ephraim Palm Beach Film Festival© go on public sale January 5 by phone at 561.318.0060 (Monday-Friday, 9:30 am to 5:30 pm) or online 24/7 at www.DMEPBFF.org.
For a full list of participating theaters and scheduled movies for The Donald M. Ephraim Palm Beach Film Festival© Presented by MorseLife, request a DMEPBFF brochure, or to become a member of the Festival Film Society, please call 561.867.3109 or visit www.DMEPBFF.org.