Guest Blog: Eryc Taylor Dance in Mexico - Day Two in the Yucatán
Yesterday, we started our day with a visit to the US Consulate in Mérida, which has given huge support to our program, as well as to the Mérida English Library, which is also helping spread the word about our visit to Mexico. In addition, we visited the beautiful Teatro Jose Peon Contreras, which will host our ETD performances this weekend. Our lighting designer was anxious to meet with the theater's technical director, to create a lighting plan for our performance in this magnificent space. My breath was taken away when I looked out at the sea of seats underneath the five beautiful balconies, and at the rotunda murals above. Teatro Jose Peon Contreras is a massive, gorgeous theater.
The company and I were then picked up by a van for the ride to Chocholá, for day one of our teaching program in this small Mayan city. After being greeted by the President of Chocholá and his wife, and joining them for an early dinner, we moved on to the open air studio space where we would hold classes.
Our plan was to conduct three dance workshops for both children and adults. The first class consisted of twelve children under ten years old, who looked up at us and smiled as we began to teach company class. We had the children stand in a circle with company members, working on improvisational games to make them laugh and feel more comfortable. Then, each company member did an assigned exercise with the students. Before we came to Mexico, we translated all of our movements into Spanish, which helped so much with our teaching! After our ETD warm up, we did some simple combinations and then finished the class with a short dance. The kids loved it. When class ended, we couldn't get them to leave! Our first class was a huge success.
The second class in Chocholá consisted of a smaller group, women ranging in age from 30 to 70. We begin the class with a "name game," similar to our previous workshop, and the women really opened up. Following the games we again conducted company class, but modified to make it lower impact. When we finished teaching class, the adult students showed us a traditional folkloric Mayan dance, which involved balancing a pot on their heads! They moved in intricate circles around the room to indigenous music. Their graceful movements were minimal, and seemed trance-like. The women were so happy to be able to present to us with a part of their culture. As we were all dancing and laughing, I could feel the true rewards of this experience.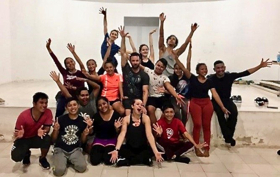 The last class of the day was a group of 14 to 18 year olds, quick learners and talented folkloric dancers. We buzzed through the warm up quickly and moved on, teaching them a dance they will be performing with Eryc Taylor Dance company members Friday night. The piece is a fun jazzy number; about three minutes long to a Bassnectar remix of Nina Simone's, "Feeling Good." There are about 20 participants, so we had to work fast and efficiently. By the end of class, the students had already learned the base phrases for the piece! We were thrilled.
The environment in Chocholá is so warm and welcoming... we saw how dance truly brings people together, and breaks down language barriers.