Frank Ingrasciotta's Off-Broadway Solo Play BLOOD TYPE: RAGU Will Make its Latin-American Debut at Mexico's San Miguel Playhouse
There will be 4 performances, from Thursday, January 19 through Sunday, January 22.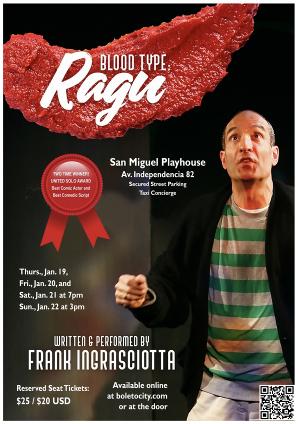 Frank Ingrasciotta's one-man play, Blood Type: Ragu, a laughter-and-pathos-filled autobiographical narrative of his immigrant Italian family, recently opened Off-Broadway, telling a coming-of-age story of a Sicilian immigrant child exploring the delicate dance between searching for identity, embracing culture, and understanding forgiveness.
In Blood Type: Ragu, Ingrasciotta populates the stage with more than 20 characters, young and old, male and female, with virtually no change of costume. Since its Off-Broadway opening, Ingrasciotta has toured with and refined his show, giving over 1,000 performances at prestigious venues throughout the United States and Canada. Along the way, he has picked up several awards, including two United Solo Awards for Best Comic Actor and Best Comedic Script.
Now Ingrasciotta is doing something new: taking his show south of the border for the first time making its Latin American debut at the San Miguel Playhouse, at Avenida Independencia 82, San Miguel de Allende, Mexico. There will be 4 performances, from Thursday, January 19 through Sunday, January 22, all at 7pm except for the Sunday show, a 3pm matinee. Reserved seat tickets are $25 US dollars for the center section and $20 for the side sections. Advance sale is online only, and the purchase page can be accessed by visiting boletocity.com, or by clicking either of the "Buy Tickets" buttons in this newsletter. Tickets will be sold at the door an hour before each show. For ticket information: https://cloud.broadwayworld.com/rec/ticketclick.cfm?fromlink=2218534®id=152&articlelink=https%3A%2F%2Fboletocity.com?utm_source=BWW2022&utm_medium=referral&utm_campaign=article&utm_content=bottombuybutton1

The San Miguel Playhouse's presentation of Blood Type: Ragu, is directed by Ted Sod.