Review: RICHARD III at TAM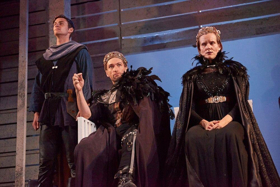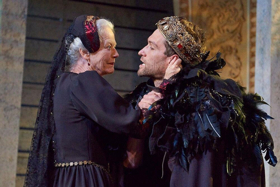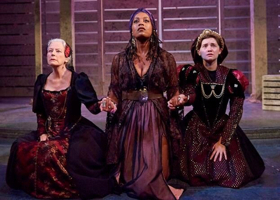 It may not be among the most highly regarded of Shakespeare's plays. But "Richard III" has proved to be a popular one.
In recent times, big name actors have sought out the lead role and fans have flocked to see how Al Pacino, Kevin Spacey, Kenneth Branagh and Ian McKellen, for example, have embodied this fascinating, if repulsive, character.
The Theater at Monmouth (TAM) now has a production of the 1593 play underway and, by casting a young actor in the title role, this Richard becomes the ultimate bad boy. Deformed both physically and psychologically, he's a dangerously manipulative rascal.
Often called a "toad" by the other characters, his arm sling, leg brace and dark, ultimately feathered, costuming make this Richard seem more like an injured crow as he increasingly flaps about the stage. He's still capable of bloody pecking but unable to ever truly rise above it all.
Loewenthal enacts both Richard's wicked glee in the success of his many "secret mischiefs" and his tortured sense of self in response to a world he can only hope to conquer through annihilation. In Loewenthal's performance, the many asides and soliloquies that Shakespeare provides to him tell only half the story. It's the hints of a twisted, uncomprehending vulnerability in his gestures and facial expressions when not speaking that most define a certain pathos.
In keeping with the TAM season-long theme of "ROAR! The Year of the Woman," director Dawn McAndrews has given a centrality to the female characters in this production. Some critics have seen these roles as one-note, but the women exert an unrelenting influence that will ultimately serve to pluck Richard's plumage.
Lady Anne (Amber McNew), Queen Elizabeth (Kedren Spencer), Queen Margaret (Maureen Butler) and the Duchess of York (Janis Stevens) all seek to wound Richard in their anger and their grief. Stevens is particularly strong in her elegant scorn. "Shame serves thy life and doth thy death attend." she exclaims.
Butler gets at a wild-eyed, witch-like Margaret while McNew and Spencer add sensibilities driven out of moderation by the fiendish Richard.
Among the other male roles, KP Powell is a stalwart Stanley, James Noel Hoban a terrified Clarence, Ryan Broussard a triumphant Richmond, Mark S. Cartier a victimized Hastings, Marshall Taylor Thurman a double-dealing Buckingham and Bill Van Horn a last-of-his-kind monarch.
Bibi Mama and Mike Dolan are funny as ambivalent murderers and Katie Croyle, Alexandra Curren, Joey Dolan and Kevin Aoussou contribute in multiple roles.
The minimal set by Kimie Nishikawa only just suggests palatial grandeur. The sound design by Rew Tippin creates an ambient gloom. Roughly period costumes by Michelle Handley draw the eye under the lighting by Daniel Taylor. The closing battle scene, under the direction of Leighton Samuels, creates a vivid chaos.
There were just a couple of spots in the performance under review where acting gave way to recitation. But the perverse charisma of Richard came through clearly. Parallels to today's world were, of course, there to be drawn.
What: Richard III
Where: Theater at Monmouth
Reviewed: July 29; continues through August 18
theateratmonmouth.org
photos by Aaron Flacke