William Kentridge's Chamber Opera REFUSE THE HOUR Comes to Royce Hall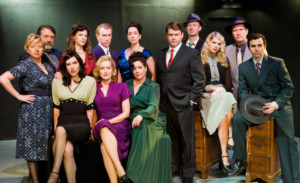 UCLA's Center for the Art of Performance (CAP UCLA) presents world-renowned South African artist William Kentridge's Refuse the Hour, the multimedia chamber opera companion to his five-channel video installation The Refusal of Time, at 8 p.m. on Friday, Nov. 17 and Saturday, Nov. 18 at Royce Hall. Single tickets for $59-$119 are now available online at cap.ucla.edu, via Ticketmaster, by phone 310-825-2101 and at the UCLA Central Ticket Office.
Composed by Kentridge's longtime collaborator, Philip Miller, Refuse the Hour recounts a tale that begins with the myth of Perseus and ends with Einstein's visionary findings. Speaking backwards and forwards in the midst of a Dadaistic landscape, surrounded by spinning dancers, megaphoned singers, live musicians and projected animation, Kentridge himself is the narrator, delving into the nature of time as he delivers a fragmented lecture about procrastination, myth, entropy, empire and black holes.
"One would have to admit that the masterful work of William Kentridge leaves virtually no artistic discipline unexplored, untampered with, or under-excavated in service to his vigilant engagement with the known world," said Kristy Edmunds, CAP UCLA executive and artistic director. "Kentridge explores how we are able to make sense of contradictory things happening at the same time, and his staged work challenges our capacity to feel overwhelmed while simultaneously being entranced with sublime sounds, texts, movement and imagery."
With choreography by South African dancer and choreographer Dada Masilo, video design by Catherine Meyburgh, and dramaturgy by science historian and physicist Peter Galison, Refuse the Hour takes us on an elliptical journey to the outer edges of science, theater and art that is both playful and profound, and that could only have sprung from the imagination of this singular artist.
Funds for this performance provided by the Sally & William A. Rutter Endowment for the Performing Arts and Fariba Ghaffari.
CAP UCLA's 2017-18 Theater series continues with Poor Dog Group in Group Therapy (Jan. 11-13, 2018, Little Theater, UCLA), and Ann Hamilton and Siti Company with the theater is a blank page (April 28 to May 12, Royce Hall).

More Hot Stories For You